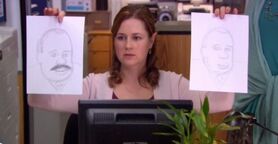 Welcome Party is the twentieth episode of the eighth season fo the American television comedy series "The Office" and the show's 172nd overall. It was written by Steve Hely and directed by Ed Helms. It originally aired on NBC April 12, 2012. It was viewed by 4.39 million people.
Synopsis
Robert California (James Spader) forces the office to throw a welcome party for Nellie (Catherine Tate), but the Party Planning Committee works on ways to sabotage it. Jim (John Krasinski) and Dwight (Rainn Wilson) are sent to Nellie's apartment to help her move in. When Dwight suggests bringing in a magician to move her furniture magically, Nellie quickly admits her disdain for stage magicians, prompting Jim to call Pam (Jenna Fischer) about hiring a magician for Nellie's party. Jim and Dwight find a shoe box with a note to Nellie from herself saying not to open it. Inside, they find photos of her with another man and deduce him to be an ex-boyfriend. When Nellie finds them with the photos, she says that she lost everything when she broke up with him. One of the photos shows him as a stage magician, which became the root of her distaste of magicians. Jim calls Pam back ordering her to reconsider some of the party ideas. Pam tries to convince the other employees to little or no avail.
At the party, the employees vent their hatred of Nellie onto Pam to avoid admitting the truth, making Pam uncomfortable. The magician that was hired (Brett Gelman) arrives, much to Nellie's dismay. Jim, Dwight, and Pam, out of solidarity to Nellie, sabotage the magician's tricks until he reaches breaking point and Dwight kicks him out. Nellie and Robert commend the employees for throwing a good party, but Kevin (Brian Baumgartner) complains that the carrot cake has actual vegetables in it, which Pam made as a prank. When Jim and Pam leave for the day, Pam asks Hank (Hugh Dane) why he let the magician into the elevator when he was asked not to. Hank, busy reading a magazine, claims not to have noticed him, stating that as a magician he could have slipped by.
Meanwhile, Andy (Ed Helms) and Erin (Ellie Kemper) decide not to get together officially until he breaks up with Jessica (Eleanor Siegler). On their way back to Scranton, they stop at Jessica's family's log cabin, where they encounter a bunch of Jessica's friends having a bachelorette party and drinking. Andy and Erin decide to bail, but Jessica returns from her morning run. After staying a while, Andy asks Jessica into the kitchen where she deduces that he is breaking up with her. Erin is surprised however when Jessica said that Andy told her he didn't think Erin was relationship material. Andy doesn't deny saying that, instead opting to claim that he's gay and leaves awkwardly with Erin. In the car, Andy says he made those comments about Erin because he was with Jessica before Erin falls asleep. Andy decides to head back to the cabin to tell Jessica and her party that he broke up with her because he wanted to be with Erin and that she is relationship material, while Erin overhears. Jessica and her party chase Andy and Erin back to the car. Erin passionately kisses Andy inside the car while the party throws cake at them, prompting a quick getaway.
Cultural References
Connections to previous episodes
Andy tries to make breaking up with Jessica easier by saying he's gay. He wondered if he was really gay in the season six episode Gossip.

Main Cast

Secondary Cast
Guest Starring
Community content is available under
CC-BY-SA
unless otherwise noted.