[[WUPHF.com|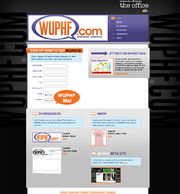 ]]
WUPHF.com is a fictional website and social tool developed by Ryan Howard, but stolen from his then-girlfriend Kelly Kapoor. It is first seen in the episode Whistleblower, but is referenced numerous times after that.
If you send a Wuphf, the message goes to the recipients' home phone, cell phone, email, Facebook, twitter, fax and homescreen at the same time, the idea being that if someone has a really important message they can send a Wuphf and know the recipient will recieve it quickly.
The site had a buyout offer from the Washington University Public Health Fund, who turned out to only be interested in the website domain name.
History
According to Ryan in a deleted scene, WUPHF.com used to be a prototype. When the beta was lost in August 2010, the response had been unbelievable.
URL
www.wuphf.com
Appearances