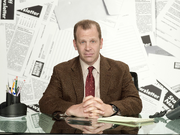 The Scranton Strangler is a strangler who mainly strikes in Scranton. Throughout the show, The Scranton Strangler makes make apperances. Many people believe that Toby Flenderson is the Scranton Strangler. Here are a few resons why:
Toby makes an announcement during a Christmas party and says that he has to miss the party because he is on jury duty. He then grabs his neck, implying it is for the Scranton Strangler. He gives very limited details on the case. Could this be because he doesn't want to reveal to many clues to his many crimes? Yes. Yes it could be.
Toby never seems to be around when the Scranton Strangler is striking. His car was missing during the chase of the Strangler, so could it mean that he was being chased.
Toby leaves for Costa Rica, and the strangles die down. Coincedence????? Nope.
Toby is not visible during the car chase with the Scranton Strangler. Probably because he was in the car.
Finally, the further Pam moves into her relationship with Jim, the more the Strangler Stikes. Toby was known to have a crush on Pam. This could be his motivation to become the Scranton Strangler. Furthermore, on the day that Cece was born, the Strangler stiked. Toby could have struck out of spite for Pam having a child with Jim.
Community content is available under
CC-BY-SA
unless otherwise noted.