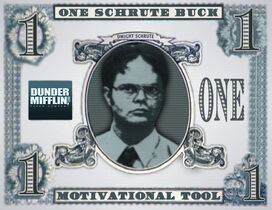 About me
Hi, I am a huge Office fan and love nearly every episode. I discovered this show during the first season, but never started really watching until I saw my first episode, Office Olympics.
My favorite episodes include: Diversity Day, The Injury, The Job, Goodbye, Toby, Broke, and Niagara. My favorite story arc was the Michael Scott Paper Company arc during season five; New Boss- Broke remain some of my favorite episodes ever!
My least favorite episodes are: Pilot, Phyllis' Wedding, Job Fair, Prince Family Paper, and Mafia. I don't like the pregnancy story arc and can't wait until Pam isn't, "kind of a bitch!"
Welcome to Dunderpedia and keep on editing. Leave a message on my talk page if you need help with anything. Thanks ---
Dwide Schrude (Talk / Edits). 21:33, February 14, 2010 (UTC)
My favorite pages
My Awards!
Contribution Awards
Special Awards
Friend Awards
Community content is available under
CC-BY-SA
unless otherwise noted.