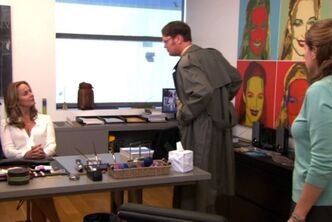 The Whale is the seventh episode of the ninth season of the American television comedy series "The Office" and the show's 183rd overall. It was written by Carrie Kemper and directed by Rodman Flender. It aired on November 15, 2012. It was viewed by 4.16 million people.
Synopsis
Andy and the rest of the office staff talk talk through Skype. The staff are horrified to see Andy sunburned and mostly naked. Andy shows them around the boat and accidentally knocks various items of importance overboard such as his drinking water, a hose used to convert salt water into fresh water, and eventually the laptop he is using. Darryl then tells the cameras he has only been there for two days.
David Wallace calls to tell the branch that a massive client, White Pages, a phone book company has recently dropped their paper supplier for 10 years and is now interested in Dunder-Miflin. Dwight brags that David has selected him to go after this "white whale" of a client however David says he wants Dwight and Jim, the branch's top salesmen to work together. Jim however cannot go due to his obligations with the company he and his friends are working on (In the process he steals Dwight's headset as a prank). However when David tells Dwight that the new CEO is a woman, the women of the office begin to worry as Dwight is horrible when it comes to women clients. They all agree to coach him on how to be respectful to women.
Meanwhile Pete, Clark, Toby, and Kevin are growing out their facial hair to support a charity for prostate cancer research. Toby likes the idea as he feels that he is bonding with the others in the office.
Angela confides in Oscar she thinks the Senator might be having an affair which horrifies Oscar knowing that she might be on to them. He tries to assure her that he isn't however when Angela tells him about a yoga studio he is always at and how he is always with someone named Blake, Oscar begins to worry if the Senator is having an affair on him. The two agree to stake him out.
Pam tries to teach Dwight how to be respectful to women and teaches him to indicate that he is listening such as smiling and nodding however Dwight appears creepy when doing so. Nellie and Phyllis try to help him however they soon deem him "hopeless". Pam agrees to go on the sales pitch with Dwight and try to help him.
Jim meanwhile calls his friends to discuss the investment and embarresed to learn that he is the only one calling and all the others are actually there. He tries to talk to them through his office phone however various distractions around the office prevent Jim from focusing.
Oscar and Angela spy on the Senator and while Oscar is relieved to know that Blake is a woman, Angela becomes jealous. However it is revealed that Blake has a boyfriend letting Angela relax and Oscar becomes jealous when he notices another man and the Senator getting along quite nicely.
Dwight and Pam arrive at the office however they soon realize that the CEO is Jan Levinson! Pam tells Dwight to forget all they had taught him. Jan arrives and becomes furious when she realizes that Dwight and Pam are the sales representatives as she was expecting David Wallace. She had wanted to show David how powerful she had become and never planned to do business with Dunder-Miflin at all. Dwight however still intends to land this massive client and runs off to get something.
Toby enjoys spending time with the other men in the office as he feels he is really bonding with them. Pete meanwhile jokes around with Erin about his moustache and when Erin admits she feels it is ugly, Pete shaves it off.
Angela begins to get suspicious as to why Oscar is so focused on the Senator. Before Oscar can leave however, Angela watches the Senator make a phone call. When Oscar's phone starts to vibrate, Oscar looks up to an angry and terrifying-looking Angela.
Jim tries to talk to the other investors in the parking lot however a loud saw across the street causes him to go to a quieter area however he accidentally sets off Meredith's car alarm. Hank then comes out believing that the local skating hooligans are back and yells for them to come out. Meredith also comes out believing someone is breaking into her car causing even more chaos and noise for Jim to focus.
Pam is forced to watch a very awkeward and weird slideshow of Astrid with Jan's singing. Dwight arrives with Clark and exploits Jan's fetish for younger men. Clark however appears to believe he was going to Quiznos. Jan agrees to take Clark in as her "secretary" in exchange for giving Dwight her business.
Jim apologizes to his friends for all the chaos of their phone call however they admit they don't feel "this is working". Jim asks what that means.
On the way out of the building, Dwight and Pam convince Jan's emotional and low self-esteemed secretary, Molly, she should quit as Jan is likely to fire her anyway. She appears to like Dwight as he says he is willing to listen to her problems. Pam jokes that Dwight should get "her number" however Dwight believes Pam means her liscence plate number and does so. He says he will "gossip" about what they do on their date as "women live on that stuff like oxygen".
Cultural references
Connections to previous episodes
Amusing details/Trivia
Full Cast
Supporting Cast
Special Guest Cast