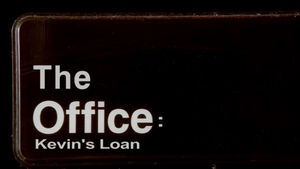 The Office: Kevin's Loan is a series of webisodes based on characters from The Office. It began on July 10, 2008 on NBC.com.
Season overview
Edit
Kevin gets creative in order to pay off his gambling debts.

Webisodes
Edit
Webisode Title
Webisode Number
Production Code
Original Airdate
Money Trouble
1
Webisode 1
July 10, 2008
Kevin's money troubles are starting to aggravate Oscar.
Malone's Cones
2
Webisode 2
July 17, 2008
Kevin's meeting with a bank loan officer doesn't go all too well.
Exposed Wires
3
Webisode 3
July 24, 2008
After overhearing Kevin having a conversation with the man he owes money to, Darryl offers his help in getting Kevin a loan.
Taste the Ice Cream
4
Webisode 4
July 31, 2008
When Kevin's second meeting with a bank loan officer goes horribly awry despite Darryl's help, he opts to pay off his debt by selling ice cream.
| | | |
| --- | --- | --- |
| Previous season: | Current season: | Next season: |
| Season 4 | The Office: Kevin's Loan | Season 5 |