Wiki Targeted (Entertainment)
Play Sound
For the episode, see Michael Scott Paper Company.
"You know, Apple Computers started in a garage, and we are starting in a condo. So we already have a leg up on Apple."
- Pam Beesly
The Michael Scott Paper Company, Inc. is started by Michael Scott after he quits the Dunder Mifflin Paper Company. 
Origin
Following the arrival of Charles Miner, the new Vice President of Northeast Sales for Dunder Mifflin, in Scranton, Michael clashes with Charles due to Charles' no-nonsense attitude and Michael abruptly quits in "New Boss". Michael pitches the idea of his own paper company to the office employees, but the only employee to accept his proposal is Pam ("Two Weeks"). The two establish the company, headquartering it in Michael's condo. ("Dream Team")
History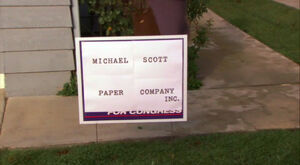 After learning that a commercial office is against the policies of the condo association, Michael and Pam assemble a list of tasks to tackle. They start by going after employees to add to the company, first picking up Vikram from the telemarking company where Michael briefly worked, then, despite Pam's protest, Ryan Howard, who is working at a bowling alley. Michael then takes his team to meet with a potential investor, revealed to be Michael's nana, who lives in a retirement home. Nana and her 'investment club' decide not to invest in Michael's company. Following this, Vikram decides to leave the company. Upon returning to the condo, Michael begins a search for a new office. However, with no money to pay for an office, Michael is forced to set up the company's office in the only place he can for free: the first floor closet of the Scranton Business Park, directly underneath the Dunder Mifflin office. ("Dream Team")
The three employees begin work in their office the next day, but struggle to become accustomed to their new office space; they can hear toilets flush from the office above them, due to the pipes running through the room, and, as their office is a closet, they have no heating. Pam and Ryan bicker over who will make copies until they are separated into corners by Michael, but Pam is assigned to the corner where the copier is located, giving her no space. Ryan shows no interest in his work, watching internet videos and openly insulting Michael and Pam in his phone calls. All this leads to Pam asking Charles for her job back, but she finds the position has been filled. Michael hosts a pancake luncheon, where only one non-Dunder Mifflin employee shows up. Pam and Ryan nearly give up, but the man from the luncheon calls and Pam is able to successfully close a sale ("Michael Scott Paper Company").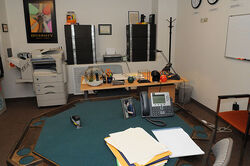 While the situation in the company office begins to improve, with the three getting along and becoming skilled in the art of throwing cheese balls into each other's mouths, the company is still tasked with finding clients. This leads Michael to hold secret meetings with Dwight, who provides information to Michael so he can undercut Dunder Mifflin. However, Charles begins showing Dwight more respect than Michael ever did, which leads to Dwight bringing Charles to one of his secret meetings with Michael. Michael, angry at Dwight, begins attempts to steal Dwight's clients. Dwight offers the company a truce, arranging a lunch meeting. However, Dwight does not show, breaking into the office, stealing the contents on Michael's desk and leaving a fish in the air vent. Dwight reveals his treachery to Michael, who decides to steal Dwight's biggest client. Dwight interrupts the meeting but falls victim to Michael's unconventional color coding system, which causes him to make a crass remark which loses him the client ("Heavy Competition"). The company begins to pick enough clients (including ten from Dunder Mifflin Scranton salesmen) to cause the company to buy a used van to make early morning deliveries. This routine takes a toll on the company's employees, who decide to look into a delivery person. They call an accountant, who tells them that due to their low prices and fixed-cost model, they cannot afford a delivery person and will be bankrupt in less than a month. Dwight learns of this from a past client but is prevented by Charles from revealing the information. David Wallace, in an attempt to stop the losses from occurring, decides to buy out the Michael Scott Paper Company. Michael declines David's offers of $12,000 and later $60,000, instead negotiating for jobs and benefits for Michael (as manager), Pam and Ryan (as salespeople). David reluctantly agrees. ("Broke")
Employees
Aftermath
Following the negotiation, the company folded, but Michael, Pam and Ryan carried over their clients. Michael still leases the room that was formerly their office, which he later converted into a disco and coffee shop, dubbing it "Cafe Disco."
Despite Michael's return, the employees responsible for sales are furious, except for Jim, about Michael's decision to place Ryan and Pam into sales positions when all of Pam and Ryan's clients were stolen from them ("Casual Friday"). Eventually, Michael and the sales staff are able to come to an agreement and have Pam hired in Sales with Ryan put into his old position as a temp.