"The Banker" (alternately titled, "Clip Show") is the fourteenth episode of the sixth season of The Office and the 114th episode overall. It was written by Jason Kessler and was directed by Jeffrey Blitz, who directed Stress Relief and Business Ethics. It aired on January 21, 2010, and is partially a clip show. It was viewed by 7.29 million people.
An investment banker comes to Scranton to perform a "due diligence" check on Dunder Mifflin to verify that the company can be purchased without any hidden liabilities. Michael is devoted to making the branch look good, including replacing Stanley Hudson with an attractive young man and having Dwight pose as the branch HR representative. The second ruse is exposed when Toby returns to his desk, however. The banker asks Toby about any misconduct in the company (for example, time wasting), and after every question, several flashbacks are shown from previous episodes regarding the topic being discussed. Toby admits to the documentary crew that he doesn't want to lie, "and I don't want to tell the truth."
Michael comes to talk to the banker. When the banker asks a question about if anyone is near retirement age, Michael and Toby awkwardly look at each other and flashbacks of Creed are shown. Dwight eavesdrops on the banker checking back with the main office and begins to get suspicious that the banker may not sign off on the deal.
Over Toby's objection, Michael brings up that many people in the office have been in sexual relationships. Scenes of many office relationships are shown.
After the banker leaves, Michael expresses sympathy for the banker because he must determine the value of the office. Michael says that he doesn't care about the banker's opinion. Everyone waits for the banker to say he'll buy the company, however, it never happens.
Amusing Details
Edit
Michael had "helmet hair" in this episode (flat and compressed), thanks to the helmet he wore while riding the Segway. The practical reason for this is that actor Steve Carell had just returned from filming a movie for which he had his hair cut very short.[1]
Ryan Howard still works inside the closet in the break room.
Most of the office didn't have lines and this was the first episode where Jim Halpert had no lines.
During the flashback to the hot dog eating contest from Beach Games in Season 3, Michael tells Phyllis to "dip it in the water so it slides down your gullet more easily," to which everyone responds, "That's what she said!" This is from a deleted scene not shown in the episode.
Connections to Previous Episodes
Edit
Michael's parking space reads "Employee of the Month" which was introduced in Scott's Tots. Michael expressed how much he wanted to win Employee of the Month to Jim, who told him it wasn't possible because he was a branch co-manager. 
Dunder Mifflin was bought out in the episode, Secret Santa. Dunder Mifflin started to become insolvent in the episode, Murder.
List of Scenes
Edit
Q: "Are there any outstanding liability issues? Safety issues, injuries, that could leave the company open to potential lawsuits?"Edit
Q: "Are people generally happy?"Edit
Q: "Sexual harassment?"Edit
Q: "Waste of time and resources?"Edit
Q: "Is anyone near retirement age?"Edit
Michael introduces Creed to the children of various office employees, and Creed asks if they have ever seen a foot with four toes. ("Take Your Daughter to Work Day")
Michael reads a complaint filed by Ryan about Creed's "old man" smell, which Creed attributes to the Mung beans he sprouts in his desk and eats throughout the day. ("Conflict Resolution")
Oscar, just back from vacation, asks where Dwight is. Without pause, Creed says that he was decapitated and that they had a funeral for a bird. ("The Return")
A: "This is a building where friends become lovers and lovers become sexually interactive"Edit
David Costabile is the third member of The Wire to appear on The Office, following Amy Ryan (Holly Flax) and Idris Elba (Charles Miner).
John Krasinski (Jim Halpert) does appear at the very end of this episode. He's briefly seen with the transition from the clip show and is standing by Jim's office.
This episode is the only clip show in the entire series. (A clip show is where the bulk of the plot is shown through clips from previous episodes).
One of the clips shown is Michael telling Phyllis to dip the hotdogs in water to make it "slide down her gullet faster". In the clip shown, the entire cast says "that's what she said" in unison. However, in Beach Games, where this scene actually occurs, the cast falls silent when Michael says this.
Cultural references
Edit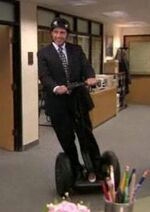 Lady Gaga is a musician known for her outlandish make-up and costumes. She intentionally portrays herself androgynously.
Michael rides a Segway device. The device was introduced to great fanfare in 2002 but quickly became relegated to a niche product.
H.R. Pufnstuf was a live-action life-size puppet television program.
NFL stands for National Football League, the professional American football league in the United States. It celebrated its 50th anniversary in 1970 and not 1972 as claimed by "Computron".
Maine Lobster is a variety of lobster found in the Atlantic coast of North America.
Mul Yam is a seafood restaurant in Tel Aviv, considered by many to be the best restaurant in Israel.
Cooper's Seafood is a Scranton seafood restaurant.
The song Michael and Dwight sing at the end of the episode prior to the credits is a parody of Lazy Sunday, a musical skit by The Lonely Island made for Saturday Night Live.

The song was first used in Season 3's episode The Merger, where Michael attempts to welcome all of the new empoyees from Stamford to Scranton.
Main Cast
Edit
Supporting Cast
Edit
Guest Cast
Edit
Only Appearing in Clip Footage
Edit
References
Edit
↑ Hair today, gone tomorrow, Office Tally, January 22, 2010
Community content is available under
CC-BY-SA
unless otherwise noted.