Doctor Strange in The Multiverse o Madness - The Loop
Play Sound
"The Alliance" is the fourth episode of the first season of The Office and the 4th overall. It was written by Michael Schur and directed by Bryan Gordon. It first aired on April 12, 2005 and was viewed by 5.4 million people.
Summary
Although time has dragged on, the downsizing rumors at Dunder Mifflin have not ceased. Michael will still not accept that there will be any staff cuts. Dwight feels particularly threatened by the impending crisis, and, in an act of desperation, forms an alliance with his office nemesis Jim. Jim sees the alliance as an opportunity with great potential and agrees as a lark. He immediately enlists Pam's help in the situation.
Meanwhile, Michael tries to boost morale in the office by having an office birthday party for Meredith, even though her birthday is a month away. Since this isn't really about Meredith, Michael has no problem despite ordering an ice cream cake even though she's lactose intolerant. He also agonizes over writing an insulting joke in her birthday card that he thinks will be hilarious. In the meantime, Oscar asks Michael for a donation for his nephew's cerebral palsy walk-a-thon. Michael looks over the $2 and $3 contributions and, feeling generous, signs up for $25. When Jim points out that the dollar amounts are per mile which adds up, Michael goes to Oscar to explain his misunderstanding. Oscar reminds him what a walk-a-thon is and thinks Michael is being cheap for retracting a charitable donation.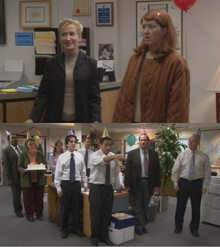 Meredith would eventually walk into the office with Angela, with the rest saying happy birthday to her. Meredith first responds assuming that it is for somebody else, but when corrected, she is put into a visible state of confusion.
Meanwhile, Dwight, following Jim and Pam's efforts, ends up in a box in the warehouse to overhear information. Back in the office, the party falls flat when Michael's insulting jokes fail to amuse Meredith or anyone else.
At the end of the day, after a breakthrough in his pranks on Dwight, Jim giddily grabs Pam's hand in an attempt to explain what has just happened. However, Pam's fiancé Roy walks in and immediately assumes Jim is hitting on her. Jim tries to explain that they were just playing a joke on Dwight by pretending to be in an alliance with him. Dwight, not finding it funny, denies any knowledge.
Deleted scenes
The Season One DVD contains a number of deleted scenes from this episode. Notable cut scenes include:
Dwight brags to Jim how secure his computer is. Jim successfully guesses Dwight's password ("Frodo"). Dwight changes it, and Jim guesses it again ("Gollum").
Michael critiques Pam's phone-answering delivery. (This is the scene used in the title sequence when Jenna Fischer's name appears.)
Dwight throws old food out of the office fridge.
Jim complains to Dwight that he threw out his lunch as Dwight plays with his Phillies bobbleheads.
Oscar asks Angela to sign up for the walk-a-thon.
Extension of Jim and Dwight's conversation in the parking lot.
Toby signs Meredith's card in Michael's office, but Michael prevents him from writing any jokes. According to Paul Lieberstein, Toby's actor, this moment was the reason Michael developed a hatred towards Toby.
Jim hopes to get Dwight to say "immunity" (a la Survivor).
Extended scene with Dwight trying to help Michael with Meredith's card but only with jokes referencing to her hysterectomy. When Dwight asks Michael for immunity from downsizing, Jim quietly celebrates.
Michael tries to get Meredith to inconspicuously recall recent funny moments with him.
Michael explains to Oscar how he shouldn't have deceived him with the walk-a-thon.
Michael presents his alternate (and just as bad) card jokes to Meredith and when she starts crying he asks the cameras if they can just edit to the best one.
Dwight questions Ryan about his alliances to which Ryan says "what?" and Dwight says "well played".
Trivia
This episode features three alliances, a fake alliance between Jim and Dwight, a real alliance between Jim and Pam, and a minor alliance between Dwight and Roy.
The Dundie awards are first mentioned in this episode. We finally get to see the Dundies in the episode "The Dundies".
A sign seen in this episode gives Dunder Mifflin's address as 1725 Slough Avenue, a reference to the UK The Office locale in Slough, Berkshire, England.
On the Season One DVD, the synopsis for this episode mistakenly refers to Jim as John, the name of the actor portraying him (John Krasinski).
When Dwight asks Jim if he would like to form an alliance, Jim responds by saying "Absolutely, I do". This is later referenced in "The Job", in which Pam says that Jim told her that if Dwight ever asks you to be in something secret, you respond with "Absolutely, I do".
This episode marks the first appearance of the staff newsletter. The text of the staff newsletter is the same each time it appears (since it is merely a

prop

); only the picture and headline change.
Top Salesman Award
Welcome to yet another exciting edition of the Dunder Mifflin Employee Newsletter. Thanks to all of the staff and new contributing writers for putting this together for all of you, and also many thanks to the folks at Designtown for printing this up for us. Hopefully you will find a lot of useless information contained herein that will help you do your job better, faster and quicker and cheaper and happier.
As anybody can easily tell, this newsletter doesn't really have a lot to say. It's really just a prop to fill some space and sort of look like a newsletter without really being much of a newsletter at all. By typing a lot of words in two columns on the front of this page, we can achieve the look of a newsletter without really reporting much news or provide any real information to the reader at all. In fact, at times we can probably get away with not using real English words, such as kjgowbiwiwpo, ovcviqvck, or the much beloved dfbiouvsulegphaelk. These words can also be strung together to form a sentence, paragraph or even a whole prop book, magazine or newspaper.
Jim mentions that Dwight should spy on the Stamford branch this would foreshadow his transfer to Stamford later in the series until the Stamford branch is shut down and Jim is transferred back to Scranton.
This episode introduces the Party Planning Committee.
When discussing the color of the streamers for the party, Phyllis begins naming colors and Pam recommends green. Angela then says green is 'whorish' and the camera pans to Phyllis, who is wearing a green shirt. Later, in "A Benihana Christmas", Angela tells Phyllis to get green streamers and Phyllis says, "I thought you said green was whorish." Angela tells her orange is whorish, and the camera pans to Phyllis, who is wearing an orange shirt.
Amusing details
When Jim begins taping up the box, there is a rat caught in a trap under the rolling cart behind him. (The production team even went to the effort of getting an animatronic rat.)
Stuck to the credenza in Michael's office (behind Michael's left shoulder) is a sticky-note that says "Whistle and I'll fart." This is never explained.
In Meredith's birthday card, Michael reads what Jim wrote. "You're an accountant, just fudge the numbers". Meredith is in supplier relations not accounting.
When Jim explains to Pam his plan to get Dwight to dye his hair, there is a flashback to Jim and Dwight talking. On Dwight's computer screen is the Windows computer game Space Cadet Pinball.
In a conversation between Toby and Ryan it is revealed that it is actually Ryan's birthday. Toby and Ryan are in mid-conversation and Toby says "really? today?" and Ryan says "yeah" Toby says "want me to say something" and Ryan says "don't do that."
Goofs
In the Season 1 DVD, the plot summary for this episode reads in part, "As rumors of downsizing continue to circulate, Dwight suggests to John that they form a protective, strategic alliance." The summary confuses actor John Krasinski with his character Jim.
Behind the scenes
In the warehouse scene with Pam, the role of Dwight in the box was played not by actor Rainn Wilson but by prop master Phil Shea.[1]:36:10 Photo. He had to scramble to obtain boxes big enough to fit Rainn Wilson. He found a company in San Diego who could make 100 boxes on very short notice.[1]:38:31
The first cut of the episode ran 37 minutes long. Producers considered making the episode a two-parter, one focusing on the Alliance and another focusing on Meredith's birthday party.[2] This ended up not being possible because the alliance plot ends with the office decorated for a birthday party.[1]:10:20
Most of the Party Planning Committee interactions were unscripted. Greg Daniels told them, "Just keep planning the party." This established the dynamic of Angela bullying Phyllis, with Pam caught in the middle. In addition to Angela calling green 'whorish', she also belittled Phyllis's suggestion that they shout, "Happy birthday, surprise!" instead of "Surprise, happy birthday!"[1]:11:13
Jenna Fischer's take on the Party Planning Committee scene was that Pam didn't volunteer but was rather forced into it by Michael, and she wanted to participate as little as possible, hoping for it to be over.[1]:32:57
The car that Dwight kicks actually belongs to actress Phyllis Smith, who plays Phyllis on the show. Rainn Wilson stated that after every take she would tell him, "Please don't kick the hubcap too hard."[3]
There were over a dozen takes of the scene where Michael wolfs down cake. Steve Carell ate so much (at 7:30 in the morning) that he got sick.[4] Jenna Fischer considers shooting the scene as "the absolute worst" experience on the show. "We all got so sick [from eating ice cream cake]".[5] She made the mistake of taking a big bite of ice cream cake in the first take, which then required her to take big bites from then on in order to preserve continuity.[1]:46:40
Not much of the footage made the final cut, but during the party, Ryan talks to a different woman in the background of each scene. The producers thought this was a nice character touch for the new employee.[6]
Cultural references
The terms alliance and immunity come from the early 21st century television reality game show Survivor. Contestants are eliminated one by one, although a contestant can win "immunity" from elimination, and contestants typically form "alliances" to engineer the elimination of a rival. Randall Einhorn, the camera man for this episode and several other, was a camera man for Survivor.
Come on down! is the catch phrase from the television game show The Price Is Right.
"You're fired!" is the catch phrase from the television reality game show The Apprentice, hosted by Donald Trump.
Michael uses his cell phone like a communicator from Star Trek, a 1960s science fiction television program.
Beeyotches is an intentional mispronunciation of bitches, a derogatory term for women.
Baskin-Robbins is a chain of ice cream parlors.
Guns is a slang term for muscles, most commonly the biceps.
Bird day is a pun on birthday.
Mary had a little lamb is the opening line of a nursery rhyme.
A walkathon is a fundraising event where donors pay a pledged amount for each mile (or other distance) the participant walks, up to a pre-set limit.
Liz Taylor is an actress who has been divorced seven times.
A brain fart is slang for a momentary mental lapse.
Frodo and Gollum are characters from the epic fantasy novel The Lord of the Rings.
Michael Jackson is a musician known for, among other things, undergoing large quantities of cosmetic surgery.
Quotes
Cast
Main cast
Recurring cast
References