Staples is a national chain of office supply stores. In the show, it is one of Dunder Mifflin's biggest competitors.
There is a Staples store in nearby Dickson City and another in Wilkes-Barre, about a half hour's drive away.
Employment
Edit
In the episode "Branch Closing", Josh Porter leaves Dunder Mifflin for a senior executive position at Staples. His departure leaves the reorganization plan of Dunder Mifflin in disarray.
In the episode "The Return", Dwight works at Staples after quitting in the previous episode. His stint at Staples is short-lived when Michael re-hires him. Dwight's brief employment at Staples becomes a minor plot point in the episode "Dunder Mifflin Infinity".
Competition
Edit
In the episode "The Convention", Michael successfully breaks Staples' exclusive deal to distribute Hammermill paper products.
In the episode "Branch Wars", Michael tricks Jim into joining his raid on the Utica branch by telling him that a potential client dropped Staples as a supplier.
Office supplies
Edit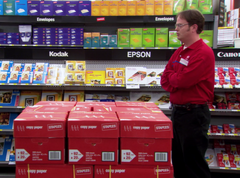 Despite their competition with Staples in the paper industry, the Dunder Mifflin offices do purchase Staples' non-paper products.
Starting with the second season, a box for a Staples shredder appears on top of the supply shelf closest to the conference room.
A Staples shredder featured prominently in the episode "The Merger" as part of a product placement agreement.
Staples blank CDs are kept on the bottom shelf of the supply shelf.
A spindle of Staples blank CDs can often be found on Dwight's desk.
What appear to be two packages of Staples fax paper can be seen in the reception area behind Pam.
Dwight stole leads from Staples and used them to win a competition between him and a computer in "Launch Party."