Wiki Targeted (Entertainment)
Play Sound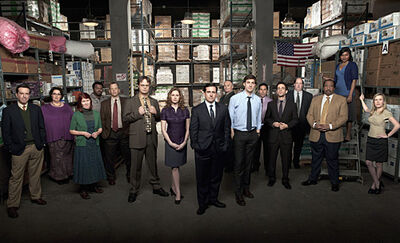 Season 6 of The Office began on September 17, 2009 on NBC. It had 26 episodes (including two-hour longs) and will end on May 20, 2010. It focuses mainly on Jim and Pam's marriage, baby, and life changes, while Erin and Andy and Dwight and Angela deal with unfinished business in their relationships. Pam's friend Isabel starts a relationship with Dwight, which causes jealously in Angela, while Dunder Mifflin is bought out by Sabre CEO, Jo Bennett, who brings along Gabe. David Wallace is fired.

Michael starts a relationship with Donna, but still misses Holly, and also has a fling with Pam's mom, Helene. Jo Bennett causes the office to work harder, while Erin and Andy try to deal with their relationship and dating life.
Notable guest stars include Kathy Bates, Zach Woods, Amy Pietz and Linda Purl. Season Six features two highly anticipated episodes: the Jim and Pam wedding ("Niagara") and the Jim and Pam delivery ("The Delivery").
The previous season is Season 5 and the next season announced is Season 7.
Episodes
Episode Title
Season Episode Number
Production Code
Original Airdate
Gossip
1
601
September 17, 2009
Directed and written by Paul Lieberstein.

Michael, Andy, and Dwight practice "Parkour." More importantly, as the summer interns prepare to depart, the office gossips about them and Michael feels left out. Michael discovers that Stanley is having an affair, and tells everyone. When Michael realizes the damage he's caused, he fabricates numerous other rumors to discredit himself, including that Andy is gay (confusing Andy) and that Pam is pregnant (unknown to him that she is actually pregnant). As Michael tries to clear the air, Jim and Pam admit their rumor is true to save Stanley embarrassment.

The Meeting
2
602
September 24, 2009
Directed by Randall Einhorn, written by Aaron Shure.

Jim submits a plan for promotions for himself and Michael to David which Michael manages to bungle. Dwight and Toby investigate Darryl's worker's comp claim and mistake Darryl's sister for Darryl. Pam struggles to gather responses for her wedding, and gets rude responses from most of the staff. Ultimately, Jim and Michael are made co-manager to Dwight's horror.

The Promotion
3
603
October 1, 2009
Directed and written by Jennifer Celotta.

Jim and Michael's management styles clash, especially after David's budget will only allow a small or no raise this year. Dwight fails in his attempt to raise allies against Jim. Pam feels awkward asking for cash instead of wedding gifts, but is ecstatic when Kevin writes a check saying, "Pam Halpert." Jim and Michael try to solve the raise problem by putting beans on each employee's picture determining how much or how little they get.

Niagara
4/5
604/605
October 8, 2009
Directed by Paul Feig, written by Greg Daniels & Mindy Kaling.

The Office travels to Niagara Falls to celebrate Jim and Pam's wedding. Pam's meemaw is upset when she learns Pam is pregnant. Michael and Dwight try to hook up with guests at the wedding. Andy injures his scrotum while dancing. Jim and Pam delay the wedding when they sneak off to marry on the Maid of the Mist, allowing them to calm their nerves and enjoy the wedding. A montage of their trip on The Maid of the Mist is shown and a dance based on the JK Wedding Dance is shown as well during it.

Mafia
6
606
October 15, 2009
Directed by David Rogers, written by Brent Forrester.

Michael meets with an insurance salesman and is convinced by Dwight and Andy that he is part of the mafia. The staff constantly call Jim and Pam on their honeymoon, until finally Kevin accidentally cancels Jim's credit card. Erin ruins Pam's painting after she is trying to clean it, and Creed distracts her.

The Lover
7
607
October 22, 2009
Directed by Lee Eisenberg, written by Lee Eisenberg & Gene Stupnitsky.

Jim and Pam return from their honeymoon and are shocked when Michael reveals he is dating Helene, Pam's mother. Pam is incensed and openly berates Michael. Dwight attempts to bug Jim's office in his plan to sabotage Jim and puts a mallard in his office containing a listening device, however, Jim finds it. Dwight shows the crew that he put a pen with a listening device as well and succeeds at getting hours of information on Jim. Erin tries to follow Michael's rules blindly.

Koi Pond
8
608
October 29, 2009
Directed by Reggie Hudlin, written by Lee Eisenberg & Gene Stupnitsky.

While on the way to a business meeting, Michael falls into a koi pond. The staff tease him so he holds an anti-bullying seminar. Meredith gets the video tape of Michael falling, and the office realizes that Jim let him fall in. Pam and Andy go cold-calling to stir up some new business; they reluctantly use clients' mistaking them as a couple to their advantage. The staff stages a haunted house for local kids in the warehouse at Halloween, while Michael tells the kids that suicide is "the easy way out."

Double Date
9
609
November 5, 2009
Directed by Seth Gordon, written by Charlie Grandy.

Jim and Pam reluctantly lunch with Michael and Helene for her birthday. However, when Michael learns Helene's age, he dumps her, infuriating Pam even more. She reluctantly slaps Michael in the parking lot after work, with the help of Toby. Dwight tries to cull favors from everyone in the office to help him overthrow Jim. Ryan gets into photography and shows Erin his pictures with a nude Kelly, called, "Exposure in the Workplace."

Murder
10
610
November 12, 2009
Directed by Greg Daniels, written by Danny Chun.

The Dunder-Mifflin staff are troubled by new rumors of insolvency. Michael forces the office into a day of diversions, primarily playing a murder mystery role-playing game. Andy awkwardly attempts to court Erin. David Wallace tells Jim that they will be insolvent by the end of the year.

Shareholder Meeting
11
611
November 19, 2009
Directed by Charles McDougall, written by Justin Spitzer.

Michael is excited when he's invited by David Wallace to attend the Dunder Mifflin shareholder meeting in New York; he is dismayed by the hostile crowd and causes the board of directors even more trouble. Jim finds he is being undermined by Ryan who refuses to do work, so Jim decides to make an example of him in front of the staff.

Scott's Tots
12
612
December 3, 2009
Directed by B.J. Novak, written by Lee Eisenberg & Gene Stupnitsky

Michael must renege on a promise he made to a group of kids ten years ago to pay for their college tuition. With Erin's help, he is able to do it. Meanwhile, Jim falls victim to one of Dwight's schemes to get him fired: creation of an employee of the month program. Although the staff and David are angered when Dwight rigs the winners to be Jim and Pam, Jim survives. Ryan joins forces with Dwight to bring down Jim.

Secret Santa
13
613
December 10, 2009
Directed by Randall Einhorn, written by Mindy Kaling

Michael is outraged when Jim allows Phyllis to be Santa at the office Christmas party. Jim and Dwight try to get everyone into the holiday spirit despite the uncertainty with Dunder Mifflin. Meanwhile, Oscar has a secret crush. David Wallace and Alan Brand, the CFO and CEO, among others are let go. Andy has Erin as a secret santa, Jim has Kelly, Ryan has Toby, and Michael has Dwight.

The Banker
14
614
January 21, 2010
Directed by Jeffrey Blitz, written by Jason Kessler

A banker, who is a potential buyer of Dunder Mifflin, comes to the office and Michael tries to impress him by replacing Stanley and making Pam an international salesman. The banker talks with Toby about safety issues, waste of resources, and sexual harassment, and every time the banker brings up a new subject, clips proving Toby's lies wrong are show. This is a clip show.

Sabre
15
615
February 4, 2010
Directed by John Krasinski, written by Jennifer Celotta

It's the first day of the Sabre buyout! We meet the new boss, Gabe Louis and Michael doesn't like him or the new company's ways. After having a confrontation with CEO, Jo Bennett, Michael visits David Wallace and realizes he's fallen by the wayside and is working on the Suck It. Meanwhile, Jim and Pam realize they might not be as charming as they think they are when they visit a daycare, and Andy and Erin come up with a song for Sabre, as Erin waits for him to ask her out.

Manager and Salesman
16
616
February 11, 2010
Directed by Marc Webb, written by Mindy Kaling

The office finally meets Jo Bennett, the southern charismatic boss with an autobiography. She seems great until she realizes that there are two managers and says that one should go back to being a salesman and one should stay on as manager. Jim agrees to go back because there is no caps on commission, however, Michael also wants to go back, so Jo puts Jim as manager, until finally, she agrees to let Jim be salesman. Meanwhile, Andy's Valentine's Day plan for Erin backfires when Kelly thinks that Andy likes her.

The Delivery
17/18
617/618
March 4, 2010
Directed by Harold Ramis and Seth Gordon, written by Charlie Grandy and Danny Chun

When Pam's contraction's begin, Jim and her are determined to stay out of the hospital as long as they can so they can have more time at the hospital later. Meanwhile, the rest of the office tries to entertain Pam by using food and entertainment. Later, Pam gives birth and Michael Scott awaits her baby to be born. Erin makes Andy jealous by going to lunch with Kevin. One-hour long.

St. Patrick's Day
19
619
March 11, 2010
Directed by Randall Einhorn, written by Jonathan Hughes

It's St. Patrick's Day in Scranton, and Michael debates whether to impress Jo Bennett, who is leaving for Florida for a while, or to go to the St. Patrick's Day party at a bar with Todd Packer. Jo snaps when Michael tries to get her to like him, and he learns that she may work very late, and realizes he doesn't want to be like Gabe, who obeys every thing Jo tells him to do. Meanwhile, Darryl moves upstairs when he catches Jo's eyes, while Dwight tries to get Jim to permanently leave Dunder Mifflin. Also, Erin and Andy go on an "interesting" date when Andy meets her foster brother, who seems to take interest in Erin.

New Leads
20
620
March 18, 2010
Directed and written by Brent Forrester

When the sales staff lets new Sabre's "sales is king" policy get to their heads, Michael hides their new, prized leads, and gives some to the rest of the staff, leading to tensions boiling. Meanwhile, as Jim tries to end the office conflict, Michael and Dwight go to the dump to find the leads that Michael accidentally threw away, and end up talking about how they aren't friends anymore. Later, Erin and Andy go to the dump together. Pam alerts Jim throughout the day on what Michael means.

Happy Hour
21
621
March 25, 2010
Directed by Matt Sohn, written by B.J. Novak

Michael gets kicked out of the bar when he whips out all the stops to impress a friend of Jim and Pam, who is thrilled to have a moment for herself while her mom watches Cecilia. Meanwhile, Andy and Erin do their best to keep their relationships under wraps. Also, Dwight rethinks his pre-natal contract with Angela. Oscar tries to start a relationship with Matt. We meet Hide.

Secretary's Day
22
622
April 22, 2010
Directed by Steve Carell, written by Mindy Kaling

Andy pulls out all stops to give Erin and memorable Secretary's Day. Michael reluctantly takes Erin out to lunch and lets slip about Andy's relationship with Angela. Meanwhile, Oscar circulates a viral video which compares Kevin's voice to Sesame Street's Cookie Monster.

Body Language
23
623
April 29, 2010
Directed by Mindy Kaling, written by Justin Spitzer

Pam and Jim work on their first sales pitch together to Donna, the manager of a local restaurant. But Michael keeps misreading the signals she's putting out. Meanwhile, Dwight encourages Kelly to try out for the minority training program.

The Cover-Up
24
624
May 6, 2010
Directed by Rainn Wilson , written by Lee Eisenberg & Gene Stupnitsky

When Michael suspects that Donna, his girlfriend, is cheating on him, he sends Dwight to investigate. Meanwhile, Andy is angry when no one will take his customer's complaint of printers catching on fire seriously.

The Chump
25
625
May 13, 2010
Directed by Randall Einhorn, written by Aaron Shure

Michael is surprisingly cheerful after learning some bad news about Donna. The new parents, Pam and Jim, have trouble staying awake in the office. Meanwhile, Angela takes matters into her own hands when Dwight refuses to honor their contract.

Whistleblower (Season 6 finale)
26
626
May 20, 2010
Directed by Paul Leiberstein, written by Halsted Sullivan & Warren Leiberstein

CEO Jo Bennett is hell-bent and goes on a search with Michael to find the person who leaked that Sabre printers catch on fire. Everyone thinks that Andy, who adamantly denies saying anything to anyone, is the leak.
Community content is available under
CC-BY-SA
unless otherwise noted.