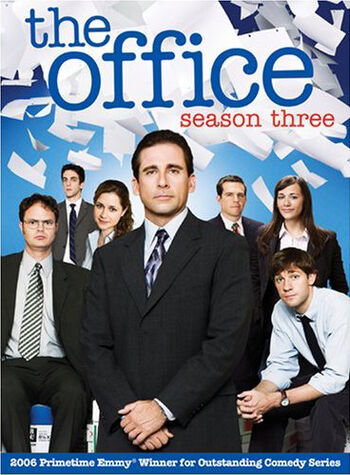 Release Date: September 4, 2007
Number of Episodes: 23
Number of Discs: 4
Aspect Ratio: 1.78:1
Season 3 of The Office was released in North America on September 4, 2007. It contains all 23 episodes from Season 3, audio commentary on selected episodes, several deleted scenes, and much more. All episodes are presented in Anamorphic Widescreen (1.78:1).
Discs
Disc One
Disc Two
Excerpts From the 2006 NBC Primetime Preview Hosted by "The Office" Cast
Dwight Schrute Music Video
Joss Whedon Interview
Videos from The Office "Make Your Own Promo" Contest
Disc Three
Disc Four
Exclusive offers
Target, Best Buy, Circuit City, and Costco outlets each offered their own exclusive special packages with the release of the Season 3 DVD.
Target offered a "Deluxe Edition" which has an all brown case with the Dunder Mifflin logo on it and the words "Nifty Gifty" printed on top, a shooting draft of Gay Witch Hunt and a Q&A with the cast and crew at the Museum of Television and Radio (Paley Fest).
Best Buy offered "The Welcome Aboard Kit" which includes a Dundie Award, a Dwight Schrute mini-bobblehead, and a welcome aboard letter in a collector's box similar to Season 2's.
Circuit City offered a bundle which included a mousepad with a picture of the cast on it.
Costco offered a bundle including Seasons 1 and 2 and a small soft-side lunch bag/cooler with the Dunder Mifflin logo on it.
Community content is available under
CC-BY-SA
unless otherwise noted.