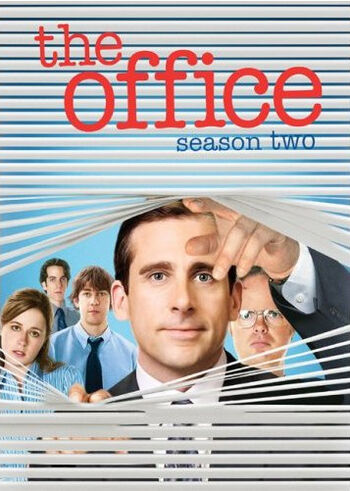 Release Date: September 12, 2006
# of Episodes: 22
Number of Discs: 4
Aspect Ratio: 1.78:1
Season 2 of The Office was released in North America on September 12, 2006. It contains all 22 episodes from Season 2, audio commentary on selected episodes, several deleted scenes, and much more. All episodes are presented in Anamorphic Widescreen (1.78:1).
Discs
Disc One
Disc Two
Disc Three
Disc Four
Exclusive Offers
Target, Circuit City and Best Buy outlets each offered their own exclusive special packages with the release of the Season 2 DVD.
Target offered an alternate version of the second disc featuring Jenna Fischer's eight minute video blog of the "Booze Cruise" episode.
Circuit City offered 3 downloadable cell phone games.
Best Buy offered "The Office Severance Package" gift set that included both Season 1 and 2 of The Office on DVD, a Dunder-Mifflin notepad, Dunder-Mifflin self-adhesive notes, a magnet designed to look like Dwight Schrute's business card, a Dunder-Mifflin pen, a monthly planner that featured Michael Scott's plans and a storage box.
Community content is available under
CC-BY-SA
unless otherwise noted.