Jurassic World: Dominion Dominates Fandom Wikis - The Loop
Play Sound
Schrute Farms is a farm and the residence of Dwight and Mose Schrute. They grow beets, which they sell to local markets, hemp, as well as keeping various animals on a seemingly non-commodified level.
It is also an agrotourist attraction. Dwight runs the establishment—which is not just a bed and breakfast—out of his home. Dwight manages the books of the establishment from his sales desk at Dunder Mifflin Scranton. When a potential client calls, Dwight answers the phone with the greeting, "Schrute Farms, Guten Tag!"("Money")
Early History
In the American Civil War, the Battle of Gettysburg was known for having the most deaths, but according to Dwight, the battle of Schrute Farms had the highest deaths per acre (DPA). It was the northernmost battle during the Civil War. However, in reality, it was actually a safe haven for men who wanted relief from the war to focus on artistic lifestyles. It is insinuated that this was a camp for homosexual soldiers. Melvin Fifer Garris is the only known soldier to write home from Schrute Farms during the Civil War. ("Gettysburg")
Farm
Dwight Schrute inherited the 60-acre working beet farm from his grandfather. ("Office Olympics") (A deleted scene from the Season 3 DVD claims, however, that Dwight won the farm in a game of blackjack.)
Dwight runs the farm with his cousin Mose, and they sell beets to local stores and restaurants. ("Office Olympics")
Dwight lives in the 9-bedroom farmhouse, which as of the episode "Office Olympics" had only one bathroom, "under the porch."
The farm later expands to 1600 acres when Dwight inherits the adjacent farm from his Aunt Shirley. ("The Farm") ("A.A.R.M.")
Agrotourism
On TripAdvisor
With the permission of TripAdvisor, the producers created a fake entry for Schrute Farms and included two reviews.
Schrute Farms is the number one beet-related agritourism destination in Northeastern Pennsylvania. We offer the finest accommodations for the casual traveler and/or radish enthusiast. Come join us and experience majestic Schrute Farms.
The first review (since deleted) was posted by sprinklesmom from Scranton, PA:
"Stay away - proprietor is crazy!"
I have to warn people about the proprietor of Schrute Farms - he may portray himself as a gentleman farmer, but he is not what he seems! He killed my cat, sprinkles!!!
Who knows what he might do to you or your loved ones....
This TripAdvisor Member disliked - The owner!!!
The second review was posted by JandP2 from Scranton:
"Schrute Farms delivers!"
The architecture reminds one of a quaint Tuscan beet farm, and the natural aroma of the beets drifts into the bedrooms and makes you dream of simpler times. You will never want to leave your room. The informative lecture will satisfy all your beet curiosity, and the dawn goose walk will tug at your heart strings. Table making never seemed so possible. Great story to tell your friends. Plenty of parking! The staff's attention to detail and devotion to cleanliness was limitless. From their enthusiastic welcome to the last wave good-bye, Schrute Farms delivers.
Date of Stay: October, 2007
Traveled with: Spouse / significant other
Visit was for: Romantic getaway
Age group: 25-34
Fans of the show added their own "reviews", and posting a review of Schrute Farms was a task in the Dunder Mifflin Infinity online game.
The fake review has been a valuable source of publicity for TripAdvisor, which does no television advertising. Schrute Farms continues to be a source of traffic to the site, thanks to syndication and DVDs.[1]
Details
Check-in for the B&B is at 3:20 and no earlier and Check out is at 5:15 no later.
Mose's job at the B&B is Bellboy and Activities Director.
King and Queen beds are unavailable because Schrute Farms makes their own mattresses that do not conform to modern mattress sizes. Twin beds, or the closest thing to a twin bed, are available. One of the biggest attractions is the 200-year-old mattresses.
Accommodations are offered for guests with special needs, dietary restrictions, or bedtime story requirements.
According to Trip Advisor, the B&B caters to the elderly.
Schrute Farms also hosts events such as weddings, birthdays, and garden parties. In "Customer Survey" he provides information about the Excalibur Wedding Package. In Season 8 episode 4, "Garden Party" Dwight mentions they have an array of birthday goat packages, the Pewter Package with the least amount of goats (10-12, depending on availability), and the Goat Package has the most amount.
Schrute Farms offers butter sculptures of either a cow, goat, or sheep, each made from the butter of that animal, for any event.
Activities
Plowing Fields
Making Tables
Beet Wine Classes
Mattress Making
Tour of the fields
Tour of the barn
Tour of the slaughterhouse
Mose's table making demonstration
Dawn Goose Walks
Beehive maintenance and honey harvesting
Beet Planting
Mose's Trampoline Tricks (Cannonball, Lemon Bomb, Go Yankees, I'm A War Hero, More Spins, Helicopter)
Rooms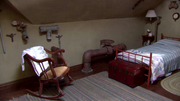 America Room
Irrigation Room

Features 2 roughly twin-sized beds with homemade mattresses, a rocking chair, and various pipe fittings that have been mounted to the walls. There are also storage chests at the foot of the beds and a large phone on a central nightstand. The pipes do not appear to have any actual plumbing function: Jim turns one of the valves to no effect. ("Money")

Nighttime Room
Dwight's bedroom
Mose's Bedroom (mentioned in ("Money"))
Notable Guests
Jim and Pam stay in the Irrigation room, take a beet winemaking class, work in the fields, and go on a dawn goose walk. ("Money")
Angela and Andy were planning on having their wedding at Schrute Farms.
Andy hosts a Garden Party to impress his parents and Robert California at Schrute Farms.
Dwight has his own wedding with Angela at Schrute Farms.
Other uses
Teenagers sometimes use the farm for sex. ("Office Olympics") In a deleted scene from "Initiation", Dwight spots two naked teenagers running away.
Schrute Farms also grows hemp, although the pizza delivery boy describes it as "really crappy weed". ("Launch Party")
The farm has a crossbow range ("Office Olympics") which can also be used for paintball. ("Christmas Party")
Other Information
In Season 1 Pilot Dwight mentions he is restoring a car in his slaughterhouse
In Season 2's episode "Office Olympics", Dwight mentions the farmhouse has 9 bedrooms.
In Season 4's episode "Heavy Competition", a card from Michael's Rolodex shows the address of Schrute Farms as "Rural Rt. 6, Honesdale, PA 18431.
In the "Finale", Dwight and Angela's wedding program lists the location of Schrute Farms as Honesdale, Pennsylvania.
Later in Season 6's episode The Meeting he tells Toby about restoring a train engine in his slaughterhouse while the two of them are spying on Darryl.
Dwight has a Silver iMac in his room in the B&B.
At one point, Schrute Farms was completely wireless, because Mose hid the wires. ("Money")
Some of the mattresses are over 200 years old.
Behind the scenes
References
↑ Miller, Stuart. March 28, 2010. For a B&B That Doesn't Exist, the Online Reviews Keep Coming, New York Times.
↑ 2.0 2.1 Kinsey, Angela and Jenna Fischer. Episode 33: Initiation with B.J. Novak and Rainn Wilson. "Office Ladies" podcast, June 24, 2020.
↑ 3.0 3.1 Kinsey, Angela and Jenna Fischer. Episode 86: The Surplus. "Office Ladies" podcast, August 4, 2021.