Schrute Farms is a farm and the residence of Dwight and Mose Schrute. They grow beets, which they sell to local markets, hemp, as well as keeping various animals on a seemingly non-commodified level. Schrute farms are originally 60 acres inherited from his father and after his Aunt Shirley's death, Dwight inherits another 1600 acres.
It is also an agrotourist attraction. Dwight runs the establishment—which is not just a bed and breakfast—out of his home. Dwight manages the books of the establishment from his sales desk at Dunder Mifflin Scranton. When a potential client calls, Dwight answers the phone by saying "Schrute Farms, Guten tag!" ("Money")
Details
Check-in for the B&B is at 3:20 and no earlier and Check out is at 5:15 no later.
Mose's job at the B&B is Bellboy and Activities Director.
King and Queen beds are unavailable because Schrute Farms makes their own mattresses that do not conform to modern mattress sizes. Twin beds, or the closest thing to a twin bed, are available. One of the biggest attractions is the 200-year-old mattresses.
Accommodations are offered for guests with special needs, dietary restrictions, or bedtime story requirements. 
According to Trip Advisor, the B&B caters to the elderly.
Schrute Farms also hosts events such as weddings, birthdays, and garden parties. In "Customer Survey" he provides information about the Excalibur Wedding Package. In Season 8 episode 4, "Garden Party" Dwight mentions they have an array of birthday goat packages, the Pewter Package with the least amount of goats (10-12, depending on availability), and the Goat Package has the most amount.
Schrute Farms offers butter sculptures of either a cow, goat, or sheep, each made from the butter of that animal, for any event.
Activities 
Plowing Fields

Making Tables
Beet Wine Classes
Mattress Making
Tour of the fields
Tour of the barn
Tour of the slaughterhouse
Mose's table making demonstration
Dawn Goose Walks
Beehive maintenance and honey harvesting
Beet Planting
Mose's Trampoline Tricks (Cannonball, Lemon Bomb, Go Yankees, I'm A War Hero, More Spins, Helicopter)
Rooms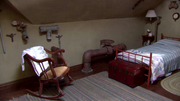 America Room
Irrigation Room

Features 2 roughly twin-sized beds with homemade mattresses, a rocking chair, and various pipe fittings that have been mounted to the walls. There are also storage chests at the foot of the beds and a large phone on a central nightstand. The pipes do not appear to have any actual plumbing function, as evidenced by Jim twisting one of the valves to no effect. ("Money")

Nighttime Room
Dwight's bedroom
Mose's Bedroom ( Mentioned In ("Money")
Notable Guests
In the episode Money from Season 4, Jim and Pam stay in the Irrigation room, take a beet winemaking class, work in the fields, and go on a dawn goose walk.
Angela and Andy were planning on having their wedding at Schrute Farms.
Andy hosts a Garden Party to impress his parents and Robert California at Schrute Farms.
Dwight has his own wedding with Angela at Schrute Farms.
Other Information
In Season 1 Pilot Dwight mentions he is restoring a car in his slaughterhouse
In Season 2's episode Office Olympics, Dwight mentions the farmhouse has 9 bedrooms.
In Season 4's episode Heavy Competition, a card from Michael's Rolodex shows the address of Schrute Farms as "Rural Rt. 6, Honesdale, PA 18431.
Later in Season 6's episode The Meeting he tells Toby about restoring a train engine in his slaughterhouse while the two of them are spying on Darryl.
Dwight has a Sliver iMac in his room in the B&B.
At one point, Schrute Farms was completely wireless, because Mose hid the wires.
Jim and Pam make jokes calling Schrute Farms Embassy Beets, a reference to the Embassy Suites hotel chain, Raddish Inn, a reference to the Radisson chain of hotels, Borscht Inn, a reference to a soup made from beets, and Beets Motel, a reference to The Bates Motel from the movie Psycho.
The size of the farm is sixty acres, however, in the last season, he inherits his Aunt Shirley's neighboring farm and the farm is now 1600 acres.
There is a crossbow/paintball range on the property.
Teens often use the farm for sex.
 Some of the mattresses are over 200 years old.
 It was used for people who did not support the civil war to go and meditate peacefully.
For other information see TripAdvisor. http://www.tripadvisor.com/Hotel_Review-g52842-d730099-Reviews-Schrute_Farms-Honesdale_Pocono_Mountains_Region_Pennsylvania.html
---
Filming Location: Golden Oak Ranch, 19802 Placerita Canyon Rd, Newhall, CA.
Community content is available under
CC-BY-SA
unless otherwise noted.