Sabre (Stock Symbol: SBR) was a printer company that bought out Dunder Mifflin. The last CEO was Robert California. It was based in Tallahassee, Florida.
Print In All Colors
Edit
Cyan...Magenta...Yellow
These three simple hues work together in Sabre printers to produce the full spectrum of colors on our Dunder Mifflin paper. Likewise, our "Print in All Colors" initiative uses the diversity of our employees to produce Sabre's premiere collection of printers and all-in-one machines.
Encouraging diversity not only gives a leg up to deserving people but allows Sabre to pull ideas and inventions from the widest collection of the most colorful minds on the planet. Our employees' brains are as cutting edge as our printers and they keep this company moving forward. Without diversity of thought, talent and experience, we might still be making dot matrix printers.

To encourage innovations and superb customer service, Sabre recruits, hires, trains, and promotes without regard to race, skin tone, gender, age, religion, marital status, disability*, sexual orientation, national origin, veteran status, or surgical history. Our Junior Executive Trainee program (a part of "Print in All Colors") seeks out Sabre's best and brightest employees who otherwise would not be considered for management. These future leaders take with them not only their great minds and beautiful hearts but a cultural understanding that is unmatched. We encourage employees of color to apply. (Void where prohibited by discrimination laws.)[1]
Sales is King
Edit
Sabre believes that salesmen are the most important part of the company.
Information
Edit
The new employee training video is hosted by Christian Slater. It is a printer company that sells several printer types including the Sabre iPallete. It has businesses in North America and South Korea. It is a very successful company.
Takeover of Dunder Mifflin
Edit
On December 10, 2009, Sabre took over the only surviving branch of Dunder Mifflin, the Scranton Branch. It is debated whether Karen's Dunder Mifflin Utica branch and Holly Flax's Dunder Mifflin Nashua survived the takeover, although it is implied by DunderMifflin.com and David Wallace claiming that Sabre purchased Dunder Mifflin for the distribution[1] that they, along with Dunder Mifflin Albany and Dunder Mifflin Akron, did survive. The employees of corporate are also fired. Following the merger, CEO Jo Bennett visited the branches. David Wallace later buys back the company when Sabre was liquidated.
Printer Scandal
Edit
One of Andy's customers informed him that his Sabre printer was performing a routine print-job when it suddenly caught fire and exploded. In the episode The Whistleblower, the press catches wind of the scandal and Sabre comes under fire from the media and is forced to place a recall on all Sabre printers.
After the problems faced under Robert California's management, Jo Bennet decides to liquidate the company. Dunder Mifflin, which was a division of Sabre, is saved because David Wallace bought the company.
Featured In
Edit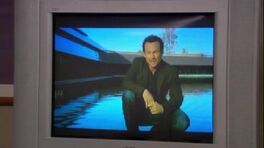 References
Edit