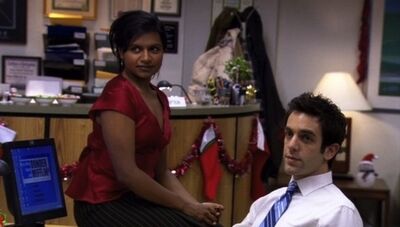 Ryan and Kelly have had a strained relationship, since the two have opposite personalities. They began dating on Valentine's Day Eve 2006, and Ryan tried to break up with Kelly multiple times unsuccessfully. He finally succeeded when he left for a new job in New York. It was rekindled when after being fired from corporate and rehired again as a temp receptionist while Pam was at art school in NY. Kelly had been dating Darryl since, and used their relationship to make Ryan jealous. Once Pam returned from New York, Ryan returned to the annex to share the nook with Kelly. Shortly afterwards, Ryan left Dunder Mifflin and Kelly again ("to go to Thailand"), returning months later to work with Michael at his new paper company. Sometime after Michael and Ryan (along with Pam) rejoined Dunder Mifflin, Ryan got back together with Kelly. They have been together ever since, revealing in early 2011 that they got married on a drunken whim. Even though they divorced, after only a week, they are still a couple. When Pam gets Kelly to date Ravi however, Kelly finds this relationship more suitable and the two get engaged resulting in Kelly moving to Ohio when he accepts a job there. Ryan follows her there.
In the series finale, they finally run away together.
Status: Together
Community content is available under
CC-BY-SA
unless otherwise noted.