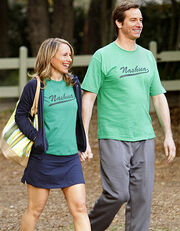 Rob Huebel (born June 4, 1969) is an American actor, comedian and writer best known for his sketch comedy work on the MTV series Human Giant. He currently co-stars on the Adult Swim series Childrens Hospital.
Rob Huebel
[1]

Rob Huebel in May 2007

Born
June 4, 1969 (1969-06-04) (age 50)
Occupation
Actor, comedian, writer
Years active
1998–present
Early life
Edit
Huebel was born in Alexandria, Virginia. He attended Annandale High School in Annandale, Virginia before attending Clemson University in South Carolina, graduating with a degree in marketing. While attending Clemson University he was a brother of the Kappa Alpha Order. He later moved to New York and began studying improv comedy at the Upright Citizens Brigade Theater.[1]
Huebel's early work was as a sketch actor on shows such as Late Night with Conan O'Brien and Upright Citizens Brigade. He was nominated for an Emmy award for his work as a producer for Michael Moore's Bravo series The Awful Truth and also worked as a segment producer on The Daily Show with Jon Stewart for a number of years.
Huebel was a panelist on the VH1 series Best Week Ever, part of the NetZero "Candidate Zero" campaign during the 2004 election, and known for the "Inconsiderate Cell Phone Man" character, shown at movie theatres before showtime. He also appeared on the HBO television series Curb Your Enthusiasm as well as Fox's Arrested Development. He is the comedy partner of Rob Riggle, a comedian he worked with in the improvisational comedy troupe Respecto Montalban and at the Upright Citizens Brigade. Huebel and Riggle performed a comedy bit in the documentary Super High Me. Among their best known work at UCB, included their long-running two-man show "Kung-Fu Grip", which was eventually showcased at the 2004 HBO Comedy Arts Festival.
Huebel and fellow comedians Aziz Ansari and Paul Scheer are writers, actors, and executive producers in the MTV sketch comedy show Human Giant. Some of Huebel's characters from the show include Samir from "The Shutterbugs" and T.C. Everwood from "Clell Tickle." He guest starred in the 30 Rock episode "MILF Island", and also as Holly's boyfriend A.J. in two episodes of The Office. He played the role of 'Tevin' in the 2009 comedy I Love You, Man. He also co-stars with Rob Corddry in Childrens Hospital, currently airing new episodes on Adult Swim.
Huebel often performs live comedy, most regularly at the UCB Theatre in Los Angeles. He co-hosts Crash Test with Paul Scheer twice a month, as well as hosting The Shit Show, in which he gathers famous performers who display the worst scenes in films, television, and commercials that they have ever done.
Huebel recently wrote and starred in a series of filmed sketches called "Hold-Up" for the HBO sketch comedy program Funny or Die Presents, which began airing in February 2010. Huebel along with comedians Paul Scheer and Rob Riggle are currently working on a new series of sketches together for Funny or Die Presents upcoming second season, which starts airing in early 2011.
Huebel most recently appeared in the films The Other Guys, Little Fockers, The Descendants, and as voice of the anchorman in Despicable Me.
Community content is available under
CC-BY-SA
unless otherwise noted.