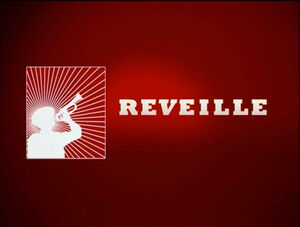 Reveille Productions is an independently-owned television and motion picture studio and production company based in Los Angeles. The studio was founded by Ben Silverman in March 2002.
Réveille means "wake up" in French.
In 2007, Silverman accepted the job as the new entertainment head at NBC. However, because of this arrangement, he can not profit from any further projects associated with Reveille but will continue to work on shows prior to his NBC deal.
In February 2008, it was reported that Elisabeth Murdoch's Shine Productions has bought Reveille for $125 million. Also the same year, ShineReveille International has made a deal with Merv Griffin Entertainment to distribute all of MGE programming overseas.
Selected productions
Edit
Ugly Betty (Co-produced with Silvio Horta's Silent H Productions, Salma Hayek's Ventanarosa Productions and ABC Television Studio)
The Office (Co-produced with Greg Daniels' Deedle-Dee Productions and Universal Media Studios)
The Tudors (Co-produced with Showtime, Working Title Films, and Canadian Broadcasting Corporation)
Little Britain USA (Co-produced with BBC Worldwide Americas and HBO and Granada America and 19 Entertainment)
Nashville Star (Co-produced with USA Network)
30 Days (Co-produced with FX)
Parental Control (Co-produced with MTV)
Date My Mom (Co-produced with MTV)
Blow Out (Co-produced with Bravo)
House of Boateng (Co-produced with Sundance Channel)
Coupling (US TV series) (Co-produced with BBC Television and NBC Universal Television)
The Biggest Loser
Shear Genius
Family Guy (Co-produced with Fuzzy Door Productions and 20th Century Fox Television)
Identity
Kath & Kim
American Gladiators (2008 TV series) (Co-produced with MGM Television)
Do Not Disturb (Co-produced with Principato-Young Entertainment and Fox Television Studios)