Pamela "Pam" Morgan Halpert (née Beesly), is a fictional character played by Jenna Fischer in the television series The Office. She is based on Dawn Tinsley in The Office UK.
Personality
Pam's personality changes throughout the series. She is at first, shy and denies liking Jim, however, she later becomes more assertive and tells people what she thinks. She pushes that even further at times to get her way and she can be very unwavering. She takes risks, and joins Michael, however she starts to regret it, but is loyal to him. She becomes even more assertive later in the series, to the point where people find her unkind at times, however, most people find Pam a calm, fun, and as a rarity in the office, sane.vfvf
Season One
Pam is the receptionist at Dunder Mifflin's Scranton branch. She appears shy and hesitant at times, but she is very kind and has a good sense of humor. (Pilot) She has been dating warehouse employee Roy Anderson for eight years and engaged to him for three. Roy's hesitance to set a date for their wedding often leaves Pam hurt; Michael, however, finds it hilarious. (Pilot)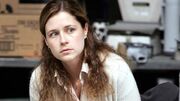 Pam is unenthusiastic about her job, showing a passion and talent for art as early as the Pilot. She states in a talking head interview that, "I don't think it's many little girls' dream to be a receptionist" and comments that she would be unfazed if she were let go; however, when Michael mock-fires her, she breaks down and calls him a "Jerk". She appears resigned to the fact that her job amounts to little more than babysitting Michael. (Pilot)
It is clear from early in the series that Pam and Jim are very close friends; they are frequently found chatting and devising pranks to play on Dwight. While she does appear cognizant of the fact that Roy is not Jim's favorite person, Pam seems to be oblivious to Jim's romantic interest in her throughout the first season, and either ignorant or in denial of her own for him. (Pilot)
She becomes a bit jealous when Jim is with Katy and puts on makeup after Jim says he is going to go out with Katy. ("Hot Girl")
Season Two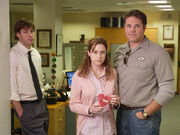 Jim and Pam's relationship in Season 2 continues to be a source of speculation. Pam receives the "Whitest Sneakers Award," something secretly engineered by Jim when he saw how upset she was at the prospect of receiving yet another "Longest Engagement" Dundie. After her jubilant acceptance speech, Pam drunkenly kisses Jim full on the lips in front of everyone, an event which has not been discussed or acknowledged since. Pam was later banned from all Chili's locations for sneaking drinks from other tables. ("The Dundies")
There are a few instances in this season in which tensions between Jim and Pam run particularly high, for example, when Jim misinterprets Pam's innocent suggestion that he should pursue another job far from Scranton ("Halloween"), or when Jim snaps at her after Pam dismisses the notion of their rooftop dinner as a "date." ("The Client") However, despite these instances, their friendship remains relatively unscathed.
Although she never explicitly states so, Pam appears uncomfortable with Jim's relationship with purse salesgirl Katy, which began in the Season 1 finale "Hot Girl" and extends into the second season. ("The Fire") (Roy also admits being attracted to Katy.)
Pam is overjoyed when a drunken Roy finally set June 10 as their wedding date. ("Booze Cruise") She is later rather upset when Jim deliberately schedules a trip out of the country to ensure his absence at the wedding. ("Dwight's Speech")
When Michael reveals that Jim had feelings for Pam to the entire office, Jim opts to tell Pam himself so that she does not hear it in another less-controlled situation. However, he bends the truth, claiming that he had previously had a crush on her, but that he is "totally over it" now. Michael later hints to Pam that Jim may not have been telling the full truth, but, in a rare moment of self-awareness, stops himself from further confirming it. ("The Secret")|
Jan informs Pam about an internship in graphic design Dunder Mifflin is sponsoring in New York. Pam is hesitant at first, but after encouragement from Jan and Jim, decides to pursue the program. Her hopes are shot down by Roy, however, who deems the idea "impractical." She later breaks down and cries in front of the documentary crew about not going for her dreams. ("The Carpet")
Pam learns the full truth of Jim's feelings for her during which he reveals to her that he is in love with her. Visibly shaken by his confession, she gently tells him she cannot pursue a relationship with him. Afterward, Pam retreats to the darkened office to call her mother. Minutes later, Jim walks in. They kiss, and the season ends. ("Casino Night")
Season Three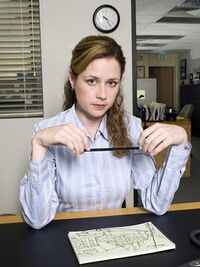 The season opener, "Gay Witch Hunt," reveals that Pam called off her wedding. She states in a talking head that she "got cold feet." A flashback to "Casino Night" shows that, after Jim and Pam's kiss, they acknowledged that they had both wanted to kiss for a very long time, but Pam reiterated her intentions of going through with her wedding, which a heartbroken Jim accepted. (He then took a transfer to Dunder Mifflin Stamford.) Pam appears to be doing well; she has gotten her own apartment and car, and has started taking art classes, something Roy never encouraged. It is very clear, however, that she misses Jim terribly.
Roy has gone into a downward spiral since the demise of his relationship with Pam; he has gotten a DUI, gained weight, and fallen into a depression. Having gotten his wake-up call, he is now determined to win back Pam's affections.
The first several episodes of Season 3 show Pam awkwardly trying to gain independence after such a long relationship with Roy. At Kelly's encouragement, she goes on a blind date in "The Convention," which goes dismally. In "Grief Counseling," Pam coordinates a bird funeral at Michael's insistence; and in "Diwali," she attends the local Diwali celebration with her co-workers. The first contact between Jim and Pam in the season does not come until "Initiation," when Jim calls Scranton one night, doubting she'd be there so late, looking for Kevin's voicemail. A DVD commentary confirms that Pam and Jim talked for three hours that night.
Pam was thrilled to see Jim again when the Stamford branch closed and merged with Scranton. Her excitement was quickly squelched, however, when she learned that Jim had begun dating Karen Filippelli while in Connecticut. While it is clear Pam still has feelings for Jim (and vice versa), she kept a lid on them, for the sake of maintaining her friendship with Jim. She even begins a friendship with Karen.
"Back From Vacation" shows Pam put in the awkward position of advising Jim on his relationship with Karen. Her advice winds up pushing Jim closer to Karen, both physically and emotionally. Pam, in a rare overt display of emotion over her feelings for Jim, breaks down sobbing in the stairwell and is comforted by Dwight.
Roy's efforts to win Pam back look to have succeeded come "Phyllis' Wedding," in which he pays Scrantonicity twenty bucks to play "their song." They wind up dancing and leaving the reception together, seemingly rekindling their relationship. Roy, however, falls back into his pattern of neglect almost immediately, only halfheartedly doing what Pam calls "boyfriend things," such as attending her art show in "Business School."
Pam decides to start being more honest with everyone, especially Roy. In the interest of full disclosure, Pam tells him that she kissed Jim nearly a year prior. Irate, Roy becomes physically violent and begins trashing the bar. Frightened, Pam immediately terminates their relationship and leaves.
In "The Negotiation," Roy unsuccessfully tries to attack Jim at work and is fired from Dunder Mifflin. Pam agrees to meet with Roy for coffee to clear things between the two of them. Roy issues an apology to both Jim and Pam, and even encourages Pam to go after Jim if he is who she truly wants. After a hug at the end of their meeting, it appears their relationship, romantic or platonic, has ended.
"Beach Games" marks a significant moment in Pam's transformation. After being neglected and left out all through Beach Day, Pam takes up Michael's challenge to walk barefoot across hot coals as a test of bravery. Motivated by doing the coal walk, Pam works up the courage to give a heartfelt confession to co-workers that she is hurt by their lack of respect. She tells Jim that she called off her wedding because of him - that "there were a lot of reasons to call off my wedding, but the truth is I didn't care about any of those reasons until I met you." She says it's fine that he's dating Karen now, but she misses their friendship.
In "The Job," Pam affirms that she is not embarrassed by her previous speech. She and Jim appear to have repaired their friendship at least somewhat, but this is tempered by the fact that Jim is interviewing for a job at corporate. She says that all she wants is for Jim to be happy, and if that's with Karen in New York, so be it. At the end of the episode, as she is reiterating to the camera that she hopes Jim is happy and that she is "totally fine," Jim interrupts her to ask her out on a date. Pam, moved to tears, gladly accepts.
Season Four
Pam has retained the assertiveness and self-confidence she gained in the last season, becoming more comfortable in her own skin. She initially denies dating anyone in "Fun Run," but when the camera crew confronts them with a clip of them kissing after work, she admits that she and Jim have been happily dating since "The Job." In an effort to keep the speculation about their sex life as low as possible, she and Jim try to keep their relationship under wraps at first (despite speculation by many in the office, notably Kevin), but by "Dunder Mifflin Infinity," the entire office knows. Their relationship comes much to the disappointment of Toby, who developed a crush on Pam in the previous season and is reluctant to acknowledge her new relationship.
Pam and Jim are not without their rough patches - in "Branch Wars," for example, when Pam was reluctant to let Jim join the Finer Things Club (or later, when she let him join and her fears were proved right), or in "Survivor Man," when Jim's stint as acting manager backfires when he tries to merge birthday celebrations. On the whole, however, their relationship seems very solid - in "Dinner Party," for example, the ending moments show that they are clearly the happiest and most stable couple there.
Pam attempts to set Michael up with her landlady Margaret in "Chair Model," which backfires spectacularly when Michael finds her homely and boring. Pam later tells Jim that she's not fond of her apartment, though she brushes off Jim's suggestion that she move in with him, saying she doesn't want to live with someone without being engaged. Jim then teasingly tells her that he will, in fact, propose to her, but he wants to make the proposal special ("when it happens, it's going to kick your ass, Beesly, so stay sharp.") In a talking head immediately after this, Jim shows the camera crew an engagement ring, which he purchased one week into their relationship.
Toby's crush on Pam is outed to the office when, in "Night Out," he puts his hand on Pam's knee. Jim and Pam remain silent, as do the other office workers, but an extremely embarrassed Toby stammers that he is moving to Costa Rica and leaves immediately.
Pam is overjoyed to learn that she's been accepted at the Pratt Institute, a design school in New York, in "Goodbye, Toby." Jim is thrilled for her. Both are apprehensive at the prospect of being apart for three months, but Jim remains very supportive, assuring her they'll visit whenever possible. After paying Phyllis extra to incorporate fireworks into Toby's going away party, Jim reveals to the camera crew that he plans to propose that night. Pam begins to suspect that he might, and Jim even gets so far as to get the ring out of his pocket, but before he can pop the question, Andy makes his own very public proposal to Angela. Upset, Jim puts the ring back in his pocket, and Pam and Jim leave the party, both clearly disappointed.
Season Five
The premiere episode of Season Five, "Weight Loss," follows Pam through the beginning of her art school program. Jim explains after her departure for New York that they talked after the events of "Goodbye, Toby," and they decided not to get engaged just yet - Pam is unenthusiastic at the idea of a long engagement, a hangover from her relationship with Roy, and she and Jim agree that they'd rather not spend the first few months of their engagement apart. She and Jim find ways to stay in touch and see each other as often as possible, but they clearly miss one another during their separation.
Seven weeks into her tenure in New York, Jim asks her to meet her at a gas station halfway between them for lunch, at which Jim winds up proposing in the rain, saying he couldn't wait any longer. Pam happily accepts. To help pay for school, she gets a small job at Corporate. She then stays away for months, sometimes being only seen on Computer. When she fails at graphic design we learn she has to stay away for another three months. Still, she returns anyway to be with Jim.
She returns at her usual position of receptionist. Unfortunately, her parents get divorced - while it initially put a strain on their relationship, one that might have conceivably ended it (her father seeks the divorce after talking to Jim), in the end, even this only brings her and Jim closer, since he tells Pam that he came to the decision after realizing that the love Jim felt for her was stronger than anything he'd ever felt about his wife. At the office, she wants new chairs while Jim wants a new copier. The battle ensues and eventually Pam wins. When they finally get the new copier that they desperately need, she works hours to set it up. Michael quits to form his own company, Michael Scott Paper Company but fails to recruit anyone but Pam, as she joins him on a whim. Trying to move up from the receptionist position, she asks to be made a salesman. At a pancake lunch, Pam talks with a person enjoying the food, later on in the episode it is revealed that he is a client and Pam makes her first sale. After The Michael Scott Paper Company gets bought out by Dunder Mifflin, Pam stays on as a salesman.
At the company picnic we learn that Pam was a semi-pro volleyball player in school, which got them into the finals against Corporate. Pam is injured, and Jim carries her to a hospital a few blocks away. While at the hospital the audience is led to believe the doctor tells Jim and Pam that Pam is pregnant, due to his call to Dwight to continue the game without them, and their show of excitement.
Season six
In the season premiere it is revealed that Pam is in fact four months pregnant and that Jim is the father. In "The Meeting," Pam expresses she is worried that she may not fit in her wedding dress because she is pregnant, after which Ryan makes an insulting remark about her weight. In, "The Promotion," Pam has an awkward time requesting money for a gift at her wedding.
Pam gets married to Jim in Niagara Falls. Her Memaw who is very conservative learns that she is pregnant, and is outraged, however, in the end, she decides to stay. The stress of the day, culmulating with her veil tearing, lead Pam and Jim to elope on The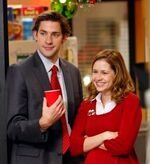 Maid of the Mist, and then get married in the church, but Jim's brothers, Dwight, and Michael play a prank. They recreate the YouTube video, "JK Wedding Dance" to the song 'Forever', and the entire office dances down the aisle. During the song both a montage of their marriage on the boat and the dance is shown. ("Niagara")
Later, Jim tries not to let Pam know that Michael began dating her mom while they were off on their honeymoon. Once she finds out, Pam is outraged and openly belittles Michael. ("The Lover") After refusing to break things off with Pam's mom upon Pam's request, Michael dumps her, Helene on her 58th birthday, to the dismay/disbelief of Pam. A fed up Pam slaps Michael when he says that her mom came on to him. ("Double Date")
Pam gets more pregnant throughout the season. She is scared that she, Jim, and the other employees will lose their jobs as Dunder-Mifflin heads towards insolvency. ("Murder") When Michael needs help telling a group of kids that he cannot pay their tuition, she tells Michael that he has done a horrible, horrible, horrible thing and makes Erin go with him. ("Scott's Tots") Michael openly belittles Erin, and misses Pam. Pam supports Oscar and Matt's relationship, and wants them to get together. As she enjoys the christmas party, she tries to set up Oscar and Matt, although she is unsuccessful. Pam is thrilled when she gets to keep her jobs, and embraces Jim. ("Secret Santa")
She goes to a daycare center, however, she gets defensive when the employee there doesn't like them because Jim walked in on him in the bathroom. ("Sabre") She pursues Jim to go back to being a salesman and laughs when CEO, Jo Bennett makes a joke. Jim goes back to manager, pranks Dwight twice, and Pam is happy to get him back to his old roots ("Manager and Salesman")
Pam is overjoyed and has a baby girl, Cecelia Marie, in The Delivery. Once Jim returns to work from paternity leave she keeps him updated on Cecelia's progress in St. Patrick's Day.
Likes and dislikes
| Episode | Preference | Subject | Remarks |
| --- | --- | --- | --- |
| Pilot | Favorite | mixed berry flavor yogurt | personally confirmed |
| The Fight | Likes | French Onion flavored Sun Chips | requested |
| The Convict | Dislikes | Pig Latin | claimed by Jim |
| The Convict | Dislikes | frisbee-based competitions | claimed by Jim |
| Fun Run | Likes | Dogs | personally confirmed |
Nicknames for Pam
Trivia
Pam animated the end of Michael's Dunder Mifflin commercial in "Local Ad."
Pam's maiden name has been spelled several ways over the course of the series. According to the NBC website, the appropriate spelling is "Beesly," as was used in "Business School." However, in "Conflict Resolution," Pam's ID badge clearly shows that she signs her name "Pam Beesley," and in "Sexual Harassment," a shot of Kevin's computer shows her name spelled "Pam Beasly." The correct spelling is generally assumed to be "Beesly." (Had Pam married Roy, she would have become Pam Anderson.)
Pam is profoundly nearsighted (she states in "Did I Stutter?" that her vision is 20/400). She usually wears contacts, but has a pair of backup glasses when the need arises.
Pam's birthday is March 25, 1979.
Pam has worked at Dunder Mifflin since March of 2002, according to Jenna Fischer's MySpace page.
Pam is a fan of Sudoku; she has, on at least one occasion, completed a level moderate puzzle in 18 minutes.
Debate persists over whether Jim or Pam started at Dunder Mifflin first, as various episodes seem to contradict themselves. Greg Daniels has stated that, in his mind, Pam was there before Jim; however, if this is correct, than either Pam's March 2002 start date or the statement that Jim has been at Dunder Mifflin for seven years must be incorrect. In "Launch Party," Jim tells Pam he first discovers he likes her when she showed him his desk on his first day of work, telling him to "enjoy this moment", as he could never go back to the time before he met Dwight. Daniels admits that he realizes the contradictions and says this is not something set in stone.
According to Weight Loss, Pam weighs 126 pounds (as of the summer of 2008).
Pam is an accomplished volleyball player, a talent not revealed until the Company Picnic.
Pam told Jim she realized she liked him when he told her that her mixed berry yogurt was expired. However, Pam found out about Jim's yogurt awareness during a talking head interview in "Pilot."
Appearances
Pam appears in all episodes, with the following exceptions:
Relationship Status
Engaged to Roy Pilot - Gay Witch Hunt
Single Gay Witch Hunt - Phyllis' Wedding
Dating Roy Again Phyllis' Wedding - The Negotiation
Single The Negotiation - The Job
Dating Jim Fun Run - Weight Loss
Engaged To Jim Weight Loss- Niagara
Married To Jim Niagara- Present