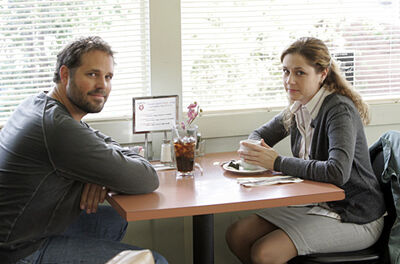 Pam, the Scranton branch receptionist, and Roy, a warehouse worker, were high-school sweethearts. They had been engaged for 3 years when The Office TV series began. Their relationship was strained; Roy didn't support Pam in pursuing her art, among other things, and Pam had romantic feelings for Jim. She called off her wedding with Roy after having second thoughts about Jim, but got back together with Roy during Phyllis' Wedding, admitting that she'd rather be with Roy than single. She finally left him once and for all after he attacked Jim (and drunkenly destroyed much of a bar) on learning about Jim and Pam's kiss in "Casino Night".
There are presumably no hard feeling between them, as Roy invited Jim and Pam to his wedding.
Status: Broken Up
Behind the scenes
Jenna Fischer created a backstory for how Pam and Roy got together: She imagined that Pam's family owned an appliance shop, and Roy got a job there as a high school student. He asked her out, and they started dating. "But because he works there, like the families became very meshed. They would barbecue together. So this is why and how she kind of can't get out of this relationship, even though now it's clear it's a mismatch. It's because the families are so co-joined."[1]
References
↑ Kinsey, Angela and Jenna Fischer. Office Ladies: Sexual Harassment (transcript), Office Ladies podcast, December 10, 2019, timecode 00:48:43.
Community content is available under
CC-BY-SA
unless otherwise noted.