Doctor Strange in The Multiverse o Madness - The Loop
Play Sound
"Night Out" is the fifteenth episode of the fourth season of The Office and the 68th episode overall. It was written by Mindy Kaling and directed by Ken Whittingham. It first aired April 24, 2008. It was viewed by 7.56 million people.
Cold open
Michael comes into the office livid because he got gum stuck in his hair. He then explains that he saw something shiny under Stanley's car and got curious. When he went to see what it was he got gum stuck in his hair, "all for a stupid piece of tin foil". Pam then suggests he uses the peanut butter in the office pantry to get the gum out of his hair, which Dwight rushes to retrieve. The scene then cuts to Dwight massaging Michael's hair with peanut butter.
Synopsis
The episode begins with Ryan arriving at the Scranton branch and noticeably friendlier than on his previous visits. Ryan shows the staff at the branch the new Dunder Mifflin website, "Dunder Mifflin Infinity 2.0", the previous version of which was shut down because sexual predators had invaded the social networking component of the site. As Ryan leaves, he tells Michael of the women he meets in clubs in New York City. Michael and Dwight subsequently decide to go to New York, locate Ryan, attend parties with him, and try to meet women while doing so.
In New York, Michael and Dwight locate Ryan after discovering which club Ryan frequents; the latter appears to be under the influence of drugs (coke) but Michael and Dwight do not notice. Later, Michael, Dwight, Ryan, and Ryan's colleague, Troy Underbridge wait outside another club, but fail to get in because they do not have dates. Dwight comes to the rescue when he manages to pair each of them with members of a women's basketball team, who are also waiting in line. Inside the club, Ryan's dancing becomes erratic and aggressive, and he accidentally hits a girl, prompting her friends to attack Ryan. Dwight and Michael escort him out of the club, and after Troy advises them not to take Ryan to a hospital, he runs off. Michael and Dwight bring Ryan back to his apartment, where he tells them that he thinks "his friend Troy" has a drug problem, and asks what he should do about it. Michael, oblivious to the fact that Ryan is obviously referring to his own drug addiction, gives him hypothetical advice involving a wiretap and snitching on a drug dealer.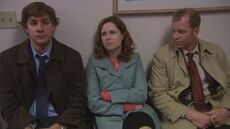 Back in Scranton, the rest of the employees are going to be forced to work on a Saturday to record their own sales as the website's sales, which is, according to Ryan, "a temporary procedure to increase the legitimacy of the website". With no one eager to participate, Jim decides to ask everyone to stay in the office overtime instead of coming in on Saturday. They all agree to the plan, and after working until 9:00 , they are shocked to find the parking lot gates locked. Jim had forgotten to tell the security guard that they were staying overtime. They are unable to return to the office because Pam locked the door from the inside, and Dwight, miles away in New York, has both the spare and master keys. Sitting in the lobby area waiting for the security guard to arrive, the employees exchange jokes and during a moment of levity, Toby affectionately places his hand on Pam's knee. After an awkward silence, Toby proclaims that he is moving to Costa Rica; he then hops the parking lot fence and runs away. Jim repeatedly calls Hank, the security guard, but he fails to show up. At the end of the episode, the cleaning staff arrives and lets the group out. Later, Hank shows up and discovers that they are not there.
Deleted scenes
Extended Ryan talking head.
Ryan greets Pam and Stanley.
Angela almost cries over her dead cat.
Phyllis, Pam, Toby, and Oscar watch a movie on Pam's iPod. Stanley's wife brings him food, including a drink which he sips through a straw passed through the gate.
Michael, Dwight, and Ryan taxi home, but the taxi pulls over when Ryan vomits in the back seat.
In a talking head interview, Troy denies responsibility for taking care of him. "Friends are there to help you have a good time, and to sell you the stuff you need to have a good time."
In an attempt to cheer him up, Michael expresses his admiration for Ryan's life, including his awesome apartment building they are sitting in front of. Ryan corrects him: They are sitting on the steps of the Metropolitan Museum of Art.
Michael prevents Ryan from sleeping by asking him question like, "Do you ever miss us?"
Connections to previous episodes
Michael asks for a Midori Sour, a drink mentioned in "The Convention" as an inside joke between Jim and Josh. Michael may have gotten the impression that the drink is something sophisticated.
Toby formerly expressed a desire to move to Costa Rica in "Branch Closing."
Goofs
Hank should have known everyone was still inside the office since he sits at his desk all day and wouldn't have seen them leave the building. He also should have noticed the cars. Then again, the office failed to give him a Christmas tip, and it's clear from his lackadaisical response that he simply didn't care.
Phyllis could have called her husband, Bob Vance, who likely also has a key to the gate.
Trivia
In the kitchenette, Ryan accuses Jim of talking to David Wallace about his doubts with DMI during the Christmas Party. A Christmas episode was written, but never filmed due to the

WGA Strike

.
Spoiler: Ryan asking the office to reenter sales they made as sales made by the website is revealed to be him committing fraud in "Goodbye, Toby".
At one point Ryan tries to get into a nightclub by claiming to be "Ryan Howard, the baseball player", power-hitting first baseman for the Philadelphia Phillies who was playing for the Phillies' Scranton-based minor league team when the show debuted in 2005. The character Ryan Howard is named after the baseball player, who would go on to appear as himself in Promos.
Oscar speaks Spanish with a Cuban dialect, even though he is Mexican. Actor Oscar Nunez is actually from Cuba.
When Hank finally arrives at the office, the camera sweeps over a parking lot that is empty with the exception of the cleaning crew's van. However, Toby (presumably) drove to work and ran home, meaning his vehicle should have still been there as well. It is possible that the car was simply not in view.
In the establishing shot prior to the scene that takes place in Ryan's apartment, the camera briefly pans up a building with a closed bike shop on the ground floor with a URL painted on the awning.  If Ryan lives in the building above this shop he lives on East 62nd Street, between 1st and 2nd Avenues in N.Y.C.  The bike shop, My Bike Heaven is located at 348 East 62nd Street.
Amusing details
When Michael warns the office not to make fun of Ryan, he inadvertently does so himself by pointing out Ryan's height and half beard.
When Michael mentions Ryan's half-beard, Oscar tilts his head down slightly. This is what actor Oscar Nunez does when he is trying not to laugh.[1]:21:00
Creed says he doesn't see the problem with the site after Jim points out the flaw of older gentlemen having a platform to sexually harass on the website's social media.
During the conference room meeting when Michael erroneously says "T.D.B." instead of "T.B.D.," Ryan appears to be struggling to hold back a smile.
Michael confirms with Ryan that he knows who he and Dwight are after receiving a warm reception from him. It is implied that Michael was expecting Ryan to be horrified, not thrilled, but decided to surprise him at the club anyway.
Creed, who regularly forgets the names of his coworkers, is the only one to remember Hank's name. Jim doesn't believe him most likely due to all of Creed's past name failures. Andy shouts out "Eddy" when Jim asks for the security guard's name.
When Andy asked his co-workers "Who thinks we're a better couple than Jim and Pam?", Angela and Andy raise their hand to their own relationship.
Ryan has a giant flat-screen television on the wall right next to his bed. Aside from this extravagance, he lives in a comparatively run-down apartment.
In this episode, Dwight fails to detect Ryan's drug use even though he professed great skill at detecting drug use in the episode "Drug Testing."
Behind the scenes
Noel Petok, who plays Troy Underbridge, was originally hired through central casting as a background character in "The Deposition". Writer Mindy Kaling brought him back for this episode, which means that his path to the show didn't go through

Allison Jones

, the show's casting director.[1]:06:25 Kaling says that bringing him back was Greg Daniels's idea.[2]
The nightclub scenes were shot at The Edison (link) in downtown Los Angeles. Two rooms in the club were decorated to look like two different nightclubs in New York.[1]:09:26
Due to a mix-up, the actress playing the basketball player ("Tall Girl #1") did not know that her character would have a make-out session with Dwight until the day of filming. Even though the casting sheet requested someone 6'1" or taller, the actress is only 5'11" but she is a former basketball player.[3] Before filming the make-out scene, Rainn Wilson joked with her that the kissing would be "mostly lips, but a little tongue."[4]
Kate Flannery declined the offer of a stunt double for getting hit in the face with a football. After the fourth take, she was ready to be done,[2] and by the eighth take, she realized she had made a mistake. Jenna Fischer had difficulty shooting the scene because she didn't want to hit her friend in the face, so the tosses looked unconvincing. Director Ken Whittingham had to tell her to go for it.[1]:45:53
Writer Mindy Kaling likes the moments of imperfection when Jim has good intentions but messes up. It makes him seem even more attractive.[2]
Stunt actors were hired for Ryan's scuffle in the club.[1]:50:16 There was also padding on the floor so Novak could fall down out of frame.[2]
Paul Lieberstein offered to jump the fence himself, but Greg Daniels pointed out that he would have to do it several times, and there was a good likelihood that he would injure himself. Lieberstein demurred, and a stunt person was used in all the takes.[1]:54:26[2]
Script Supervisor

Veda Semarne

wrote out the words to Dwight's German lullaby Schlaf, Kindlein, schlaf phonetically, recalling the song sung by her Austrian grandmother. Neither she nor Rainn Wilson knew what the words meant.[1]:57:35[2]
Cultural references
Cindy Crawford is an American supermodel.
Peanut butter is effective at removing gum from hair. Dwight, however, goes overboard and uses far too much.
Ball and Chain is a sexist reference to one's girlfriend/wife. Though Andy misinterprets the meaning by assuming that "ball" refers to sexual affections.
Michael performs a slow clap at the end of Ryan's presentation. Some slow claps are intended to build support, but Michael's was likely sarcastic.
Music played at the nightclubs include Tribulations by LCD Soundsystem,[5] Worked Up So Sexual by The Faint (when Dwight makes out with the tall woman), and a song by The Rapture.[2]
Upon arriving at the first club, Michael compares it to "Swingers, classic. Jon Favreau, tall guy from Dodgeball." Jon Favreau did star in the movie Swingers, but it was Swingers co-star Vince Vaughan who appeared in the movie Dodgeball.
Dwight believes Troy Underbridge to be a Hobbit, a race of diminutive humanoids from the books of fantasy author J. R. R. Tolkien.
Michael orders a Midori sour. The drink is very sweet and is a stereotypical "girly" drink.
Maraschino cherry is a form of sweetened cherry.
Dwight orders cranberry juice for Ryan, suspecting Ryan of having a bladder infection. Cranberry juice is widely believed to prevent or cure bladder infections. Proanthocyanidins present in cranberry juice were found to have some effect in laboratory studies, but not at the concentrations present in drinkable juice.
The young woman in the club does not recognize the 1985 movie Back to the Future.
There is no such college as New Jersey State. Their upcoming game is against Conn College, a nickname for the real Connecticut College.
Cabo San Lucas is a Mexican resort town.
Dwight sings the German lullaby "Schlaf, Kindlein, schlaf" to Ryan.
The Wire is a television crime drama. Michael says he doesn't understand it, presumably because of the street language commonly used on it. Actors Amy Ryan (Holly Flax) and Idris Elba (Charles Miner) from The Wire would later play significant roles on The Office.
Boys on the Side is a 1995 movie starring Whoopi Goldberg.
"Let's Hear It for the Boy" is a soul classic by Deniece Williams.
It is customary in the United States to give a cash gift at Christmastime to service employees, such as a doorman.
In a deleted scene, Phyllis, Pam, Toby, and Oscar watch the movie The Other Boleyn Girl on a video iPod. Oscar complains that the book The Other Boleyn Girl (upon which the movie is based) is much better.
Cast
Main cast
Supporting cast
Recurring cast
Guest cast
Jennifer Peo as Cocktail Waitress
Taji Coleman as Tall Girl (Basketball Player)
Cassie Fliegel as Tall Girl (Basketball Player)
Kelsea Button as Girl in Club (Tattoo Girl)
Ashley Walsh as Girl in Club (Dog Groomer)
Kim Stodel as Girl in Club
References