"Niagara" is a two-part episode of the sixth season of the U.S. comedy series The Office. Because of its extended hour-long runtime, it was considered to be the fourth and fifth episodes in the season's episode count. It was the 104th (and 105th) episode overall. It was written by Greg Daniels and Mindy Kaling and it was directed by Paul Feig. It originally aired on October 8, 2009.
The highly-anticipated episode revolved around the wedding of Jim and Pam at Niagara Falls.
Synopsis
Part One
In the cold open, Pam tells the office not to eat pungent foods, to which Dwight refuses. When he is eating an egg, Pam throws up. Andy, Angela, Erin and then everyone else throw up, after which Pam gives a look to Dwight.
After giving strict directions not to tell her family about Pam being pregnant, Jim and Pam head up to Niagara Falls for their wedding and the rest of the office follows them. After setting up his car to say "Going to a Wedding," Michael and Dwight seek women to hook up with while Andy pursues Erin . Kevin and Oscar meet Pam's sister Penny, who accidentally offends Oscar by thinking Kevin was his boyfriend Gil. Pam's mother Helene is visibly disturbed at the fact that Pam's father, and Helene's ex-husband, William has come to the wedding with his new girlfriend who is half his own age.
Everyone except Pam's grandmother, "Memaw" is aware of Pam's pregnancy, so they are told not to mention it. At the rehearsal dinner, Jim gives a moving and romantic toast to his soon-to-be wife. However, closing the toast, Jim accidentally alludes to Pam's pregnancy. Both Jim and Michael try to cover up the fact, but only embarrass themselves further. In a final bid to end the embarrassment, Michael privately tells Mema that this kind of behavior should be encouraged nowadays and gives her false hope that the baby will be named after her.
Andy hosts a dance party in his room later that night, with the office staff attending. Andy punctures his scrotum trying to do a split. The guests rouse Pam, the only sober person, to take him to the hospital. Pam reluctantly agrees.
Part Two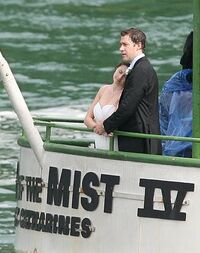 Michael and Dwight try their luck with women at the bar. Dwight, despite embarrassing both of them, is successful in getting Pam's friend Isabel Poreba to spend the night with him. Michael spends the night alone in the ice machine room as he had failed to make a reservation in advance.
Prior to the ceremony, Pam accidentally tears her veil and tearfully phones Jim. They meet in private, where Pam expresses her regret over their choice to invite their families and the office staff. Pam is visibly uplifted when Jim cuts off his tie in an effort to console her. They are then seen running away from the church together.
While everyone in the church wonders where they went, Michael and Helene begin to bond over their failed relationships. Dwight callously rebuffs Isabel's attempts at further contact. The rest of the office staff grow impatient, bickering about their right to take their gifts back.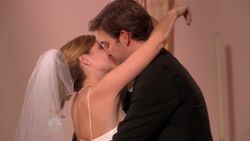 Jim and Pam finally return to the church after an hour with no explanation of their absence, and the ceremony begins. Mema is seen at the church, indicating Michael's attempts at getting her to stay were successful.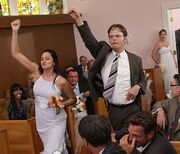 Michael, Dwight, and others close to Jim and Pam interrupt the ceremony by recreating the dance routines as featured in the JK Wedding Entrance Dance. Despite having asked their guests specifically not to re-enact the video, Jim and Pam react with good humor.
During the dance sequence, a flashback reveals Jim and Pam's adventure during their absence: They are shown boarding a Maid of the Mist ferry boat and being married by the ship's captain below the falls. Jim explains to the camera that he had prepared the ferry marriage in advance after seeing the video, in anticipation of the likely chaos at the ceremony. The camera then cuts back to Jim holding Pam close to him and with her head on his shoulder, as they look out into the distance at Niagara Falls. Jim looks at the camera and smiles warmly.
The very end of the episode shows Kevin soothing his feet in the ice machine, while Pam's mother lustfully pulls Michael into her hotel room.
Cultural references
Amusing details
Penny mistakes Kevin for Gil, even though Oscar and Gil had been broken up for over two years.
Mindy Kaling explained that she writes less romance-y stuff than show-runner Greg Daniels. [1]
While everyone throws up in the office, Creed is seen calmly eating noodles.
Jim's dad wore a kilt, marking the second person to have Scottish roots. (Michael said he was Scottish and 2/15 Native American in "Diversity Day")
On a sign to the reception dinner, it says "Halpret" instead of "Halpert." (see List of Signs)
In "Niagra", When talking to Jim's parents, Michael ask if he can give his toast third, "sorta bat clean-up". Clean-up is a term used in baseball to signify the fourth batter in the lineup, not the third.
Trivia
Robert Pine (Mr. Halpert) is the father of Chris Pine, who starred as James T. Kirk in the 2009 Star Trek film, directed and co-produced by J.J. Abrams - which originally featured Spencer Daniels (Greg Daniels' son, and Jake Palmer in "Take Your Daughter to Work Day") as Kirk's older brother, though much of his part was cut, and for the one sequence that did make the film, he was made into a different character.
Mindy Kaling likes to write Dwight being able to easily get girls. In another Mindy Kaling written episode, Dwight makes out with a tall women's basketball player, but later leaves her. [2]
The people of the Maid of the Mist were real people, not actors playing characters, because people on the Maid of the Mist didn't want tourists to be turned away. [3]
Connections to Previous Episodes
Quotes
For quotes, see: Niagara Quotes.
Cast
Main Cast
Supporting Cast
Guest Cast
Linda Purl as Helene
Anna Camp as Penny Beesly
Kelen Coleman as Isabel Poreba
Tug Coker as Pete Halpert
Michelle Gunn as Unknown
Rick Overton William Beesly
Robert Pine as Mr. Halpert
Blake Robbins as Tom Halpert
Perry Smith as Betsy Halpert
Peggy Stewart as Sylvia
Deena Adar as Unknown
Charlotte Daniels as Unknown
References