Doctor Strange in The Multiverse o Madness - The Loop
Play Sound
"Niagara" is a two-part episode of Season 6 of The Office. Because of its extended hour-long runtime, it was considered to be the fourth and fifth episodes in the season's episode count. It was the 104th (and 105th) episode overall. It was written by Greg Daniels and Mindy Kaling, and directed by Paul Feig. It originally aired on October 8, 2009 and was viewed by 9.42 million people.
The highly anticipated episode revolved around the wedding of Jim and Pam at Niagara Falls.
Cold open
In the cold open, Pam asks the office to avoid pungent foods and scents. Other staff members protest, including Dwight who eats a boiled egg in front of Pam, who in turn, maintaining eye contact, throws up in her bin. Andy throws up having witnessed this, prompting a chain of vomiting involving everyone in the room except Creed and Dwight, who look on with astonishment. Pam gives a look to Dwight as the vomiting continues around the office.
Synopsis
Part One
Before the staff of Dunder Mifflin Scranton carpool to Niagara Falls for Jim and Pam's wedding, Jim and Pam remind them that no one should mention Pam's pregnancy because Pam's grandmother Meemaw does not know. Michael is looking forward to the wedding not just because it's "a very important wedding for the branch" but because it will be "the single best pick-up destination in the history of the universe."
At the hotel, Jim and Pam learn that Andy rented the honeymoon suite for the night before the wedding, and Michael finds himself with no room because he didn't make a reservation. The only person willing to let Michael stay with them is Toby, but Michael is disgusted and rejects the offer.
At the pre-wedding dinner, Michael had promised he wouldn't make a toast, so instead he does a stand-up act, which no one finds funny. Next, Jim gives a moving and romantic toast to his soon-to-be wife. Closing the toast, Jim mentions that Pam can't join the toast "for obvious reasons", thereby revealing to Pam's grandmother that Pam is pregnant. Both Jim and Michael try to cover up the fact but only embarrass themselves further. In a final bid to salvage the situation, Michael privately talks with Meemaw and appears to calm her down, partly by giving her false hope that the baby will be named after her.
While walking to the bar, Pam bumps into Angela who ushers her back to her room, likening a visit to the bar to her kicking the pregnant Pam in the stomach.
Part Two
Andy hosts a dance party in his room later that night. Trying to impress Erin, he punctures his scrotum attempting a split. The guests rouse Pam, the only sober person, to take him to the hospital. Pam reluctantly agrees.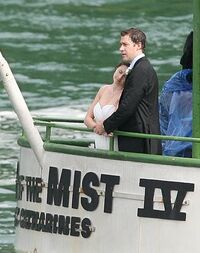 Michael and Dwight look to pick up women at the bar, having prepared extensively for this moment. Dwight, despite talking about gelding horses, is successful in seducing Pam's bridesmaid Isabel. Michael spends the night alone in the ice machine room as he had failed to make a reservation in advance. They eat breakfast to together where Dwight says he isn't going to talk to Isabel anymore and criticizes her lovemaking.
Prior to the ceremony, Pam's mother Helene is souring the mood while Pam gets ready, complaining about her ex-husband's (and Pam's father) new girlfriend, who is half his age, and asking whether Pam wants to continue with the wedding. Pam accidentally tears her veil and tearfully phones Jim. They meet in private, where Pam expresses her regret over their choice to invite their families and the office staff. Pam is visibly uplifted when Jim cuts off his tie in an effort to console her. They are then seen running away from the church together.
While everyone in the church wonders where they went, Michael and Helene begin to bond over their failed relationships. Dwight callously rebuffs Isabel's attempts at further contact.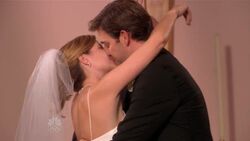 Jim and Pam finally return to the church after an hour with no explanation of their absence, and the ceremony begins.
Michael, Dwight, and others close to Jim and Pam interrupt the ceremony by recreating the dance routines as featured in the JK Wedding Entrance Dance. Despite having asked their guests specifically not to re-enact the video, Jim and Pam react with good humor.
During the dance sequence, a flashback reveals Jim and Pam's adventure during their absence. They are shown boarding the Maid of the Mist, a ferry boat, and being married by the ship's captain below the falls. Jim explains to the camera that he had prepared the ferry marriage in advance after seeing the video, in anticipation of the likely chaos at the ceremony. It being plan C, plan B being the church, and plan A, marrying her a long time ago - "Pretty much the day I met her." The camera then cuts back to Jim holding Pam close to him and with her head on his shoulder, as they look out into the distance at Niagara Falls.
The very end of the episode shows Kevin soothing his feet in the hotel ice machine, while Helene lustfully pulls Michael into her hotel room.
Deleted scenes
These deleted scenes are on the Season 6 DVD.
From her home, Pam records an entry into her wedding video diary. As she talks, Jim walks into the room brushing his teeth in his underwear. He tells her, "You gotta let me know when you're doing that."
Dwight goes through Michael's packing checklist, including 78 condoms. Dwight is incredulous that Michael plans on having sex that many times. Michael explains that it's for 26 sexual encounters, because he uses three condoms at a time, but refuses to give any more details.
As Jim and Pam arrive at the hotel, Jim narrates how the viewer might wonder how they got such a great deal at the number one hotel in the region. Pam interrupts him, saying playfully, "Stop it. Stop the narrating."
At the pre-wedding dinner, Creed tells Phyllis he remembers the place from when he ran cigarettes across the border. "The balloon went in, the balloon came out."
Creed tries to look inconspicuous as he moves a seat cushion and reaches inside for a very dusty carton of cigarettes. He takes a pack and replaces the carton.
Michael and Dwight arrive at the bar and try to pick up two women. Dwight does an Amish curtsey and then asks the bartender what vegetable wines they have.
In a talking head interview, Dwight explains that an identical twin has easy access to an organ donor, as well as having the opportunity to donate.
In a talking head interview at the bar, Jim explains that he, Michael, and Dwight headed over the border to Canada for a quick drink. However, Dwight refused to relinquish his sidearm, so "forty minutes later, here we are."
Jim, Michael, and Dwight talk in the bar. Michael says he's jealous of Jim for being willing to marry anyone. "I wouldn't marry anyone." Dwight agrees. "She'd have to have property at least a fertile as my farm." The camera reveals a woman with a drink sitting next to Michael, whom he asks to marry him. She turns him down.
While waiting at the church, Erin wonders if Pam is missing because her water broke. Erin says that she was born at five months, "They called me the miracle baby. I couldn't eat solid foods until I was six."
Dwight chats up one of Jim's female cousins. In a talking head cousin, he says that his cousin Mose is way cooler than Jim, but you have to tell women what they want to hear.
Phyllis asks Bob how much longer they have to wait before they can leave. Bob says that their wedding was so much better.
Angela, sitting between Kevin and Oscar, teases them by asking, "Do you two want to sit next to each other?"
In a talking head interview, an animated Angela gushes about "the funniest comedian I saw one morning. Her name is Kelly Ripa."
Ryan arrives at the church and sits down, putting Kelly on his lap and starting to talk dirty. When the others object, Ryan takes Kelly by the hand. "We can go hook up in the bathroom."
Outside the church, Jim's parents bring him a bottle of water and some aspirin. Jim jokes with his dad, "You wore the good kilt," and his dad gets emotional.
Wedding program
As obtained by Office Tally and Kim Ferry:
The Marriage Union
of
Pamela Morgan Beesly
and
James Duncan Halpert
| | |
| --- | --- |
| Parents of the Bride: | Helene and William Beesly |
| Parents of the Groom: | Betsy and Gerald Halpert |
| Grandmother of the Bride: | Sylvia Beesly |
| Maid of Honor: | Isabel Rossi |
| Best Man: | Pete Halpert |
| Sister of the Bride: | Penny Beesly |
| Sister of the Groom: | Larisa Halpert |
| Brothers of the Groom: | Pete and Tom Halpert |
Prelude
- Organist......... Steve Rostine
Solo
Seating of Grandparents
Seating of Parents
Organ Solo
Processional
Greeting
Marriage Vows
Exchange of Rings
Prayer
Recessional
Please join us for a reception immediately following the ceremony in the Cascade Room.
Connections to previous episodes
Goofs
The timeline of the baby doesn't add up. In Part 1, Pam has a sensitive stomach and morning sickness, but Dwight says the fetus is 3 ounces, putting it at 16 weeks, which is after morning sickness stops. In Part 2, Pam says she is 5 months, which is almost 22 weeks. It is possible Dwight is wrong about the size of the fetus and the opening scene took place some time prior to the wedding.
Dwight complains that Jim and Pam have kept everyone waiting at the church for "over an hour." In this time, Jim and Pam would have had to have travelled to and boarded the boat, been married and returned to the church. They would also have had to have dried out, as they are soaked through on the boat, and someone would have had to have restyled Pam's hair.
Pete and Tom approach Michael in the church and ask "are you Michael Scott?", suggesting they haven't previously met. However, by the time Jim and Pam arrive, Pete, Michael, Dwight and the organist have a set of co-ordinated hand signals that instigate their hijacking of the wedding music for the start of the dance.
The dance ordering has been re-edited. When Michael dances down the aisle for the first time, Phyllis and Bob approach behind him, but Pete, Tom and their spouses are shown next. Similarly, when Andy and Erin dance, Stanley and Cynthia are visible behind them, but Kelly and Ryan are shown next.
Angela says she'll stand outside Pam's hotel room door to ensure she doesn't attempt to leave again. However, she is in attendance at Andy's dance party across the corridor at the time he pierces his scrotum.
In a deleted scene, Jim talks in front of the Statler Falls Hotel. The awning of the Red Coach Inn was redressed to read "Statler Falls Hotel", but two signs for the Red Coach Inn were left intact (one to the left of the awning and another in front of it).
In the boat scene by Niagara Falls, you can see Jim wearing his full tie although he had cut the lower portion of his tie off in a previous scene when he was consoling Pam as she had torn her veil.
When Jim cuts his tie, a lower part of his tie has already been cut, presumably from a previous take. 
A gray and orange LA METRO city bus drives past the open church door, even though the wedding is set in Niagara Falls.
Since Jim and Pam got married on the Canadian side of Niagara Falls they would have been required to have passports to enter the Canadian border.
Isabel's last name is given in the episode as Poreba, but in the program it is listed as Rossi.
Amusing details
While everyone throws up in the office, Creed calmly eats noodles.
Michael spent the whole morning tying old soda cans to and marking the back of his car. As Pam tries to tell Michael that it's supposed to be tied to the car of the couple getting married, Jim shakes his head to prompt her to just tell Michael it looks great. Michael says, "It's just really an important day for me," once again highlighting how self-centered Michael is.
The entire staff except Michael and Angela laugh at Andy's "what happens in Niagara stays in Niagara" joke.
Dwight looks at Angela when he says, "What happens in accounting stays in accounting," which Angela shyly smiles at.
Dwight says he "search engined" the female wedding guests. This may have been a conscious effort by the writers to avoid saying "Google".
Michael implies that he has fallen asleep at the wheel while wearing his sunglasses, to Dwight's horror.
Penny offends Oscar when she mistakes Kevin for Gil. Oscar and Gil had been broken up for over two years.
On a sign to the reception dinner, it says "Halpret" instead of "Halpert" (see List of Signs). The same error is made on the daily events sign in the hotel lobby. It is a running joke throughout the show that their names are misspelled/mispronounced. Pam's last name is spelled multiple ways and the correct one isn't obvious, and in "Christening" the minister announces them as the "Halberts".
When Kevin tells Andy that he switched cards with Erin, Creed hovers close by for reasons unknown.
When Michael stands up to make his "comedic" toast and goes on to talk about Smart cars, he talks with his eyes closed the majority of the time.
In the bar, Michael is having a conversation with a beautiful woman at the bar that seems to be interested in what he has to say, only to be selfish and abandon it for what he believes is something better and telling her "You understand." She was arguably the hottest woman ever to be interested in him, and he threw it away.
Erin continues to shout "What else you got?" after Andy falls to the ground in pain, before being stopped by Oscar.
Kevin says, "Don't worry, Pam's here," to Andy before knocking on Pam's door in the same way a child says to another before finding a teacher or parent.
When Michael and Dwight approach two women in the bar in a deleted scene, the one further away from them gives a look to the camera.
Jim went out drinking with Michael and Dwight.
Michael and Dwight think that Jim and Pam are automatically married at midnight, believing that their wedding passes the same way a birthday would in their drunken state.
Since Andy had to spend the night on the floor of Pam's room, it means that the honeymoon suite was unoccupied. Jim and Pam were previously disturbed by Andy's claim that he would "break in" the bed in the honeymoon suite.
Dwight tells Isabel that he isn't hungry in an effort to decline breakfast with her, but he admits to Michael that he is ravenous.
Meemaw appears at the church, indicating Michael's attempts at getting her to stay were successful.
Jim's dad wore a kilt, marking the second person to have Scottish roots. Michael said he was Scottish and 2/15 Native American in "Diversity Day".
Jim's sister Larisa was mentioned "The Fight", and she is listed in the wedding program, but does not appear on screen. Perhaps she refused to give permission to appear on camera.
Kevin wonders if he has time to go to the bathroom before Jim and Pam arrive at the church. He says while he can pee swiftly, putting his tie on will take time, implying he may fully undress when urinating.
Michael usually carries a whoopee cushion with him.
Trivia
Robert Pine (Mr. Halpert) is the father of Chris Pine, who starred as James T. Kirk in the 2009 Star Trek film.
Even though Kevin explicitly calls his makeshift shoes "Kleenex shoes," the "Kleenex" branding on the boxes has been changed to a generic tissue label, likely to avoid product placement and/or copyright issues.
In the original JK Wedding Entrance Dance it is only the wedding party that enter the church via dance, with the groomsmen and bridesmaids moving down the aisle twice and the bride and groom once. In The Office version, the bride and groom do not participate, and the dancers compromise of the wedding party (bar one of Pam's bridesmaids), Pam's mother, the wives of Jim's brothers, the Dunder Mifflin Scranton staff and the plus ones of Stanley and Phyllis.
Entrance order (as shown): Isabel & unnamed groomsman; Penny & flower girl; Michael; Pete, Tom and their spouses; Phyllis and Bob; Andy & Erin; Kelly & Ryan; Stanley & Cynthia; Michael & Helene; Kevin & Oscar; Angela; Creed; Dwight & Isabel; group entrance.
Michael and Isabel are the only people to dance twice prior to the group entrance. Meredith is only shown in the group entrance, while Toby does not appear to dance at all.
John Krasinski had the flu during the shooting of the wedding scene on the boat. He kissed Jenna Fischer on the cheek so as not to get her sick.[1]
Kevin says that he got six phone numbers, and "one more would have been a complete telephone number." Local telephone numbers in the United States are seven digits long. (Although in practice, Kevin would have needed ten digits, since the people at the wedding are not all from the Niagara area, so he wouldn't know which area code to use.)
Behind the scenes
Mindy Kaling explained that she writes less romance-y stuff than show-runner Greg Daniels.[2]
The flower girl is played by Greg Daniels' daughter Charlotte.
Mindy Kaling likes to write Dwight as being able to attract women. In "Night Out" (another Kaling-written episode), Dwight makes out with a tall women's basketball player but later leaves her to her dismay.[3] Similarly, Rhee in "Blood Drive" was notably attracted to him.
The hotel exteriors were shot at the Red Coach Inn in Niagara Falls, New York. The hotel interiors were shot at the Sportsmen's Lodge Hotel in Los Angeles. The hotel lobby scenes were shot in the hotel's auxiliary lobby. The rehearsal dinner was shot at The Smokehouse in Burbank. In the show, the hotel's name is the Statler Falls Hotel.
The church scenes were filmed at Congregational Church of the Chimes, 14115 W Magnolia Blvd, Sherman Oaks.
Relatives of crew members were enlisted as extras for the Maid of the Mist scenes. In particular, the couple directly behind Pam and Jim in the ticket line are Brian Baumgartner's parents, who happened to be in the area on vacation.
Many of the tourists on the Maid of the Mist were real tourists. The Maid of the Mist management did not want to shut down the entire boat for filming.[4] The production crew had exclusive access only to the bow of the boat. Anybody else who happened to be on the boat got to watch the scene being filmed
The original script called for Roy to crash the wedding by riding in on a horse in a grand romantic gesture to win back Pam.[5] After being rejected, Roy abandons the horse and drives home. Earlier in the episode, Dwight was fascinated by a historical display at the hotel that talked about animals that had survived going over Niagara Falls. Dwight takes the horse into the river upstream from Niagara Falls, but panics and jumps off the horse at the last moment, leaving the horse to go over the falls.[6]
At the table read, everybody objected to the horse scene, but Greg Daniels insisted it would be really funny before finally backing down.[6]
The horse plot was scrapped at the last moment, forcing the writers to scramble to come up with something else to happen during the wedding ceremony. They had only a half hour to shoot the dance scene.[5][6]
Jenna Fischer was moved to tears when she saw the first rehearsal of the dance scene.[6]
This episode was choreographed by Mary Ann Kellogg. She previously choreographed the disco party in "Café Disco".[7]
Cultural references
Niagara Falls is the self-proclaimed "Honeymoon capital of the world," a popular destination for honeymoons and often weddings. On the Canadian side, couples can pick up a complimentary honeymoon certificate from the Ontario Tourism Information Centre.
Michael decorates his car with a sign saying "Going to a Wedding". It is traditional to decorate the bride and groom's car for after the ceremony. Furthermore, the cans trailing from a car would typically be empty, while Michael's are full and burst as he drives away.
Andy says, "What happens in Niagara, stays in Niagara." "What happens here, stays here" (commonly misquoted as "What happens in Vegas, stays in Vegas") was the highly successful tourism slogan for Las Vegas by R&R Partners from 2002 to 2020. Ed Helms also starred in The Hangover, released the same year, where the phrase is used repeatedly.
Michael calls Niagara Falls "Viagra Falls", a pun on the popular erectile dysfunction drug.
Michael compares himself to Mary, who was denied a room at the inn on the evening she gave birth to Jesus, the central figure in the Christian religion.
Everyone is gathered for a rehearsal dinner the night before the wedding. The rehearsal dinner is traditionally hosted by the groom's parents, inviting the families of the bride and groom, as well as any guests who arrived from out of town.
Michael asks to give his toast third, "sorta bat cleanup." The cleanup hitter in baseball is the team's strongest hitter. However, the cleanup hitter bats fourth, not third, as Michael believes.
Pete and Tom plan to give Jim a noogie, consisting of rubbing one's knuckles hard on the head of the victim. It is a typical way an older brother would harass a younger brother.
Michael jokes about the Smart Car, a small two-passenger car.
KITT is the fictional computer-controlled car from the U.S. television series Knight Rider.
Chitty Chitty Bang Bang is a children's movie, as well as the name of the car in the movie which has several magical powers.
Jim tells of how he contrived to spend time with Pam by pretending that he was unable to drive a stick and requesting lessons from her. This refers to driving a car with a manual transmission, commonly known as a "stick shift". In the United States, cars with manual transmissions are relatively uncommon.
Charlie Rose is a television journalist and host of a long-running television series in which he interviews a wide variety of notable people.
Andy predicts that Chicks are gonna be off the hook, meaning "Women are going to be crazy and outrageous."
Andy promises there will be guys as attractive as Calvin Klein models. Calvin Klein is a line of clothing, and Andy is most likely referring to the attractive models used to model underwear.
Dwight wears the Three Wolf Moon t-shirt, made famous by humorous reviews on Amazon, before going out to the hotel bar with Michael to pick up women, commenting on its "powerful forces of attraction" on them. He also comments they are howling at the moon "to imitate howling during sex".
Dwight lists various companies that are (and aren't) interested in his Burger on the Go invention. George Foreman has a line of portable grills (see "The Injury"), Sharper Image is a retail store that sells primarily electronic gadgets. SkyMall sells high-end products through catalogs on airplanes. Hammacher Schlemmer is a catalog company that is known for its high-end products. Sears is a department store chain that targets middle-class customers.
Michael chats up a woman by listing the movies Toy Story, Finding Nemo, and Up as movies that always make him cry. They are all movies produced by the computer animation studio Pixar. (Michael identifies something correctly for once.)
Andy says, "Did someone change my name to Baskin Robbin? Because I feel like a banana split." Baskin-Robbins (with the "s" at the end) is a national chain of ice cream shops. A banana split is a dessert made from banana and ice cream. Andy makes a pun on the word "split", referring to the gymnastic move.
Michael invites Pam to come out with them. "It would be like Coyote Ugly." The slang term "coyote ugly" refers to someone so ugly that you would chew off your own arm to get away, in the same way coyotes do when their leg is caught in a trap. The movie Coyote Ugly is based on the Coyote Ugly Saloon, which uses the term ironically: The bartenders are all extremely attractive women.
Michael says that Dwight's imitation of Pam sounds like Kermit, the popular Muppet character created by Jim Henson.
When Pam calls Jim to the bride's room, Jim asks, "Is this allowed?" It is considered bad luck for the groom to see the bride in her wedding gown before the ceremony. This superstition and the tradition of the bride wearing a veil date to the days of arranged marriages and serve to prevent the groom from seeing the bride until after the marriage was solemnized, at which point it would be too late to call off the wedding.
Dwight asks a woman to explain the difference between Filene's (a high-end clothing department store) and Filene's Basement (an off-price retailer). Filene's Basement began in the basement of a Filene's store, hence the name.
The dance down the church aisle to Chris Brown's "Forever" is a "remake" of the popular 2009 YouTube viral video, "JK Wedding Entrance Dance", in which a young couple (JK standing for "Jill and Kevin") dance down the aisle to the song along with their wedding party. Pam mentions that the song was specifically put on a "Do Not Play List", but was choreographed by the wedding guests and office workers regardless.
Kevin refers to his tissue paper box shoes as "Kleenex shoes". The brand Kleenex is informally used as a generic term for facial tissues.
The cigarettes Creed obtains in a deleted scene are branded "Hampton's". This does not appear to be a real cigarette company.
In a deleted scene, Jim explains how Dwight's sidearm prevented them from going to Canada. Firearms regulation in Canada is much stricter than in the United States. Many kinds of handguns are prohibited, and all non-prohibited handguns must be registered.
In a deleted scene, Angela describes Kelly Ripa as a comedian she saw one morning. Angela was likely watching Live! with Regis and Kelly, a morning talk show.
Quotes
For quotes, see: Niagara Quotes.
Cast
Main cast
Supporting cast
Recurring cast
Guest cast
Anna Camp as Penny Beesly
Blake Robbins as Tom Halpert
Tug Coker as Pete Halpert
Peggy Stewart as Sylvia "Meemaw"
Robert Pine as Gerald Halpert
Perry Smith as Betsy Halpert
Algerita Wynn Lewis as Cynthia
Michelle Gunn as Hotel Receptionist
Jennifer Sparks as Second Hotel Receptionist (nonspeaking, uncredited)[8]
Nicholas Shaffer as Hotel Manager
Deena Adar as Woman at Bar
Ken Kreps as Minister
Randy Cordray as Ship's Captain
Charlotte Daniels as Flower Girl
References
↑ Lawrence, Derek. Happy 10th anniversary, Jim and Pam! An oral history of The Office wedding, Entertainment Weekly, October 8, 2019.
↑ 5.0 5.1 Baumgartner, Brian. The Moment That My Life Changes, An Oral History of the Office, Episode 8. August 18, 2020.
↑ 6.0 6.1 6.2 6.3 Lawrence, Derek. Happy 10th anniversary, Jim and Pam! An oral history of The Office wedding, Entertainment Weekly, October 8, 2019.
↑ The truth about Threat Level Midnight on The Office, Looper, May 22, 2020.