Line 48:
Line 48:
 

* [[Kevin]] refers to [[Wikipedia:Ghost Whisperer|''Ghost Whisperer'']], a show about a women who can see dead people and helps to bring closure to families who have recently seen death in their families.

 

* [[Kevin]] refers to [[Wikipedia:Ghost Whisperer|''Ghost Whisperer'']], a show about a women who can see dead people and helps to bring closure to families who have recently seen death in their families.

 

* A [[Wikipedia:Falafel|Falafel]] is a fried ball or patty derived from chickpeas, and usually served within a pita. It is from Egypt, but is eaten throughout the world.

 

* A [[Wikipedia:Falafel|Falafel]] is a fried ball or patty derived from chickpeas, and usually served within a pita. It is from Egypt, but is eaten throughout the world.

 
+

* Erin plays the hotter/colder game with Andy. In this children's game, warmer temperatures indicate that the player is closer to the target. (The game was last seen in the episode ''[[The Fight]]''.)

 
 
 

==Goofs==

 

==Goofs==
---
Revision as of 18:04, 21 March 2010
"New Leads" is the twentieth episode of the sixth season. It was written and directed by Brent Forrester who wrote, "Mafia," "Blood Drive," and "Business School." It aired on March 18, 2010.
Synopsis
When Michael thinks that he sees Johnny Depp, Jim messes with him and tells him that it is not possible that Michael saw him, but when Michael mentions that Jim thought he saw Roger Clemens, Jim says that he was wrong, too. Michael says that his mailbox said M. Shulman, anyway.
When Michael holds a meeting, Stanley and Dwight interrupt Michael, and he says that there is no sales topics for the rest of the meeting, they leave, only wanting to attain the $50,000 leads that Sabre bought them. Michael explains that the salesmen in the office are letting the Sabre, "Sales is King" policy go to their heads, and the rest of the office is getting mad at them, because they are supposed to watch the salesmen get leads, while they don't get anything.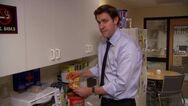 Dwight comes into Michael's office, and asks Michael, rudely, about news on the leads, however he doesn't have any. Jim texts someone while Michael tries to talk to him, and tries to get him to actually sign his commission check. Phyllis treats Angela badly, when she tells her that she is not going to answer her phone or go up to her desk since she is too busy. Andy attacks Darryl for a pencil when Darryl refuses to give him one. Darryl alerts Michael and tells him that he needs to do something before the sales-staff comes out of control.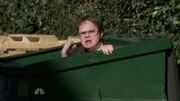 Michael gets the leads from Sabre. Phyllis calls him "numnuts," so Michael gets mad at the sales-staff and tells them that he is sick of them being cocky and rude to the rest of them, and they are angry. However, the rest of the office is thrilled, as tensions in the workplace boil. Michael later calls Gabe and tells him about the office, and he says that he needs to give them the new leads. Jim tells Michael that no one is going to go along with his idea not to give the salesmen leads, and he gives Jim a clue to find the leads.
Michael says that the leads are hidden all over the Industrial Park. Angela tells Phyllis that she can get the leads if she does her work and then she can watch her shred all of the papers that she would have to fill out. Stanley tries to get leads from Ryan and Kelly who are arguing about the show they want to watch. Jim decides to call Pam and tells her about the situation at Dunder Mifflin. Jim says that he has two babies. When Jim asks Pam about Michael's clues, Pam knows exactly what he means about.
Erin hides the leads, and plays the warmer-colder game with Andy. However, she begins to lead him to her breasts, and Andy becomes awkward, until she tells him that it is right under her, under the keyboard. Meanwhile, Jim and Dwight try to find the new leads. Michael tells Dwight to find the lead by the man who "never breeds," which he immediately identifies as Kevin, which he chokes. Kevin tells him that the leads are in the garbage, but Erin already threw it away. Dwight heads to the dumpster, to find nothing there. The dump truck is already leaving when Michael realizes that he threw away the expensive leads.
Michael asks everyone to go to the dump with them, and tries to force them to come. However, no one wants to come, but Dwight decides that since Michael will screw it up, he will go with him to the dump. Michael confronts Dwight and asks him why he doesn't like him anymore, and Dwight explains that he changed. Jim tells Kelly and Oscar that he can't wait for the drama to end, however they remain unimpressed by Jim, so he asks the rest of the sales department to come up with a deal, which they decide on giving them 2% of their commission, and also a food platter.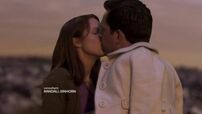 Michael says that Dwight used to be nice, and says that he misses him. Michael says that he shouldn't of been friends with Dwight, and Dwight angry starts to throw trash at Michael, and Michael does so, too. Dwight and Michael end their fight eventually and realize that they will never find the leads from Sabre.
When Jim, Andy, Phyllis, and Stanley give them the pastries, and they are satisfied, and they don't have to give them the 2% of their commission. In the meantime, Dwight and Michael start to bond again. They say together that "Hope Grows in a Dump." Michael and Dwight come back, friends again, bringing things from the dump. Everyone leaves, mad that they didn't find the prized leads.
At the end of the episode, Erin and Andy are at the dump, and Erin gives Andy her coat, and warms him up. Andy tells her that she is the nicest person he has ever met, and they kiss.
Cultural references
A lead is a person who has expressed an interest in purchasing a product or service.
Johnny Depp is an actor known for roles such as Jack Sparrow in the Pirates of the Caribbean film series.
Cap'n Crunch is a sweetened cereal for children.
Jim teases Michael by suggesting that his neighbor's name is M. Night Shulman. M. Night Shyamalan is a filmmaker and screenwriter who grew up and lives in Pennsylvania and films nearly all his movies in that state.
Dwight tells Michael, You couldn't handle my undivided attention, a reference to the line "You can't handle the truth" from the movie A Few Good Men.
Michael says that Jim thought he saw Roger Clemens, a former Major League baseball pitcher. He was part of the Yankees. He is one of the only people to have 4,000 strikeouts in his career.
Sexting is a form of texting in which people send sexually explicit photos, messages, ect., using electronics.
A Conspiracy is a usually an attempt to defraud people of their legal rights, or the overthrowing of a government, in some cases.
Kelly refers to the Kardashians, from the hit reality television series, Keeping Up with the Kardashians, about a family, which consists of an ex-wife and her daughters. Kelly is a devoted fan. Khloe and Kim Kardashian are known for dating/marrying African-American men, which is likely why Kelly mentioned the show to Darryl.
Baba Ghanoush is an Arab dish made from eggplants, which are mixed and mashed with several spices. It is eaten throughout western Asia, and can be dipped with pita bread.
A onesie is a garment designed to be worn by infants, much like pajamas, and have snaps.
Kevin refers to Ghost Whisperer, a show about a women who can see dead people and helps to bring closure to families who have recently seen death in their families.
A Falafel is a fried ball or patty derived from chickpeas, and usually served within a pita. It is from Egypt, but is eaten throughout the world.
Erin plays the hotter/colder game with Andy. In this children's game, warmer temperatures indicate that the player is closer to the target. (The game was last seen in the episode The Fight.)
Goofs
Deleted Scenes
Quotes
For quotes, see: New Leads Quotes.
Amusing Details
Connections to Previous Episodes
Pam also had bad sales numbers in "Koi Pond," when she was forced to make cold calls with Andy, as the people with the two lowest sales in the office had to do them. She also only doubled her sales from 2 to 4 in "Scott's Tots."
Phyllis wears purple so much, she was called "Mother Goose," by Sasha Flenderson in "Take Your Daughter to Work Day."
Kelly also told Charles Miner that her family was much like the Kardashians, showing that she is a huge fan of their show. She later tries to persuade Ryan to watch it.
Trivia
Cast
Main Cast
Supporting Cast
Guest Cast