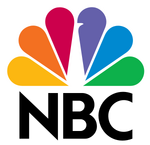 The
National Broadcasting Company
(
NBC
) is an American television network owned by NBCUniversal and is headquartered in the GE Building in New York City's Rockefeller Center. It is sometimes referred to as the Peacock Network due to its stylized peacock logo.
Formed in 1926 by the Radio Corporation of America (RCA), in 1986 control of NBC passed to General Electric (GE), with GE's $6.4 billion purchase of RCA. After the acquisition, the chief executive of NBC was Bob Wright, until he retired, giving his job to Jeff Zucker. The network is currently part of the media company NBC Universal, a unit of General Electric and Vivendi.
NBC is available in an estimated 112 million households or 98.6% of the United States. NBC has 10 owned-and-operated stations and nearly 200 affiliates in the United States and its territories.
Website: NBC.com
Currently broadcast by NBC
Edit
Dateline NBC (1992–present)
Meet the Press (1947–present)
NBC Nightly News (1970–present)
Today (1952–present)
Access (1996-present)
This Is Us (2016–present)
Law & Order: Special Victims Unit (1999–present)
The Blacklist (2013-present)
Blindspot (2015-present)
Chicago Fire (2012-present)
Chicago Med (2015-present)
Chicago P.D. (2014-present)
Shades of Blue (2016-present)
Manifest
Good Girls
Brooklyn Nine-Nine
Will and Grace (1998-2006, 2017–present)
The Office (U.S) (2005–2013)
The Good Place (2016-present)
Great News (2017-present)
Shrink (2017-present)
Superstore (2015-present)
America's Got Talent (2006–present)
World of Dance (2017–present)
The Voice (2011-present)
Better Late Than Never (2016-present)
Give (2016-present)
Daytime serial
Edit
Days of our Lives (1965–present)
Talk show and variety
Edit
Saturday Night Live (1975–present)
Last Call with Carson Daly (2002–present)
Late Night with Seth Meyers (2009–present)
The Tonight Show starring Jimmy Fallon (1992–2009; 2010–present)
Documentary
Edit
Journey With Dylan Dreyer (2017-present)
Law & Order True Crime (2016-present)
Game show
Edit
Ellen's Game of Games (2017-present)
The Wall (2016–present)