Line 123:
Line 123:
 
 
 

===Romantic relationships===

 

===Romantic relationships===

−

Michael is romantically hopeless during Season 1, but does manage to have some relationships as the series progresses. Michael's longest relationship to date has been with [http://en.wikipedia.org/wiki/Jan_Levinson Jan Levinson] ([http://en.wikipedia.org/wiki/Melora_Hardin Melora Hardin]), his original-then-former boss from Corporate. Starting with a one-night stand while on holiday in [http://en.wikipedia.org/wiki/Jamaica Jamaica], Michael and Jan begin dating, become an official couple, and eventually move in together after Jan is fired from her job, though Jan usually treats Michael with contempt. After Michael fails to defend Jan in her [http://en.wikipedia.org/wiki/Wrongful_dismissal Wrongful Dismissal suit] against [[Dunder Mifflin]], they remain together for a short while but end up blowing up at each other during an ill-fated dinner party and eventually break up. He also dated Carol (played by Carell's wife [http://en.wikipedia.org/wiki/Nancy_Walls Nancy Walls]), a real estate agent from whom Michael bought his condominium. Michael was much more interested in Carol than vice versa, and after he made an unwanted and unrejected impromptu public marriage proposal, Michael's decision to Photoshop pictures of himself over Carol's ex-husband in her family pictures resulted in their break up. On a business trip to Winnipeg, Michael & "Concierge Marie" become close, and Michael does not wish to leave her after they are caught necking in her suite. Michael then dated [http://en.wikipedia.org/wiki/Holly_Flax Holly Flax] ([http://en.wikipedia.org/wiki/Amy_Ryan Amy Ryan]), Toby's replacement as HR Representative, who appears for a while to be Michael's best chance at love, with the two sharing a similar sense of humor and social awkwardness. However, after David Wallace witnesses them kissing, Holly is transferred to the [http://en.wikipedia.org/wiki/Nashua Nashua] branch and she and Michael break up after choosing not to pursue a long-distance relationship. After Jim and Pam's wedding, Michael begins dating Pam's mother Helene (much to Pam's horror), but he breaks up with her after discovering her age. Near the end of season six, Michael begins dating [[Donna]] ([http://en.wikipedia.org/wiki/Amy_Pietz Amy Pietz]), the manager of a local bar, but later finds out that she's married and he is, as he puts it, "the mistress". He continues seeing her until the disgust of his employees drives him to listen to his conscience and break things off with her. In Season 7's "[http://en.wikipedia.org/wiki/Sex_Ed_%28The_Office%29 Sex Ed]", Michael reunites (in person or by telephone) with all of his aforementioned past girlfriends when he believes that he has contracted [http://en.wikipedia.org/wiki/Herpes Herpes]. In doing so, he realizes that Holly was the only one he truly loved. He will marry her in the near-future, but unfortunately he will be leaving Dunder-Mifflin to move in with Holly to her home-state of Colorado.

+

Michael is romantically hopeless during Season 1, but does manage to have some relationships as the series progresses. Michael's longest relationship to date has been with [http://en.wikipedia.org/wiki/Jan_Levinson Jan Levinson] ([http://en.wikipedia.org/wiki/Melora_Hardin Melora Hardin]), his original-then-former boss from Corporate. Starting with a one-night stand while on holiday in [http://en.wikipedia.org/wiki/Jamaica Jamaica], Michael and Jan begin dating, become an official couple, and eventually move in together after Jan is fired from her job, though Jan usually treats Michael with contempt. After Michael fails to defend Jan in her [http://en.wikipedia.org/wiki/Wrongful_dismissal Wrongful Dismissal suit] against [[Dunder Mifflin]], they remain together for a short while but end up blowing up at each other during an ill-fated dinner party and eventually break up. He also dated Carol (played by Carell's wife [http://en.wikipedia.org/wiki/Nancy_Walls Nancy Walls]), a real estate agent from whom Michael bought his condominium. Michael was much more interested in Carol than vice versa, and after he made an unwanted and unrejected impromptu public marriage proposal, Michael's decision to Photoshop pictures of himself over Carol's ex-husband in her family pictures resulted in their break up. On a business trip to Winnipeg, Michael & "Concierge Marie" become close, and Michael does not wish to leave her after they are caught necking in her suite. Michael then dated [http://en.wikipedia.org/wiki/Holly_Flax Holly Flax] ([http://en.wikipedia.org/wiki/Amy_Ryan Amy Ryan]), Toby's replacement as HR Representative, who appears for a while to be Michael's best chance at love, with the two sharing a similar sense of humor and social awkwardness. However, after David Wallace witnesses them kissing, Holly is transferred to the [http://en.wikipedia.org/wiki/Nashua Nashua] branch and she and Michael break up after choosing not to pursue a long-distance relationship. After Jim and Pam's wedding, Michael begins dating Pam's mother Helene (much to Pam's horror), but he breaks up with her after discovering her age. Near the end of season six, Michael begins dating [[Donna]] ([http://en.wikipedia.org/wiki/Amy_Pietz Amy Pietz]), the manager of a local bar, but later finds out that she's married and he is, as he puts it, "the mistress". He continues seeing her until the disgust of his employees drives him to listen to his conscience and break things off with her. In Season 7's "[http://en.wikipedia.org/wiki/Sex_Ed_%28The_Office%29 Sex Ed]", Michael reunites (in person or by telephone) with all of his aforementioned past girlfriends when he believes that he has contracted [http://en.wikipedia.org/wiki/Herpes Herpes]. In doing so, he realizes that Holly was the only one he truly loved. He will marry her in the near-future, but unfortunately he will be leaving Dunder-Mifflin to move in with Holly to her home-state of Colorado.

 
 
 

==Alter egos of Michael Scott==

 

==Alter egos of Michael Scott==
---
Revision as of 04:12, 26 May 2013
Michael Gary Scott (born March 15, 1964 in Scranton, Pennsylvania, USA) is a fictional character on NBC's The Office, portrayed by Steve Carell, and loosely based on David Brent from the original British version. Michael, the central character of the series, was the former manager (and co-manager for a short period of time) of the Scranton branch of paper and printer distribution company Dunder Mifflin Paper Company. Prior to being co-manager, he was the regional manager of the branch, but on the September 24th, 2009 episode "The Meeting", he was made co-manager with Jim Halpert; however, they returned to their original roles in "Manager and Salesman". In the fifth season, Michael Scott briefly left his position to start his own company, Michael Scott Paper Company. Dunder Mifflin purchased the Michael Scott Paper Company in an episode that aired on April 23, 2009 and as part of the agreement rehired Scott as the regional manager. Michael was an employee at Dunder Mifflin for 19 years from 1992 to 2011.
In many instances in the show it is heavily implied that Michael tries to use his subordinates as a substitute for a family, which he does not have. Michael insists everyone in the office think of him as a friend first, a boss second, and "probably an entertainer third". Michael holds inflated views of himself and considers himself an office comedian, but his attempts at humor tend to fail. Often, he says things that are inappropriate (check out Michael's Botched Phrases ), offensive or unwittingly mean in the hopes of getting a laugh. He lacks maturity and self-awareness, has few friends and is quite lonely, made worse because his efforts to make friends with people usually backfire. Michael will resort to any means possible to make himself the center of attention and often takes credit for the successes of others. His subordinates, with the exception of Dwight Schrute, think of him as inept and several of them remark that they get their work done when Michael is distracted.
Michael wasn't always an incompetent employee at Dunder Mifflin. Before he was promoted to regional manager, he was an exceptional salesman, able to relate well with clients and using his personable attitude to his advantage, and he displays this several times throughout the series. However, his promotion put him into a position above his level of competence, making him an embodiment of the Peter Principle.[1] However, when needed, Michael springs to the help of his employees in landing or maintaining sales relationships for his employees.
Season 1
Season 2
Season 3
Season 4
Michael Scott stayed loyal to Dunder Mifflin during the case of Jan Levinson-Gould
Season 5
Season 6
Season 7
Michael Scott leaves Dunder Mifflin to pursue a life and start a family with Holly in Colorado with her parents.
Season 8
In "The List" when Pam talks about her pregnancy she refers to the boy being called "Little Michael Scott" to which Jim tells her not to joke about that.
In "Welcome Party" Darryl responds positively to the idea of giving Nellie a nickname citing several examples of coworkers that he and his warehouse friends had nicknames for. He refers to Michael when he says "Mike was 'Dennis the Menace'". This is likely due to Michael's destructive habits.
Season 9
When Toby annoys Andy, he tells him he now understands why Michael hated him so much (New Guys).
When Pam applies for a job in Philadelphia, she notices how the boss is exactly like Michael (Moving On).
Stock footage of Michael appears when the office staff are watching the promos for the documentary (Promos).
In the episode of Paper Planes" of season 9. Pam has a flashback of the day got married at the church and in the row of people you can spot michael scott sitting down (Paper Airplane).
Jim and Michael's conversation from the Pilot is heard as the employees watch the premiere of the documentary, The Office: An American Workplace at Poor Richard's. (A.A.R.M.)
Michael appears at Dwight's wedding after Jim passes being Dwight's best man to Michael as his "greatest prank ever". He is then seen during the reception showing pictures of his kids to Pam. His final appearance on the show is him talking to camera about how proud he is that his "kids" have grown up and married each other.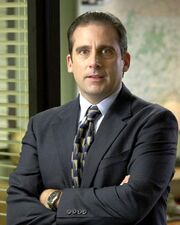 Casting
Further information: Steve Carell All original series characters were adapted for the U.S. version. NBC programmer Traci Mclaughlin suggested Paul Giamatti to producer Ben Silverman for the role of Michael Scott, but the actor declined. Martin Short, Hank Azaria, and Bob Odenkirk were also reported to be interested.[2] In January 2004, Variety reported Steve Carell of the popular Comedy Central program The Daily Show with Jon Stewart, was in talks to play the role. At the time, he was already committed to another NBC midseason replacement comedy, Come to Papa,[3] but the series was quickly canceled, leaving him fully committed to The Office. Carell later stated he had only seen about half of the original pilot episode of the British series before he auditioned. He did not continue watching for fear that he would start copying Gervais' characterizations.[4]
Two supporting roles in films helped get the attention of audiences: Bruce Almighty, in which Carell plays Evan Baxter (an arrogant rival to Jim Carrey's character), who gets a humorous comeuppance while co-anchoring the news. In Anchorman: The Legend of Ron Burgundy, Carell plays another news personality, as slow-witted weatherman Brick Tamland. Although the series premiered to mediocre ratings, NBC renewed it for another season because of the anticipated success of Carell's movie The 40-Year-Old Virgin,[5] and the show subsequently became a ratings success. Carell won a Golden Globe and Television Critics Association award in 2006 for his role. He also received Emmy nominations in 2006 and 2007 for his work in the series. He played the lead role in the 2005 film The 40-Year-Old Virgin, which he developed and co-wrote. Although the film was a surprise success, Carell revealed in an interview with Entertainment Weekly that he had no plans to leave The Office. However, on the BBC Radio 5 Live Film Review show he stated in an interview that his time on the show will probably come to an end when his contract runs out after Season 7.[6] This was later confirmed on June 28, 2010, when Steve Carell confirmed that the seventh season of the show would be his last when his contract expired. 
Biography Michael was born on March 15, 1964 at 11:23 AM, in Scranton, Pennsylvania. He came from a broken home and has talked about his loneliness as a child. In Diversity Day, Michael claims to be of English, Irish, German and Scottish ancestry. He also claims that he is 2/15 Native American. In "Nepotism", it is revealed that Michael had a half-sister, from whom he was estranged from 1995 through 2010. As a consequence of their reunion, Michael hires his nephew Luke as an intern for the office.
In the episode "Take Your Daughter to Work Day", it is revealed that Michael was a child star on a kids' show called Fundle Bundle. Michael did not attend college, having lost all his tuition money in a pyramid scheme. In the season 5 premiere episode Weight Loss, Michael says he once went twenty eight years without having sex, implying he was a virgin until his late twenties. It is also revealed in season 5 that Michael got his job at Dunder Mifflin by following an attractive woman to the office park and leaving with a job. He rose to his manager position by being one of the best salesmen in the company, winning consecutive awards for best salesman.
Michael is shown to be an incompetent manager, who injects a lot of his personal feelings into the work environment. He seems to have few relationships outside the office. In his interactions with other characters, he is shallow, callous, ignorant and unaware of basic social norms. He tends to overestimate his own importance in the eyes of his co-workers and cannot understand why they do not seem to have much fun at work, as he believes an office to be the "place where dreams come true." However, Michael is somewhat loyal to the company and honestly tries to help his employees when he thinks they are having a problem. As of "Michael's Last Dundies", Michael has worked at Dunder Mifflin for 9,986,000 minutes, meaning he would have started work on April 6, 1992.
Michael's constant desire to be the center of attention often manifests itself in selfish behavior. For example, when he burns his foot in "The Injury", he expects Pam Beesly and Ryan to tend to his needs, despite Dwight's much more serious concussion. When invited to be an usher in "Phyllis' Wedding", he assumes that his participation will be the high point of the ceremony and pouts when he is upstaged by Phyllis' elderly father. Michael appears to emphasize moments of sympathy or civility directed at him by his co-workers (mostly Jim) and inflate their importance in order to compensate for his loneliness.
Due to his overall lack of common sense, Michael can withstand significant abuse from his peers and is often the butt of jokes. He is quick to take offense when he realizes he is being wronged and his response is often disproportionate to the harm suffered. Even though he is generally oblivious to criticism, derision and sarcasm, Michael has some limits to his patience, and leaves to question the extent of offense that he can actually acknowledge (demanding professional respect from Stanley Hudson in "Did I Stutter" or standing up to the employees in favor of Holly in "Business Ethics").
In "The Meeting", it is shown that Michael does not aim for his employees' betterment or his own, thinking that this would put his job at jeopardy; he unwittingly turns down a promotion that would put Jim in his position, choosing the status quo over his employees' ambitions. He is eventually forced to budge, having to co-manage the branch with Jim. He believes he has more power over Jim even though he doesn't.
Following his departure from The Office in Scranton PA., Michael received an appointment from Colorado Governor John Hickenlooper to be the new Director of Paper Distribution for the Department of Natural Resources. Said Governor Hickenlooper: Scott has a unique management approach, where he spends 80 percent of his time "distracting others," 19 percent of his time "procrastinating," and 1 percent of his time "critical thinking.""Scott will be a wonderful addition to our paper team, focusing particularly on the use of beetle kill in paper production," Hickenlooper said. "We hired him based on his skills, personal drive and love for 'That's what she said' jokes."http://www.colorado.gov/cs/Satellite/GovHickenlooper/CBON/1251590795163
It is revealed in Season 8 (the first mention of Michael in this season) that Michael's code name in the warehouse was "Dennis the Menace".
Interests
Michael's favorite catchphrase is "That's what she said!" inserted as a sexually suggestive double entendre even in the most inappropriate cirumstances, including business meetings and legal depositions. Michael finds uttering the phrase so irresistible that in "Sexual Harassment" he is goaded into saying it just seconds after Jan Levinson and a lawyer from Corporate specifically ask him not to do so.
Michael enjoys writing song parodies. In Goodbye, Toby, it is said that he had written songs such as "Beers in Heaven" (which he tells Holly is "very sexual") and "Total Eclipse of the Fart". In "Diwali", Michael performs his own parody of Adam Sandler's "The Chanukah Song", replacing the Jewish-themed lyrics with that of Hindu ones.
He also appears to have a history of playing ice hockey and is, as Jan once noted when trying to find a compliment to give him, a very talented ice skater. On multiple occasions, Michael has also expressed interest in basketball even though he is terrible at it (in "The Fire" and "Basketball"). He also once stated that he is an Oakland Raiders fan.
Michael attends classes in improvisational comedy and although he believes his skills are among the best in the world, he is shown in "E-mail Surveillance" to be a frustrating and unpopular presence in the class. He is the playwright of such skits as Threat Level: Midnight (which was discovered by Pam and read by the entire office without Michael's knowledge), celebrating Michael's main character alter-ego Michael Scarn. He constantly compliments his own performances, from joke-telling to impressions to videotape skits that he creates for presentation in the office.
Michael loves wearing jeans, in particular a pair of Levi's he refers to as his "Fun Jeans" ("The Convention"). He is so fond of his jeans that he gets them dry cleaned; Pam surmises that he instituted Casual Friday just to show off his jeans ("The Client").
Michael treasures his "World's Best Boss" mug, even though he bought it for himself at Spencer Gifts and has multiple replacements. The audience knows that he has purchased at least two, because Dwight precariously places one of them on Michael's desk, and Michael accidentally knocks it off with a golf putter that he was using to practice with in his office. This is also proven in "The Promotion", when Michael presents Jim with his own "World's Best Boss" mug at the end of the episode that they share gin with each other.
Michael is a passionate fan of YouTube, although he may not be entirely clear about what it is and seems to believe that it is a news media organization. He is an avid fan of the HBO television series, Entourage. It is also established that Michael tends to be a bit "behind" when it comes to pop culture references, particularly in music. This is mainly shown through his cellphone ringtones, such as "My Humps" early on in the show, or "Salt N Pepa" in "The Lover".
Michael likes Chrysler cars. For the first three seasons, he drove a silver 2004 Sebring convertible, until the season four episode "Money" in which he mentions he traded it in (along with Jan's car) for a Porsche Boxster. After breaking up with Jan, he buys a red PT Cruiser convertible. He drives the PT Cruiser until the season 5 episode "Broke" in which he asks for a new Sebring convertible as part of his agreement to return to Dunder Mifflin.
Michael's PIN is YMCA (9622) as illustrated in the season 6 episode "Secret Santa".
Michael is a big fan of the film 'The Devil Wears Prada', implying that he has rented it multiple times. He is also a fan of animated movies with mentions of 'Finding Nemo' and 'Toy Story' in episodes, allowing an insight into Michael's naive, simple side which appreciates warmth.
Personality and management style
Michael is almost inexplicably lacking in any skills, management or otherwise. Co-manager Jim Halpert once made a color graph of how Michael spends his time: 80% "distracting others," 19% "procrastination," and 0.1% "critical thinking." His laid-back approach more often results in lower than expected workplace productivity, particularly when Michael places his personal interests as a priority over work (such as his birthday, someone else's birthday, or his various seminars). To avoid being disciplined for his foolish actions, Michael often resorts to scapegoating employees to cover himself. Although his actions often lead to more problems for his employees, Michael believes that Scranton is "the cool fun branch", and is genuinely upset when the top salesman from the Utica office trashes Scranton in a phone call by saying it's "worse than Camden".
Although his position as Regional Manager gives him broad decision-making authority on branch operations, he often places those responsibilities secondary to his desire to be friends with his employees. On the other hand, he also oversteps his authority by hosting events that Corporate disapproves of such as "The Dundies", and a "Booze Cruise".
It is revealed in the episode "The Duel" that, despite Michael's incompetence, the Scranton branch outperformed both Utica and Albany, reporting strong sales amid the floundering economy. Michael is called to Corporate to answer the question, "What are you doing right?" After several minutes of Michael's inarticulate babble, his superiors concede that while Michael is definitely doing something right, they will probably never know exactly what.
When referring to sex, Michael says that he likes cuddling and spooning, revealing his true romantic side. He mentions on a number of occasions that he would love to get married and have children and is hurt when Jan reveals that she is pregnant to a sperm donor and was inseminated when her and Michael were dating. When witnessing PDAs from his employees, Michael sometimes smiles and looks happy for them, and creates a thoughtful and romantic scrapbook for Pam's mom, Helene, for her birthday when he is dating her.
Relationships
Michael tends to overestimate his importance to his employees, and, despite constantly demeaning and offending some of them, has a close bond with them. Most of the employees have been the focus of Michael's jokes at one point or another, usually in reference to their race, sex, size, attractiveness, or sexual orientation. Examples of Michael's difficult relationship with his staff include getting slapped by Kelly for being racist, hitting Meredith with his car, getting kicked out of Phyllis and Bob's wedding, and outing Oscar to the entire office without his permission.
Michael's relationship with the company warehouse employees is tense. He has a tendency to disrupt their daily work flow, and in a talking head interview, warehouse supervisor Darryl Philbin (Craig Robinson) explains that they have never been able to make a full year accident-free because of Michael's antics. CFO David Wallace tolerates Michael's antics because his branch is the best in the company, but Michael offends CEO Allan Brand and the rest of the executives during his only meeting with them with his lunk-headed comments and claims he can't back up.
Dwight
Of the office staff, Dwight has the most respect for Michael, viewing him as a model for success, and is thrilled when asked to handle any task given to him however ill-conceived it may be. Although on the surface, Michael usually appears dismissive of Dwight and generally views him as a suck-up, he is genuinely hurt and angry at the few times when Dwight has deceived him, such as when Dwight went over Michael's head to vie for the manager's job or when Dwight refused to reveal office secrets to Michael's new company, the Michael Scott Paper Company. In the episode "Heavy Competition" of Season 5, Dwight steals Michael's Rollodex and finds his own business card, on the back of which, Michael had written (before leaving Dunder Mifflin): Dwight Schrute, tall, beets. Michael also cares how Dwight feels about him. After Michael beats Dwight at his own dojo, later Michael finds out that Dwight no longer wanted Michael as his primary contact in case of an emergency which causes Michael to promote him from "Assistant to the Regional Manager" to "Assistant Regional Manager," with three month probational period. Dwight told Michael in Season 6 that Michael's pathetic career path hurt Dwight and he regretted working for him instead of taking a fast-track job at Office Depot, but they buried their differences later on. In Season 7, Dwight is hurt that Michael didn't recommend him for the job. However, he changes his mind when Michael writes a letter of recommendation, and the two play a game of paint ball together.
Ryan
Michael has a one-sided mancrush on Ryan, which makes Ryan uncomfortable. Examples of this are when Michael gave Ryan a $400 iPod for the staff's Christmas Secret Santa exchange, despite an agreed upon office limit of $20 per person. He also gave Ryan the "Hottest in The Office" Dundie for 6 years straight until Danny Cordray broke his streak.
Jim and Pam
Michael doesn't hesitate to compliment or criticize Pam for her looks and he frequently mentions her breasts. Their relationship comes to a rocky point when he begins dating her mother Helene. This is only repaired after he breaks up with Helene and allows Pam to slap him in the face in the parking lot. He trusts and respects Jim, although when they were co-managers they clashed due to their polar-opposite management styles. In "Secret Santa", Michael mentions that in a future vision he sees himself and his future wife living next door to Jim and Pam and that their children will play together. He often also refers to Jim as his best friend in the office. Michael attempts unsuccessfully to have Jim and Pam over for dinner on many occasions, though he finally succeeds in the episode "Dinner Party"; the entire evening is a disaster. In a Season 5 episode, Michael also shows his admiration for Jim, when Jim wears a tuxedo to work and goes on and on about having a 'classy party' for the party planning committee, and frequently suggests all of the ideas Dwight had offered that Michael had then rejected, only to bother Dwight by having Michael accept the same ideas from him. He seems to think that both of them are his best friends. During season 2, in episode 7 "The Client ", Michael and Jim share a mutual special glance at each other after both being rejected by Pam and Jan. In "Goodbye, Michael", Jim mentions what a great boss Michael has been over the years and Pam gives Michael a big hug at the airport before he goes off to Colorado to begin his new life with Holly.
Toby
Despite liking most of the staff, Michael fiercely hates Human Resources Manager Toby Flenderson, likely due to Toby's requirement to enforce the rules of proper office behavior that Michael loves to flout. Michael once reasoned that "Toby is in HR, which technically means he works for Corporate. So he's really not a part of our family". His longtime goal is to get rid of Toby and any attempts at reconciliation between the two usually backfire, with Michael resorting to name calling or jokes at Toby's expense. In the episode "Goodbye, Toby", Michael is thrilled when Toby decides to move to Costa Rica and gives as his going away present a rock with a note that reads "Suck on this". The next season, after Toby's replacement Holly is transferred, Michael is horrified when Toby returns to Dunder Mifflin. In "Frame Toby", he goes to great lengths to get him fired, trying to frame him for possession of marijuana (which turns out to be basil). In "The Chump", Michael says if he had a gun with two bullets and was in a room with Adolf Hitler, Osama bin Laden, and Toby, he would shoot Toby twice (which disgusts the rest of the office). During "Nepotism", Toby is able to deduce that Luke, the surly, universally disliked intern is Michael's nephew. When Michael makes an example of Luke by spanking him in front of the staff, it's perceived as assault on a company employee. To avoid termination, Sabre employee Gabe Lewis suggests Michael's spanking of Luke as a stress-related outburst, which can be addressed as therapy with Toby, the certified HR rep to do it. Obviously displeased but with no other options, Michael reluctantly agrees. In "Counseling" Toby tricks Michael into telling about his life which upsets Michael but at the end, Michael and Toby share a laugh together.
In Michael's home movie Threat Level Midnight, Toby plays one of the hostages of Goldenface (played by Jim Halpert). When Goldenface kills a hostage, it is Toby's character that gets shot in the head. The scene repeatedly shows the bullet and Toby's head exploding in slow motion. Though Goldenface expects Scarn to be shocked, Scarn happily informs him that Toby's character was a wanted animal rapist. This is a true testament to how much Michael hates Toby's guts.
Romantic relationships
Michael is romantically hopeless during Season 1, but does manage to have some relationships as the series progresses. Michael's longest relationship to date has been with Jan Levinson (Melora Hardin), his original-then-former boss from Corporate. Starting with a one-night stand while on holiday in Jamaica, Michael and Jan begin dating, become an official couple, and eventually move in together after Jan is fired from her job, though Jan usually treats Michael with contempt. After Michael fails to defend Jan in her Wrongful Dismissal suit against Dunder Mifflin, they remain together for a short while but end up blowing up at each other during an ill-fated dinner party and eventually break up. He also dated Carol (played by Carell's wife Nancy Walls), a real estate agent from whom Michael bought his condominium. Michael was much more interested in Carol than vice versa, and after he made an unwanted and unrejected impromptu public marriage proposal, Michael's decision to Photoshop pictures of himself over Carol's ex-husband in her family pictures resulted in their break up. On a business trip to Winnipeg, Michael & "Concierge Marie" become close, and Michael does not wish to leave her after they are caught necking in her suite. Michael then dated Holly Flax (Amy Ryan), Toby's replacement as HR Representative, who appears for a while to be Michael's best chance at love, with the two sharing a similar sense of humor and social awkwardness. However, after David Wallace witnesses them kissing, Holly is transferred to the Nashua branch and she and Michael break up after choosing not to pursue a long-distance relationship. After Jim and Pam's wedding, Michael begins dating Pam's mother Helene (much to Pam's horror), but he breaks up with her after discovering her age. Near the end of season six, Michael begins dating Donna (Amy Pietz), the manager of a local bar, but later finds out that she's married and he is, as he puts it, "the mistress". He continues seeing her until the disgust of his employees drives him to listen to his conscience and break things off with her. In Season 7's "Sex Ed", Michael reunites (in person or by telephone) with all of his aforementioned past girlfriends when he believes that he has contracted Herpes. In doing so, he realizes that Holly was the only one he truly loved. He will marry her in the near-future, but unfortunately he will be leaving Dunder-Mifflin to move in with Holly to her home-state of Colorado. In Finale Holly and Michael are happily married with children, In a Where Are They Now on NBC's website reveals that Michael and Holly are expecting their fourth child.
Alter egos of Michael Scott
Given his proclivity of constantly trying to keep his employees entertained (and coupled with his juvenile personality), Michael has created a variety of different alter egos which he uses for both entertainment, and, at times, educational purposes. Often at times he uses these characters names to hide transacting information, and at one point his credit card uses "Michael Scarn", instead of Michael Scott.
Ping ("The Dundies", "The Seminar", "Goodbye Michael"), an Asian caricature based on Michael's Chinese food deliveryman.
Agent Michael Scarn ("The Client", "E-mail Surveillance", "Threat Level Midnight" referenced in "Product Recall", "Money", "Dinner Party") is the star of Threat Level: Midnight, a derivative spy/action hero screenplay written and illustrated by Michael. He had kept it hidden in his desk drawer until it was discovered by Pam without his knowledge and photocopied so the staff could stage a rollicking reading of it while Michael was on a sales call.
Michael Scarn ("Prince Family Paper") Michael pretends that he is a lawyer at a lawfirm to get information about Prince Paper so that Dunder-Mifflin can run them out of business.
A thinly-veiled portrayal of himself, Michael also adopts the persona in one session of his improv comedy class, ignoring the rule to base his dialogue off of his scene partners, and ultimately shooting everyone in the room, regardless of their participation in the scene. He also uses the alias in another episode to go undercover in a local paper competitor to attain information from it. ("Prince Family Paper")
Prison Mike ("The Convict") wears a purple bandanna over his head, speaking in a caricature of New York English, and explains that he is in prison for theft, robbery and kidnapping the president's son for ransom (although he claims, in knee-jerk defensiveness, that he was never caught). He proceeds to paint an awful, and somewhat fanciful, picture of prison life. He states that the scariest part of prison is the Dementors. The character is likely the result of Michael's take on the Scared Straight! documentary series.
Michael the Magic ("Cocktails") attempts to escape from a straitjacket but fails because of a lost key (actually hidden by Jim). Michael's fondness for magic is referenced throughout the series, including an off-screen visit to a children's magic camp. Michael also attempts to utilize a magic prop briefcase (which included a working chainsaw) while speaking at Karen's Utica branch in "Lecture Circuit". In the cold open for Nepotism, he is seen performing numerous, albeit repetitive, magic tricks.
Michael Klump ("Weight Loss") attempts to show that overweight people are people too. Michael wears a partially-inflated sumo suit underneath a business suit, and is patterned after the Eddie Murphy character in the Nutty Professor remakes.
Michael Scotch ("New Boss") was co-created when Michael and Dwight were trying to contact David Wallace to complain when Charles Miner cancelled Michael's fifteenth anniversary party because of budget cuts. Michael Scotch is an overly aggressive character who threatens that he has kidnapped David Wallace's son.
Blind Guy McSqueezy ("The Lover") is a character Michael created at his improv class so he could feel up women.
Caleb Crawdad ("Murder") is a Southern persona used for the purposes of a game.
Date Mike ("Happy Hour") is a personality Michael takes on when on a date. Michael creates this personality when Jim points out to him that Pam's friend likes him. Up to that point, Michael had been charming and likable, but Date Mike completely ruined things and the friend fled in disgust. Ironically, Michael felt Date Mike was successful because he impressed Donna, while Jim thought Date Mike was a disaster because he didn't know about Donna. Michael says Date Mike is inspired by "the winners of reality dating shows. AND the losers".
Mike Leno is an interview personality that is a parody of Jay Leno.[9]
Reginald Poofda ("The Seminar") is an English character that Michael mentioned that he was working on when he bumped into some one from England (the person that he bumped into was the star of the show The Office U.K.).
Classy Santa ("Classy Christmas") Michael's version of Santa Clause at a 'Classy Christmas Party' which Michael throws when Holly Flax is temporarily transferred back to Scranton while Toby Flenderson is on jury duty. Classy Santa wears an untraditional Kangaroo-style Santa hat, a black dress shirt, a red smoking jacket, dress slacks, and smokes a pipe.
Comparison with David Brent
Although originally based on David Brent, Scott has developed into a significantly different character than his British counterpart. Whereas Brent is shown to be irredeemably incompetent,[10] Scott is portrayed as an outstanding salesman, unwisely promoted to a management role to which he appears completely ill-suited (see Peter Principle). A scathing performance review written by Jan Levinson stated that he should be removed from the Branch Manager position and put into a more suitable position in Sales. However, Scott has been oddly successful as regional manager. When he took over the Scranton Branch he decreased costs by 17%, without firing any personnel. After the merger of the two branches Scott does not lose a single client despite a great deal of employee turnover (much of which he was directly responsible for). He received a $3,000 bonus for firing Devon, most likely because his doing so saved the company around $50,000. Although it is suggested that Brent has had similar success, such claims only ever come from Brent himself, thus making them unreliable.
Scott's social immaturity and inability to cope with responsibility is balanced with a personality that is much more caring than Brent's, even if both make unwise comments in the heat of the moment. Unlike Brent, who pretends to be friendly with many of his employees purely for the benefit of the cameras, Scott seems to genuinely like his colleagues, with the exception of Human Resources Director Toby Flenderson. Scott's need to be liked by his staff and his belief that people see him as a genuine friend leads him to become very hurt when he realizes this is not the case.
The DVD commentary to the Pilot episode suggests that Scott's character continues a process begun in the second UK series, in which Gervais and Merchant intentionally made Brent less nasty, and more of a buffoon. It is said in the commentary that Gervais and Merchant suggested that this be applied to Scott. This also reflects a general change in the US version's attitude, which is more sympathetic to the characters, and tones down the cruel humor of the original. The commentary also says that Steve Carell had not seen more than a few minutes of the original UK series when he was offered the role of Scott, and has since made a conscious decision not to watch it in case it influences his own performance.
The show's writers have said that the 2005 hit movie The 40-Year-Old Virgin provided very useful guidance as they refined the character along with Steve Carell between the 1st and 2nd seasons. Michael Scott wore a large amount of hair gel and dressed sloppily in Season 1, but by Season 2 he had a more conventional haircut and dressed much more neatly. Also, while Michael is often rude and nasty in Season 1, he is generally nicer and less hard-edged in subsequent seasons.
Behind the scenes
U.S. Developer Greg Daniels envisioned Michael Scott behaving as if "I was hoping that the documentary about this would one day be seen by Jennifer Aniston, and I was just trying to impress her any way I possibly could"[11] and notes the occasional need to show Michael being competent or even effective, to justify why he is not simply fired.[12]
Writer B.J. Novak explains that Michael Scott drives a Sebring because it is the most ostentatious car he can afford, opting for a convertible even though the climate in Scranton is cool even in the summer.[13]
Quotes
"They say that on your deathbed you never wish you spent more time at the office. But I will."
"Would I rather be feared or loved? Easy. Both. I want people to be afraid of how much they love me."
"If I had a gun with two bullets, and if I was in a room with Hitler, Bin Laden, & Toby, I would shoot Toby twice."
"Drumroll please!"
"That's what She said!" (Whispered, shouted etc etc!)
References