The story of Michael and Jan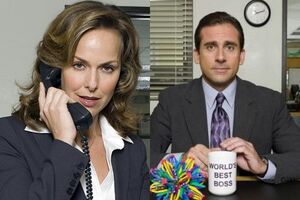 Michael and Jan have a chaotic, on-and-off relationship that is complicated by Michael's stupidity and Jan's mood swings. The two got together on a trip to Sandals, Jamaica in "Back From Vacation", and broke up after a violent Dinner Party at Michael's condo in Season 4.
After they broke up, Jan became pregnant via sperm donor and gave birth to a child, Astrid. For a brief moment after learning about the child's birth, Michael appeared willing to re-open the relationship, but he ultimately did not explore that possibility.
Season 2
As Vice President at Dunder Mifflin, Jan acts as Michael's boss and is constantly annoyed with his incompetence as manager of the Scranton Branch. Jan and her ex-husband Mr. R. Gould have recently divorced. In "The Client," Michael and Jan meet with a huge client at Chili's. Jan and Michael, both drunk, kiss in the parking lot after the sale and go to Jan's hotel where the two only talked. The next day, Jan calls Michael telling him this was a mistake.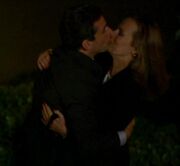 In "Performance Review," Jan attempts to return to a professional relationship but Michael wants to pursue a relationship. Jan tells him that they will never date due to his inconsiderate personality, but Michael misinterprets this as the timing isn't right. In a deleted scene from "Booze Cruise," Jan meets with Michael and advises her coworker, Brenda, not to leave the room if Michael asks her to.
On "Valentine's Day," Michael meets with Jan and the newly appointed CFO, David Wallace. Michael lets slip out that he's had relations with Jan to a dim-witted manager, Craig, who makes a comment about it in front of David. Michael clears up this incident as a joke to David and the matter is resolved. Jan kisses Michael again as he leaves.
In "Casino Night," Michael invites both Jan and his realtor, Carol Stills, to casino night. Jan, originally planning on sleeping over at Michael's, realizes a relationship with Carol is starting and returns to New York at the end of the night.
During his emotional break-up with Holly, Michael admitted, "I'm not strong!", and if they break up, "I'll go back to Jan, and I hate Jan!" Michael's prediction has not come to pass.
In a deleted scene, Jan tells Michael that he ruined her life. ("Stress Relief")
Status: Broken Up
Community content is available under
CC-BY-SA
unless otherwise noted.