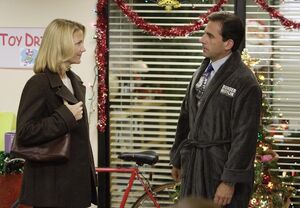 Carol Stills, (played by Steve Carell's wife, actress Nancy Walls), is the real estate agent that helped Michael buy his condo. The two started dating after Casino Night. Michael prematurely proposed to her at Kelly's Diwali celebration, but Carol did not accept. Carol broke up with Michael after Michael photo-shopped his head onto Carol's ex-husband's body in a family photograph.
Status: Broken Up
Community content is available under
CC-BY-SA
unless otherwise noted.