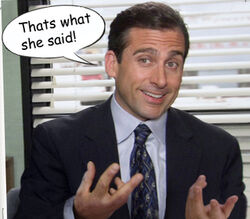 Michael considers himself to be an eloquent, witty, and entertaining public speaker. However, throughout the series he botches the delivery and use of common phrases and idioms.
Season 1
In "Diversity Day," Michael says 'colored' greens instead of collard greens (referring to colored people).
Season 2
In "Michael's Birthday," Michael says to Pam that her breasts are "ticking time bags" (time bombs).
In "Casino Night:"

Michael says that he considers himself a great "philanderer", instead of "philanthropist."
Michael says that he is going to "drop a deuce on everyone" by bringing two dates to the party; the correct expression is "drop a bomb on everyone." "Dropping a deuce" is a slang reference to having a bowel movement.
Season 3
Season 4
Season 5
Season 6
Season 7
In "Nepotism," Michael says:

"This is like a witch hunt. This is like "The Blair Witch Hunt Project"." (referring to the 1999 film The Blair Witch Project)
"There are many different schools of thought on capital punishment." (corporal punishment).

In "Costume Contest," Michael says Darryl "backstabs people in the back" (backstabs people or stabs people in the back).
Community content is available under
CC-BY-SA
unless otherwise noted.