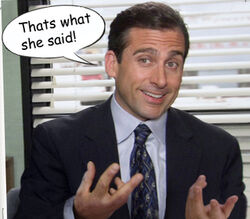 Michael considers himself to be an eloquent, witty, and entertaining public speaker. However, throughout the series he botches the delivery and use of common phrases and idioms.
List of common phrases and idioms used erroneously by Michael
Edit
In "Two Weeks," Michael says "I'm going to stay up all day, sleep up all night" (stay up all night and sleep up all day).
Community content is available under
CC-BY-SA
unless otherwise noted.