Line 17:
Line 17:
 
 
 

<poll>

 

<poll>

−

Which of these characters of Michael is the best?

+

Which of these

 
+

"Secretary's Day," Andy plans a special day for Erin, while Oscar compares Kevin to Cookie Monster.

−

Date Mike, an awkward character used on dates ("Happy Hour")

 
 
+

"Body Language," Jim and Pam try to make a sale together with Donna, Michael has trouble reading body language.

−

Caleb Crawdad, a southern playboy who always says, "I do declare!" ("Murder")

 
 
+

"The Cover-Up," Michael thinks that Donna is cheating on him and sends Dwight to investigate.

−

Blind Guy McSqueezy, a blind guy who fell in a pool of acid and squeezes women's breasts ("The Lover")

 
 
+

"The Chump," there is no summary yet.

−

Michael Klump, an extremely overweight guy who likes to crush people by sitting on them. ("Weight Loss")

 
 
+

"The Whistleblower," (Season Finale) A scandal with Sabre printers induced by a whistleblower causes Jo Bennett to come to Scranton.

−

Michael the Magic a Houdini-like character who can escape out of anything but fails. ("Cocktails")

 
 
+

I'm looking forward to all them, they sound great!

−

Prison Mike, a character who went to prison, ate gruel, and is very stereotyped. He also learned from computers. ("The Convict")

 
 
+

The summaries are pretty boring, so who knows; I have to see the episode!

−

Agent Michael Scarn, a star of Michael's screenplay, which he wrote, and is titled "Threat Level: Midnight." ("E-mail Surveillance")

 
 
+

I'm looking forward to season seven!

−

Ping, a racist Chinese character who is based upon his Chinese food deliveryman. ("The Dundies")

 
−

Adolf Hitler, Michael uses Adolf Hitler to introduce Ryan Howard, but miserably fails. ("Pilot")

 
 

</poll>

 

</poll>

 

{{Heading|Did You Know?}}

 

{{Heading|Did You Know?}}

Line 33:
Line 32:
 

*'''That [[Meredith]] has a shirt with holes where her nipples are supposed to be?'''

 

*'''That [[Meredith]] has a shirt with holes where her nipples are supposed to be?'''

 

*'''That [[Steve Carell]] won the 2010 People's Choice Award for best Comedy Actor?'''

 

*'''That [[Steve Carell]] won the 2010 People's Choice Award for best Comedy Actor?'''

−

*'''That the next new episode will air on April 22, 2010 and is to be announced?'''

+

*'''That the next new episode will air on April 22, 2010 and is

 

*'''That [[Kate Flannery]] auditioned for [[Jan Levinson]]?'''

 

*'''That [[Kate Flannery]] auditioned for [[Jan Levinson]]?'''

 

*'''That [[Hide]] killed the boss of the Yakuza on purpose when he lived in Japan? '''

 

*'''That [[Hide]] killed the boss of the Yakuza on purpose when he lived in Japan? '''
---
Revision as of 02:46, 21 April 2010
♦All new episodes: April 22nd: Secretary's Day. April 29th: Body Language. May 6th: The Cover-Up. ♦
Employee Of The Month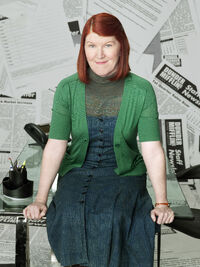 Meredith Palmer
for not getting married (Like
Clooney
!) and for being
Mrs. Claus
. The sole supplier relations representative of the office, Meredith is the somewhat quiet, alcoholic mother and has two kids ("The Office: The Accountants"). Meredith doesn't want to go to rehab ("Moroccan Christmas") and is addicted not only to alcohol, but also pornography ("Moroccan Christmas"). Meredith doesn't mind male strippers ("Ben Franklin") has burnt her face ("Weight Loss"), has said that, "I hate that bitch [
Holly Flax
]; I'm going to cut her face," ("Goodbye, Toby"), and has flashed Michael ("Christmas Party"). She has had sex with Creed ("The Promotion"), and has also bartered sex for steaks and discounts on supplies ("Business Ethics"). Meredith has also had her bad luck with health. She has been hit by a car, gotten Rabies (by a bat in the office), and also enjoys humping
Todd Packer
("Christmas Party," "St. Patrick's Day").
Read more...
Polls
Did You Know?
That Angela Kinsey first auditioned for Pam Beesly's part?
That Kelly's sister, Rupa is a prom queen?
That Meredith has a shirt with holes where her nipples are supposed to be?
That Steve Carell won the 2010 People's Choice Award for best Comedy Actor?
That the next new episode will air on April 22, 2010 and is titled "Secretary's Day"
That Kate Flannery auditioned for Jan Levinson?
That Hide killed the boss of the Yakuza on purpose when he lived in Japan?
Selected Episode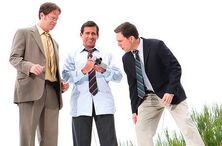 "Gossip," was the first episode of the sixth season and was written and directed by Paul Lieberstein. When Michael is left out of the gossip loop when finding out that Megan and another intern are dating, he eventually finds out that Stanley is cheating on his wife, which he tells everyone. Hoping to make people not believe what he said, he spreads fake gossip around the office. Meanwhile, everyone learns that Pam is expecting, Andy and Dwight practice "Parkour," the office prepares for the summer interns to leave, and Michael tells people Kelly is anorexic and Toby, is a virgin (despite having a kid). Read More....
Selected Clip
Achievement Awards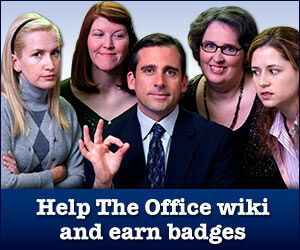 Featured Article

Sabre
is a highly successful printer company that took over failing paper company
Dunder Mifflin
at
Christmas
, firing
David Wallace
(who is trying to create the
Suck It
) and
Charles Miner
. It sells several printers, has many programs, including
Print All Colors
and
Sales is King
and staff includes southern boss
Jo Bennett
, who wrote an
autobiography
, and reluctant
Gabe Louis
. It is based in Tallahasee, Florida and includes spokesperson,
Christian Slater
.
Have you ever tasted a rainbow?
Read More...
Random Quotes
"I color code all my info. I wrote gay son in green. Green means go. So I know to go ahead and shut up about it. Orange, means orange you glad you didn't bring it up. Most colors mean don't say it," Michael Scott, Heavy Competition
"We got the van at a used car lot. We think it says Hallelujah Church of Scranton in Korean. It was either this or an old school bus with an owl living in it," Pam Beesly, Broke
Random Image
About The Office Wiki

The Office, also known as The Office: An American Workplace is a 30 minute-long sitcom produced by the Deedle-Dee Productions and Reveille Productions in association with NBC. It is based on the British series of the same name that was created by Ricky Gervais and Stephen Merchant and was adapted for American audiences by producer Greg Daniels. The pilot first premiered on television on March 24, 2005. WARNING: Dunderpedia contains spoilers on episodes of the The Office TV show. Information from episodes which have aired in the United States is acceptable for publication on this site, as is all other versions of the office.
Watercooler Forums

Community content is available under
CC-BY-SA
unless otherwise noted.