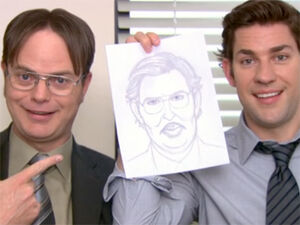 Lloyd Gross is a fictional salesman created by Jim Halpert and Dwight Schrute to help them get more money.
As salesmen have commission caps, Jim and Dwight created a fictional salesman where they split the commission. Pam drew a picture of him by combining the facial features of all the real salesmen. 
When a Syracuse salesman (Harry Jannerone) comes to the branch, mad because of Jim, Dwight and "Lloyd" for crossing state lines, Dwight nominates Toby to pretend to be Lloyd. Toby plays the part seriously, calling Harry "Kimosabe", but his meek nature eventually takes over when the salesman yells at him.
Community content is available under
CC-BY-SA
unless otherwise noted.