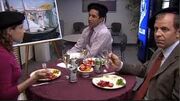 Since it is a "reality show" the office workers refer to books, magazines, movies, music, and television shows that we, the audience, are familiar with. Below is a list of their mentions by season.
In Launch Party, as a gift for Ryan, Michael says he wanted to buy Oh, the Places You'll Go by Dr. Seuss but since he couldn't find it he buys Green Eggs and Ham by Dr. Seuss instead.
In Branch Wars we are introduced to The Finer Things Club. In the episode and flashback to previous episodes we see them discussing The Four Seasons by Vivialdi, A Room with a View by E.M. Foster, Memoirs of a Geisha by Arthur Golden, and Angela's Ashes by Frank McCourt.
In Money Michael critiques the Die Hard movie franchise.
In Golden Ticket Michael draws inspiration from the movie Willie Wonka and the Chocolate Facotry and Pam mentions Charlie and the Chocolate Factory by Roald Dahl.
Actually, in China Michael gets riled up about an article he reads in Newsweek.
Mentioned Throughout the Series
Edit
Battlestar Galactica
Star Wars
SNL
Billy Joel
James Bond
Community content is available under
CC-BY-SA
unless otherwise noted.