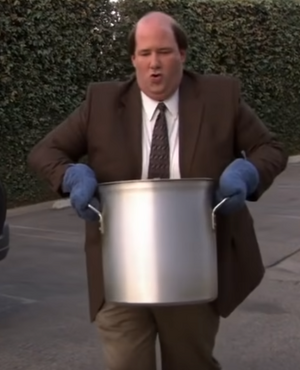 In Casual Friday (season 5) during the cold opening, Kevin Malone brings in his Kevin's Famous Chili, which he brings into the office every year. When he arrives in the office, he spills the chili onto the floor and desperately tries to clean it up, managing only to slip several times, stain his clothing, and ruin some office accessories that were on the reception desk.
"At least once a year I like to bring in some of my Kevin's Famous Chili. The trick is to undercook the onions. Everybody is going to get to know eachother in the pot. I'm serious about this stuff. I'm up the night before, pressing garlic, and dicing whole tomatoes. I toast my own ancho chiles. It's a recipe passed down from Malones for generations - it's probably the thing I do best."
Media Links
Community content is available under
CC-BY-SA
unless otherwise noted.