James Duncan "Jim" Halpert, is a fictional character played by John Krasinski in the television series The Office. He was based on Tim Canterbury.
Character profile
A ten-year veteran of Dunder Mifflin, Jim insists the job is just an extended stop on his career path and once stated that if it were his career, he would throw himself in front of a train. It is indicated throughout the series that Jim is an extremely talented salesman—in "Office Olympics" he mentions closing two sales during his lunch break. Jim won an award for being the 9th best salesman in the company that year, with Dwight taking top honors ("Dwight's Speech"). In an episode from the previous year ("Diversity Day"), Dwight stole Jim's biggest client while Jim was forced to attend a meeting, which may have affected the standings. In "Golden Ticket", the office's biggest client, Blue Cross, is Jim's client. Despite Jim's talent for paper sales, he dislikes his job and would often rather participate in (or instigate) office pranks than work.
While in Scranton Jim rented a house with a roommate, Mark. By his own admission during a conversation with Pam, Jim didn't have much of a social life, staying home and watching TV most nights, although he enjoys cycling ("Email Surveillance," deleted scene; "Fun Run") and often babysits Toby's daughter Sasha ("Take Your Daughter to Work Day," deleted scene).
Despite his professed lack of a social life, Jim shows a remarkable ability to make friends quickly. Dwight notes that he's a friend of Steve, the delivery man who restocks the vending machines ("Booze Cruise"). He seems to know several firefighters who respond to a fire alarm ("The Fire"). The IT guy attends a barbecue at Jim's house ("Email Surveillance"). Jim quickly bonds with Kevin's fiancée's daughter on "Take Your Daughter to Work Day;" she invites him to dinner at their house that night. He is also well liked by nearly everyone at the Dunder Mifflin office except, of course, his frequent target of pranks: Dwight.
Jim's nonchalant and cynical attitude toward Dunder Mifflin is manifested by his comic deadpan camera mugging in reaction to what would normally be surprising developments in the office, and his inciting comments during employee meetings. As mentioned above, Jim's favorite pastime is to play practical jokes on deskmate Dwight, who makes himself an easy target. These are usually whimsical and in good fun; e.g., performing an uncanny impression of Dwight using a $4 pair of glasses or placing the contents of Dwight's desk as well as his wallet in a vending machine. Occasionally though, these pranks inadvertently backfire on Jim; such as in "The Alliance" or "The Fight," where Jim's flirtation with Pam becomes physically awkward; or "Conflict Resolution," when his prank involving an I.D. badge pushes Dwight over the edge and he demands that Michael either fire Jim or transfer him out of the Scranton office.
Although Jim is quite fond of elaborate pranks, he is essentially a kind person. When an uninvited Michael crashes his party and sings karaoke in yet another painfully awkward attention-hog moment, Jim saves him from humiliation by joining in ("Email Surveillance"). When he and Pam realize Michael will seriously injure himself in an ill-conceived attempt to illustrate the dangers of office-related depression and suicide ("Safety Training"), he's the first one to tell Michael, "Don't jump on the bouncy castle." When Corporate rejects the "Local Ad," Jim brings a DVD of the ad to the bar where the employees have gathered; after they see the premiere of the official ad, Jim announces a showing of Michael's original, calling it a "Director's Cut." Jim also cheers Andy up in "Product Recall" when Andy becomes depressed after discovering his girlfriend is a high school student. In season four, Jim, upon urgent looks from Pam, consoles Dwight after his difficult breakup with Angela in "Money." Earlier in the episode he even attempts to distract Dwight from his plight by visiting and writing a good review about his Bed and Breakfast hotel.
Co-worker Andy Bernard, a holdover from the since-closed Stamford branch, nicknamed Jim "Big Tuna" after Jim's choice of lunch on his first day at Stamford. Andy later nicknamed Jim "Big Haircut" when he got a new haircut.
Little is revealed about Jim's family or childhood, although he does note that basketball "was kind of my thing" in high school ("Basketball"). He is probably the best basketball player in the office, besides perhaps Kevin Malone, and a key asset in the win of the office over the warehouse in the basketball game. In the episode "Email Surveillance," Pam finds Jim's high school yearbook, which has the word "INVADER" on it, although he previously stated that he attended Bishop Hannan High School. He has two brothers - Tom, who lives in New Jersey, and Pete, who lives in Boston. Jim lists "Larissa Halpert" (presumably a female relative) as his emergency contact ("The Fight"). He has a niece, Vanessa, and states in "Branch Wars" that his brother just had a baby. In "Weight Loss," he mentions another nephew who plays on a T-ball team.
His favorite food is softshell crab ("Halloween"). According to Ryan ("Dwight's Speech"), Jim eats a ham & cheese sandwich every day for lunch. Jim even orders the meal when being treated to lunch at Hooters ("The Secret"). However, Jim brought a tuna sandwich to work in a deleted scene from "The Alliance." In a deleted scene from "Diwali," Jim favored eel sushi over tuna, much to the surprise of Andy.
Jim likes Clap Your Hands Say Yeah, Arcade Fire, Wilco, The Shins, Sufjan Stevens, and Travis. The latter's song "Side" was playing at his barbecue party, and he sways with Pam to "Sing" by Travis.
Some of Jim's favorite movies are Dazed and Confused, Say Anything..., The Shining, and Annie Hall. ("The Fire").
It's found that Jim is a fan of the Philadelphia Phillies ("The Negotiation"), and is also a fan of the Philadelphia 76ers ("The Job") and the Philadelphia Eagles. ("Did I Stutter?")
Jim's birthday is October 1, 1978.
Jim lives at 383 Lindon Ave. Scranton, PA
The last 4 digits of his credit card number is 6650.
In earlier episodes, Jim drives an early 2000s maroon Toyota Corolla. In the third season, he drives a Saab 9-2X in Arctic Silver Metallic. In season 5 Jim is seen in a late model Saab 9-3. Later in the sixth season, he drives a 2010 Subaru Forester.
Seasons 1 & 2
Jim's relationship with Pam is occasionally the subject of office speculation, which was particularly uncomfortable when Pam was engaged to Roy Anderson, a Dunder Mifflin warehouse worker. It was revealed (in a deleted scene) that Jim and Pam went out for lunch together when they first met and had an amazing time, until Jim found out that she was already engaged to Roy. In the Dundies episode, Pam kisses Jim in front of everyone during the awards ceremony. But as Pam was both happy that she hadn't received another award for "Longest Engagement" and also slightly drunk after sneaking drinks from other tables (which resulted in her being forever banned from Chili's), she and Jim never brought it up again. For several months, Jim dated a purse salesgirl named Katy but Jim broke up with her on a company "booze cruise" after watching Roy suddenly announce to the whole ship, "It's time to set a date, babe" (for his wedding to Pam). Dejected, Jim privately reveals his feelings for Pam to his boss, Michael Scott, who in an uncharacteristically serious moment encourages Jim to "never, ever, ever give up".
From this point, Jim develops a seemingly unsteady attitude toward Pam's impending nuptials. On the one hand, he asks out Brenda, a corporate office employee who came along for the Booze Cruise; he also tells Kelly that if the guy she has a crush on doesn't like her, she should just forget about it and move on, indicating that he has done the same. On the other hand, he gets upset when he sees Pam and Roy eating lunch together, and most tellingly, becomes so depressed hearing Pam discuss the wedding that he calls a travel agency and schedules a trip to Australia, deliberately making himself unable to attend the wedding.
Feeling bored by work and tortured by his situation with Pam, Jim investigates a transfer to Dunder Mifflin's branch in Stamford, Connecticut. After Jan confirms that he has got the transfer, Jim confesses his love for Pam in the season two finale "Casino Night". Pam, whose wedding to Roy is all planned out and just weeks away, clearly shows her anguish but gently turns him down, yet he returns to kiss her minutes later. We learn at the start of season three that both of them had wanted to kiss for quite a long time, but Pam again told Jim of her intentions to go ahead with the wedding.
Season 3
At the start of season three, Jim has already transferred to the Stamford branch and received a promotion in the process. (In the episode "Diwali", the title on his nameplate reads Asst. Regional Manager.) Jim has trouble fitting in—a few months into his tenure at Stamford, he admits he doesn't think the other employees even know his name. Even their favorite recreation activity (playing Call of Duty during work hours) frustrates Jim, as he proves to be spectacularly inept at the game.
When Jim meets up with Michael at a paper distributors' convention, he tells Michael that he considers him a "great boss" and admits that he only transferred because Pam rejected him. Jim has learned that Pam called off her wedding, but chooses to remain in Stamford. Things begin to look up for Jim as he befriends salesperson Karen Filippelli, and when the company board of directors decides to close the Scranton branch, Jim is appointed to the number two position at the newly created "Dunder Mifflin Northeast". However the company's plans change when Stamford regional manager Josh Porter accepts an upper management position at Staples. The Stamford branch closes, with a few employees being offered a transfer to Scranton. The offer to Jim to be Assistant Regional Manager stands, though now he must relocate back to Scranton. Jim is disgusted by Josh's disloyalty, saying an interview: "Say what you will about Michael Scott, but he would never do that." Jim is at first unwilling to return to Scranton because of Pam but eventually decides to do so. Karen, who has grown fond of Jim and wishes to pursue a relationship with him, also transfers to Scranton.
In Scranton, Jim's and Pam's reunion is awkward. Pam is overjoyed, but Jim is clearly uncomfortable. He lets Pam know that he is seeing someone, and gradually Karen is introduced as his girlfriend.
Jim settles back in at Scranton, but uses his promotion as an excuse to avoid his old interactions and pranks with Pam claiming that pulling pranks again would send him back to his old slacker lifestyle. However Jim does return to his old ways in time by focusing a few pranks on Andy Bernard, his ex-Stamford coworker, as well as on Dwight. However, the relationship between Jim and Dwight seems to improve slightly.
Toward the middle of the season it becomes clear that Jim's unresolved feelings toward Pam are affecting his relationship with Karen. Jim resists the idea of Karen moving out of the hotel in Scranton where she has been living since the merger and moving into a house two blocks away from his own because as he says, "it would be like we were living together." Jim only relents when Pam herself tells him he's being unreasonable (Pam is later seen by Dwight sobbing in the stairwell, distraught that her actions just pushed Jim closer to Karen). Karen, who had previously been oblivious to Jim and Pam's history, accidentally learns of Jim's feelings for Pam during a sales call with Phyllis. Karen then confronts Jim about it over coffee. Jim admits to having had a crush on Pam previously, but emphasizes to Karen that he is "really glad" that he's seeing her.
During a busy day, Jim decides to pull a prank on Andy, however Karen and Ryan are unwilling to aid him, so he turns to Pam, who becomes his accomplice. Their interaction during the prank causes Karen to feel threatened. She again confronts Jim, and this time he admits to still having feelings for Pam. Karen and Jim struggle to maintain their relationship, and although in Phyllis' Wedding, Jim hints that he would be interested if, hypothetically, Pam were interested in him, Jim then sees Pam leave the reception hand in hand with Roy, and declares, "Here's a non-hypothetical. I'm really happy I'm with Karen."
In "Cocktails", Roy reacts violently when Pam tells him she kissed Jim during "Casino Night." Roy then attempts to attack Jim at work in "The Negotiation", but the attack is thwarted by Dwight. Roy is fired, but when Pam assures Jim that it's over between her and Roy for good, Jim doesn't believe this and tells her so.
Jim and Pam's relationship becomes tense again in "Beach Games" when on a company outing at the beach, Pam confesses to Jim in front of the entire staff that he was the reason she broke off her wedding to Roy. She also states that she has missed their friendship since he left Scranton for Stamford. Later that night, Jim tells Pam that he feels as if he never really came back from Stamford, tacitly admitting that he has actively been fighting his feelings for her all year. However Jim's relationship with Karen and pending interview for a corporate position which would require his relocation to New York City still obstruct a potential romance.
In The Job, Jim, Karen and Michael each interview for the corporate position. During the interview he notices an affectionate note from Pam. After the interview he drives back to Scranton, leaving Karen in the city. Jim interrupts an interview with Pam to ask her to dinner, and after she accepts, he says "All right. Then... it's a date." In a webisode titled "Office Summer Vacation," found on NBC's website, Karen states that Jim "dumped her ass" and left her crying at a fountain.
Season 4
Season 4 shows a more relaxed Jim, owing to the fact that he has finally gotten together with Pam. Karen comes back to the office to confront him, but after initially asserting that she will stay in Scranton ("Fun Run'), she abruptly leaves the next day, and becomes the regional manager of Dunder Mifflin Utica ("Branch Wars").
Pam and Jim initially attempt to keep their relationship status a secret from the documentary camera crew as well as their co-workers (though some of the latter suspect they're together, notably Kevin), but when the camera crew catch them together sharing a quick kiss while parked on the side of the street, they admit that they have been dating for a few months and are deliriously happy ("Fun Run"). In the episode "Dunder Mifflin Infinity", Toby reveals that Jim and Pam are dating to the office when he sees Pam kiss Jim on the cheek. The pair's union is welcomed by most people in the office, except Dwight who says both "could do better."
Michael takes interest in the relationship and repeatedly invites the couple for dinner with him and Jan, but Jim finds reasons to avoid accepting the invite, though he and Pam avoid suspicion of their disinterest by asking to have dinner on nights when Michael is busy. They eventually are forced to join Michael and Jan for a dinner party when Michael feigns an assignment from corporate to get them out of any original plans they might have had. At the dinner party, Jim and Pam are forced to witness various aspects Michael and Jan's deteriorating relationship to the point where they make a desperate but failed attempt to escape. Jim even attempts to escape without Pam after he couldn't get her out with him, but Pam gets him to stay. After witnessing the break up of Michael and Jan, Jim and Pam enjoy burgers in his car and they appear to be the happiest and most stable of the three couples that attended the party, the third couple being Andy and Angela.
Jim and Pam feel sorry for Dwight, whom Angela dumped because he killed her cat. To cheer him up, they spend a night together at his Schrute's farm, which doubles as an agricultural bed and breakfast. Jim realizes that the trip is his and Pam's first night away together and comments that he had always imagined it in his head but that he always thought it would be different. They write a glowing review on TripAdvisor about their stay, however, to help bring Dwight out of his depression, but are unsuccessful. Jim comforts Dwight in the stairwell, explaining how he used to pine for Pam and how he was deeply hurt in Season 2 when Pam decided to stay with Roy, saying that it was not something he would wish on the worst of his enemies. After remembering how terrible he had felt before he was with Pam, Jim kisses her publicly. Pam attributes this to a passion for Italian food, which Jim confirms and says that he is "in love with Italian food", implying he is in love with Pam. Afterwards, when Dwight returns from the stairwell, he returns to his normal self, which pleases both Jim and Pam.
Jim has a Second Life avatar that resembles him ("Local Ad"), but there are some differences, as Pam teasingly points out that his online alter-ego is a Philadelphia sports writer. In the episode "Survivor Man", we see Jim in a manager role while Michael is out of the Office. Jim attempts to combine all of the birthday parties into one big party, to save time. After being accidentally called 'Michael' instead of 'Jim', Jim realizes that he has done something Michael would have normally done. In a conversation with Michael at the end of episode, Michael reveals that he did in fact try to combine all the birthday parties earlier in his time as regional manager. We see Jim in a manager role again in "Night Out" when he plans to save everyone else from coming into work on Saturday to help with Ryan's website by staying late to do the work, a plan that is met with success until they find the gate locked with them still inside. Everyone else gets mad at him for not informing the guard of his plan.
Although Jim suggests to Pam that they live together in the episode "Chair Model," he assures her that a proposal is imminent. He reveals to the camera crew that he is indeed planning to propose, displaying a box with a diamond ring inside. He states that "[he] got it the week after [they] started dating". As he and Pam are leaving work, he gets down on one knee and looks at her expectantly. After their earlier conversation, she is under the impression that Jim is starting to propose, but instead he asks her to wait while he ties his shoe. In "Did I Stutter?", Jim pulls another faux proposal on Pam by "proposing" during a meeting in the conference room that Pam get him a coffee.
In the same episode, he receives a performance warning from Ryan, who is having a meeting with Toby. Ryan cites "goofing off with Dwight" and "spending time at reception" as reasons for Jim's lackluster performance. Jim believes Ryan's motivation is due to Jim's comments to David Wallace about the website, but Ryan brushes off those comments as irrelevant. A shocked Jim returns to his desk and decides not to tell Pam what happened, though she can clearly see that something is bothering him. Toby then says in a talking head that Jim's time spent at reception has "caught up with him". In a deleted scene, Jim is seen talking with Toby about the warning, where Toby informs him that Ryan has used Dwight's complaints as a reason to attack Jim's productivity, though Toby agrees with the fact that Jim has good sales numbers. Ryan is then seen confirming the fact that he is going after Jim, despite and because of his popularity with Ryan's boss. In another deleted scene, as they leave for the day, Pam confronts him about what happened, and he flat-out tells her that Ryan is "trying to get rid of me", and if anything, she is angrier than he is.
In "Job Fair", Jim decides to meet up with a potential client after Ryan gave him his formal warning, as he wishes to keep his job to secure "pretty big long term plans" with Pam. He goes with Andy and Kevin to meet the client on the golf course. Jim is made uncomfortable with Andy making jokes in front of the client and Kevin trying to force him into a wager. Jim tries to talk business with the client, but the client only accepted Jim's invitation just to get out of the office. After several unsuccessful attempts to get the client to sign with him, Jim holds him in the parking lot for fifteen minutes until the client finally gives in. Back at the office, when Pam returns from the job fair, Jim gives her the news and they share a congratulatory kiss in front of Michael, Andy, and Kevin. Once they realize Michael, Andy, Kevin, and the cameras are watching, Pam stops and shakes Jim's hand. Jim responds "You know what? Screw this." and passionately kisses her again.
In "Goodbye, Toby", Jim shows his happiness and support for Pam getting into the Pratt Institute, where she will be for the next three months. Jim gets frustrated over Ryan's consistent attempts to get him out of Dunder Mifflin that he decides to leave a message on Ryan's phone proclaiming he is not going anywhere. Later, Jim discovers a video on YouTube showing Ryan being taken out by police for fraud, after which Jim leaves another message on his phone making a joke about his arrest. Michael asks Jim for help on serenading the new HR rep, Holly. Michael wants to rush making love to her, but Jim tells him to take it slow and begins to recount his story about how he fell in love with Pam. Inspired by this, Jim reveals that he is going to propose to Pam during Toby's goodbye party. He pays Phyllis money to buy fireworks to set the mood for his proposal. While the fireworks are set off, Jim, sitting next to Pam, pulls out the ring and is about to propose until Andy proposes in front of everybody to Angela, who accepts. Jim puts his ring back in his pocket and postpones the engagement, which mildly disappoints Pam, as she suspected he was going to propose.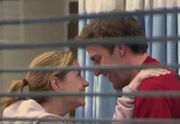 Season 5
In "Weight Loss," the premiere episode of the fifth season, Jim helps Pam off to her art school program in New York. In a talking head, he explains that he and Pam talked after the events of "Goodbye, Toby" and decided not to get engaged quite yet - they didn't want to spend the first few months of their engagement apart, and Pam's relationship with Roy has made her wary of a long engagement anyway. Jim misses Pam terribly over the summer - he visits her as often as possible, but his unhappiness at work is clear. Toward the end of the episode, Jim asks Pam to meet him for lunch at a convenience store off the highway. Upon their arrival, Jim immediately proposes, saying he just couldn't wait. Pam happily accepts. In the episode "New Boss", Michael unexpectedly quits Dunder Mifflin. The new Vice President Charles immediately dislikes Jim and expresses disdain for Jim throughout the season. Jim finds out from Pam that the Michael Scott Paper Company is broke but does not mention this to David Wallace or Charles. Michael, Pam and Ryan rejoin Dunder Mifflin as salesmen. Jim and Pam plan to marry in court in the episode Cafe Disco but decide that they want a real wedding. In the episode Company Picnic Pam's talent for volleyball is revealed much to everyone's amazement. Pam later injures her ankle in a volleyball game and Jim takes her to the hospital. When the doctor calls Jim into the room for an update, the doctor informs Jim and Pam of some news that causes them to be ecstatic. The news is not heard by the camera crew, but Jim then calls Dwight to send in the substitute players, suggesting that the happy news is a reason to keep Pam from playing volleyball, hinting that Pam is pregnant.
Season 6
In Gossip, the office learns that Pam is pregnant, due to Jim. In "The Meeting", Jim and David Wallace meet up privately in the conference room and is offered a promotion as co-manager of Dunder Mifflin Scranton, and tries proving himself in "The Promotion". In "Niagara", Jim finally marries Pam, but reveals to Pam's conservative grandmother that Pam is pregnant. In The Lover, Jim is informed by Michael, that Michael is dating Helene Beesly and begs Michael not to tell Pam. However, Michael tells Pam. In this episode, Dwight tries to trick Jim into recording everything on a pen that Jim said in a day. In "Koi Pond," Jim lets Michael fall into a koi pond at a business meeting, and Jim tells Michael he wants do things independently. In the episode, Double Date, Jim and Pam have a date with Michael and Helene and to their disgust, Michael breaks up with Helene on her birthday in front of them. Jim decides not to support Pam's decision to fight Michael. In Murder, Jim tries to get Michael to work while Michael sets up a Murder Mystery game, however, he realizes that Michael is not crazy and has a point. As well in the episode, it is revealed that Jim and Pam live at 383 Lindon Ave. Scranton PA, and the last 4 digits of his credit car number is 6650. In "Shareholder Meeting", the staff doesn't think that Jim's position as a co-manager is as important as Michael's because of an e-mail sent by Ryan. But, Jim proves them wrong when he gets Ryan to do his work by moving his office space to a small closet in the kitchen. In "Scott's Tots," Jim is tricked by Dwight into making himself the employee of the month, which leads the office to get mad at Jim, and outrage fills the office. However, on the brink of being fired, David Wallace talks on the phone, and at first is outraged at Jim, but is sorry, and says that, "They are still on for dinner." In the episode, "Secret Santa," Jim tries to get the office in the Christmas spirit. He tries to stop Michael from ruining the party, and he is sad when he learns that David is fired, but is thrilled that he, Pam, and the rest of the office will get to keep their jobs in a buyout. In Manager and Salesman, Jim and Michael must decide which one of them will go back to being Manager, and who will become a salesman again. In the end, Jim goes back to sales after Pam shows him he can make more money as a salesman, and after Michael realizes how unhappy he is back at sales. In The Delivery, after 19 hours, Jim and Pam have a girl, Cecelia Marie. In St Patrick's Day, Jim returns from paternity leave and learns that Dwight has incorporated both his and Pam's desks into Dwight's mega-desk. Jim disassembles the mega-desk and creates a quad-desk of his own.
Nicknames for Jim
Behind the scenes
Seasons
1-3,3-present
Family
William Halpert (father)
Stacy Halpert (mother)
Pam Halpert (wife)
Cecilia Marie Halpert (daughter)
Appearances\
Jim appears in every episode with the following exceptions:
See also
Relationship Status