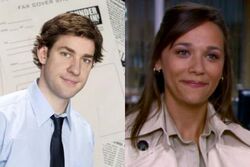 Jim Halpert and Karen Filippelli was a colleagues and later couple in season three. While there were genuine care and affection between them, it was often underscored by Jim still having feelings for Pam, even though Jim denies it.
Overview
Jim meets Dunder Mifflin salesperson Karen when he transfers to the Stamford branch. Karen later develops a crush on Jim. The two begin a formal relationship after Stamford and Scranton merge, highlighted by their shared sense of ambition, playfulness, and penchant for pranks. However, Jim's feelings for Pam, as well as Pam's now confident pursuit of Jim, make it difficult for the romance to progress.
In "The Job", Jim and Karen have decided to interview for a corporate position in New York, with both of them agreeing there is "no future [in Scranton]" as there is "one person too many," presumably Pam. When Jim, Karen, and Michael all interview for the corporate position, Jim finds a sweet note from Pam in his briefcase during his interview. After the interview, he drives straight back to Scranton to pursue Pam, leaving Karen alone without a ride. Jim asks Pam to dinner, and they begin a relationship that ultimately leads them to the altar. In the "Office Summer Vacation," Karen says that Jim "dumped her ass" and left her crying at a fountain in New York. After Jim and Karen break up, Karen leaves Scranton and moves to the Utica branch and becomes the Regional Manager over there.
The last known time that Jim and Karen see each other is in the episode Branch Wars. As Stanley considered moving to the Utica branch to get paid more, Jim, Dwight, and Michael drive to the branch. Before they leave, Karen pulls Jim aside to talk to him. The conversation is awkward, and Jim admits that he didn't really want to see Karen. He also admits that he is dating Pam, which leaves Karen understandably upset, and Jim scurries off.
When Karen appears later in the Season 5 episode "Lecture Circuit," she tells Pam that she is 8 months pregnant and happily married to a dermatologist named Dan. Pam and Karen leave on good terms.
Community content is available under
CC-BY-SA
unless otherwise noted.