Regina Marie "Jenna" Fischer (born March 7, 1974)[1] is an American television and film actress. She is most widely known for her Emmy-nominated[2] portrayal of Pam Halpert (née Beesly) on the NBC situation comedy and mockumentary The Office, and has also appeared in several films, including Blades of Glory, Walk Hard: The Dewey Cox Story,The Promotion, and hall pass
Early life
Edit
Fischer was born Regina Marie Fischer in Fort Wayne, Indiana, but raised in St. Louis, Missouri, the daughter of Jim, a plastics engineer, and Anne, a history teacher.[3] Fischer, who has gone by the nickname Jenna her whole life,[4] has one younger sister, Emily, a third grade teacher.[5] She experienced her first taste of performing at age six, when she participated in an acting workshop taught by her mother at St. Louis' Henry School, a workshop also attended by actor Sean Gunn, with whom she grew up.[6][3]
Fischer attended Pierremont Elementary School in Manchester, Missouri and Nerinx Hall High School, a private all-girls Catholic school, in Webster Groves, Missouri.[7] She received a bachelor of arts in theatre, as well as a minor in journalism, from Truman State University,[8] where she originally enrolled as a pre-law history major.[9]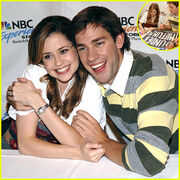 Fischer first began her career working in professional theatre. While attending college in Missouri, she performed with a touring Murder Mystery Dinner Theatre group [10] and, upon her move to Los Angeles, began performing Commedia dell'arte with the Zoo District Theatre. Her performance in the company's musical adaptation of the film Nosferatu led to her first agent.[11] However, she struggled to break into film and television, telling NPR that her first paying film job was a "sex education video for [psychiatric] patients upon their release from UCLA Medical Center".[12] In a Myspace blog written specifically to advise actors beginning their own career,[13] she explained that it took three years before landing her first televised speaking role, a part on Spin City.[13]
She continued to spend the next few years of her career appearing in bit parts in small indie films, such as Employee of the Month, Lucky 13, and The Specials, as well as guest spots on the television shows Six Feet Under, That '70s Show, Cold Case, Miss Match, Strong Medicine, Undeclared, What I Like About You, and Off Centre.
Fischer appeared in friend Peter Alton's 2002 short subject film Les Superficiales. Fischer met Alton at the Zoo District Theatre group, and he later co-wrote and narrated her self-produced film, Lollilove.[14] In 2003, she held a starring role in The Girl's Guide to Summer, a 2003 Instant Films short (a competition similar to the nationally held 48 Hour Film Project, only based in Los Angeles) directed by Instant Film's co-founder (and camera operator) Charles Papert.[15] [1][2]
Lollilove
Edit
While her film career was slowly beginning, Fischer took matters into her own hands, writing, producing, directing and starring in her own mockumentary, LolliLove. The film co-starred her now ex-husband James Gunn, as well as friends Linda Cardellini, Judy Greer, Lloyd Kaufman and Jason Segel. "I wasn't working much, getting little guest-star roles months away from each other," Fischer explained in 2006. She began participating in The Artist's Way, a self-led creativity seminar in book form. "From doing that book I got this idea...When we started it, it wasn't even supposed to be a real movie. It was just going to be an improv project for James and I to amuse ourselves with."[16] Utilizing a camera she gave Gunn as a wedding present, she filmed preliminary improvisational interviews with her friends in the faux documentary format that would later bring her fame on The Office. "I really feel it was divine intervention that I chose to work in this medium for a year," she said in an interview. "It was the best practice I could have ever gotten for the possibility of being on the show."[17]
Lollilove premiered at the St. Louis International Film Festival, the hometown of Fischer and Gunn, in November 2004, and was also shown at the TromaDance Film Festival. For her role in the film, Fischer was awarded a Screen Actors Guild Emerging Actor Award.[18] Despite the film's contribution to her career, she admitted to a St. Louis arts and entertainment magazine:[19] that the experience dissuaed her from any future directing:
| | | |
| --- | --- | --- |
| " | The directing was exhausting and the writing was painful. It was very difficult to direct and star in a movie. We also had a very small crew so I did a lot of things a normal director doesn't have to do, like make the props and serve lunch. I was simultaneously getting into character, going over my lines, set dressing the next shot, coaching an actor, and brainstorming with my DP [cinematographer]. I'm good at multitasking, but that was too much for me. I couldn't enjoy any one part the way I would have liked. I think I'll stick to acting. | " |
The Office and feature filmsEdit
In 2005, after a succession of mostly improvised auditions similar to her Lollilove experience, Fischer landed the role of Pam Beesly on what would become the NBC hit, The Office, based on the original BBC series. Before her initial audition, casting director Allison Jones advised Fischer, "Dare to bore me."[20] Fischer herself spent several years working as a receptionist and administrative assistant in Los Angeles offices, much like her television counterpart, while struggling to achieve success, and thus felt she was well-suited to the role.[21] "I'm so attached to Pam's journey," she told NPR in 2009. "I just love playing this character so, so much."[20] She received a Primetime Emmy Award nomination in 2007.
As The Office grew into a success, Fischer's film acting career became more established. In 2006, she co-starred in her then-husband's film, Slither, and in 2007, she filmed supporting roles in The Brothers Solomon, with Will Arnett and Will Forte, Blades of Glory, with Will Ferrell, John Heder, and Amy Poehler, and Walk Hard: The Dewey Cox Story, alongside John C. Reilly, with whom she co-starred again in 2008's The Promotion, also starring Seann William Scott.
In 2009, Fischer completed filming on the movies Solitary Man, and the indie A Little Help, which opened in the summer of 2010 at the Seattle International Film Festival. Also that summer, she completed filming on the Farrelly Brothers comedy Hall Pass.
Other work
Edit
Fischer appeared on Bravo's Celebrity Poker Showdown in 2006, participating in the show's eighth tournament, shot in New Orleans, Louisiana, and playing for Catholic Charities' Tsunami Relief.
In 2007 Fischer starred in the music video for Willie Wisely's single "Through Any Window", directed by longtime friend John Cabrera; the opportunity arose because she knew Wisely from work he had done on soundtracks for LolliLove and Tromeo and Juliet, one of her husband's films.[22]
In December of the same year, during the Hollywood writer's strike, Fischer appeared at Sacred Fools Theatre in episode 25 of Darque Magick, a serialized play written and directed by Jenelle Riley.[23]
In July 2009, Fischer played left field for the National League team in the Taco Bell All-Star Legends and Celebrity Softball Game as part of the MLB All-Star Week festivities, held at Busch Stadium in St. Louis, Missouri, where she grew up.[24] In March 2010, she returned to the area to co-chair an annual auction for Nerinx Hall High School, her alma mater. At the event, she auctioned off a set visit to The Office and multiple autographed props from the show.[25]
Fischer was named an official spokeswoman for Proactiv Skincare Solutions in 2009.[26][27], and was announced as the voice behind the Wisconsin Milk Marketing Board Grilled Cheese Academy website[28] in 2010.
Fischer was named as producer of the mid-August through October 2010 run of the critically acclaimed play Sad Happy Sucker, written by her husband Lee Kirk and directed by friend Sean Gunn. The play previously ran in February and March of 2007.[29[3][4]
Personal life
Edit
On October 7, 2000, Fischer married screenwriter James Gunn, the brother of Fischer's lifelong friend Sean Gunn.[30] About seven years later, Fischer announced her separation from Gunn.[31] In a radio interview during the publicity tour of The Promotion, she confirmed that her divorce from Gunn was finalized.[32]
In the summer of 2009, People magazine reported her engagement to screenwriter Lee Kirk.[33] Fischer confirmed this publicly on her MySpace page.[34] The pair were married[35] on July 3, 2010.[36]
In May 2007, while attending the NBC upfronts for her role in The Office, Fischer fell down a flight of stairs in a Manhattan lounge and fractured her back in four places. She was taken via ambulance to a Manhattan hospital and spent several weeks after in a New York City hotel before she was finally cleared by her doctor to fly to Los Angeles.[37] After a twelve-week recovery, she returned to the set in time for the fourth season's first episode.
Fischer is passionate about animal rescue (she rescued her own cat while in college), and she is involved with the Los Angeles organizations Kitten Rescue and Rescue Rover.[38] Before The Office, she worked for three years doing hands-on rescue work for the organizations.[39] She still regularly fosters cats and has hosted Kitten Rescue's annual silent auction three years in a row (in 2008, 2009, and 2010).[40]
Fischer maintains a MySpace blog, detailing her experiences on The Office,[41] and is the godmother of co-star Angela Kinsey's daughter, Isabel.[42]
Filmography
Edit
Television
Edit
Awards and nominations
Edit
References
Edit
Community content is available under
CC-BY-SA
unless otherwise noted.