Here Comes Treble is the name of Andy's a cappella group in Cornell. They were first mentioned in Andy's appearance in Gay Witch Hunt.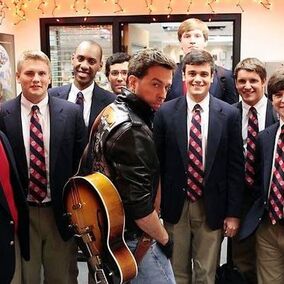 Here Comes Treble is portrayed by the University of Virginia Hullabahoos.
Andy's a cappella group has been a recurring motif throughout the show since his debut.
In the episode Launch Party, Andy sings "Take a Chance on Me" by ABBA with his a cappella group backing him up on speakerphone. Actor John Michael Higgins is one of the other voices.
In "Weight Loss", Andy books Here Comes Treble, class of '96, to perform at his planned wedding with Angela, as well as serve as collective "best man", and lists the group members.
Members
The members of Here Comes Treble, class of '96:
Carl 1 and Carl 2 (not on speaking terms after they ended their civil union)
Jingle Jangle
Sandwich (scheduled to undergo gastric bypass surgery)
Boner Champ (aka Andy - got this nickname for humping a snowman)
Doobie (now a school bus driver)
Pubey Lewis & the News
Sparerib
Hopscotch (his mom won't let him out on weekends)
Lunchbox
Notes
There is no actual singing group named Here Comes Treble at Cornell. There is, however, a women's a cappella group named Nothing But Treble.
Appearances
Community content is available under
CC-BY-SA
unless otherwise noted.