Doctor Strange in The Multiverse o Madness - The Loop
Play Sound
"Happy Hour" is the twenty first episode of the sixth season and the 121st episode of The Office overall. It was written by B.J. Novak and directed by Matt Sohn. It aired on March 25, 2010. It was viewed by 7.17 million people.
Cold open
Michael completes 25 push-ups (and one girl push-up) and challenges the office employees to do 26 push-ups of their own, offering those who do permission to go home early. While Angela, Jim, and the rest of the office try and fail, the office cheers on Stanley, who remains dedicated to the task. Oscar states that it is remarkable, however, Michael says that it is unfair because his weight is pushing him down to the floor. Stanley completes the goal, and the office yells and applauds him as he leaves for the day.
Synopsis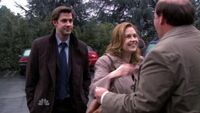 Oscar comes in early to pretend to bump into Matt, and says that he is always early, but Glenn tells Matt he never comes in early. When Oscar tries the door he realizes that the office won't open for two hours. Oscar suggests to Darryl that everyone go to happy hour. Darryl says that he'll invite Matt and tells Oscar that he knows about his liking Matt and says that he can be gay with Matt but be "straight" with him. Oscar then asks the office if they would like to go to happy hour and Phyllis agrees. She says she likes to wear something low-cut, because when someone flirts with her, Bob Vance beats them up. The documentary crew is shocked, but Phyllis only remarks, "What?" Jim says that he can not go because the baby is with Pam and she wouldn't want to leave the baby. When Jim calls Pam, to ask her if she wants to go to happy hour, she is ecstatic and begs to go, yelling that she could be around adults and desperately misses everyone.
Meanwhile, Erin and Andy try to keep their relationship under wraps, quiet and free of drama. Erin pretends to hate Andy, but they both agree to go to happy hour together. Kevin suspects their relationship quickly and starts to make crude gestures while the couple are in a talking head, which Andy and Erin find pretty funny.
Michael also decides to go to happy hour. Everyone from the office arrives at happy hour, and Pam invites her friends, Isabel and Julie; she plans to set up Michael with Julie. Pam sees Kevin, who is trying to get Pam's breasts to leak by crying like a baby. Michael meets Julie, and they hit it off. Isabel comes and flirts with Dwight, who is talking to Angela at the time. Angela notices Dwight's interest in Isabel and starts to become jealous. Julie says that she likes Michael, however things take a turn for the worse when Jim alerts Michael that he is on a date. Michael then becomes "Date Mike."
While Hide talks to Oscar, Michael starts to act boorish and outlandish. Kevin continues his quest to make Pam's breasts leak. Kelly and Ryan play Dance Dance Revolution. Erin and Andy want to play it, but decide that playing together would make people aware of their relationship. While Isabel and Dwight talk and flirt with each other, Angela follows them, leading him to get closer to Isabel while they play whac-a-mole. Michael continues to be obnoxious and the date gets worse. Later, Andy gets signals that people know about his relationship with Erin, and he says that he doesn't want the drama.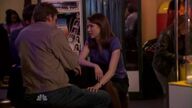 Dwight tells Angela that they had a good run, but that it's over; he offers to release her from their contract. Michael continues to act irrational and starts to dance on the pool table. When the bar manager, Donna, sees Michael, she calls security and asks him to stop, which he does. Michael goes up to Donna and they fight, however, they soon begin to flirt. Erin and Andy flirt with different people, but when Erin gropes someone, trying to be like people from the movies, Andy tells her to stop and yells at her in the picture booth. Julie decides to leave, and Pam tells her that Michael is not always like this, but can't tell her what he is really like. Donna asks Michael when he is coming back to the bar.
Darryl tells Oscar that Matt is dumb, and Oscar momentarily agrees, but as soon as Matt shows up he eagerly goes with him to play hoops. Looking at the pictures of his yelling at Erin, Andy realizes that his and Erin's relationship is becoming dysfunctional. Not wanting a relationship like that, he goes to the microphone and announces to everyone that they are dating. Then he admits he likes the drama anyway. Angela confronts Dwight and Isabel, revealing their contract to Isabel. In mid-tirade, Isabel 'whacks' Angela lightly. Isabel and Dwight then make out. Michael says that he and a woman hit it off. Jim and Pam, thinking he meant Julie, obviously disagree. Michael says that his success with women is due to Date Mike. A drunk Kelly starts to cry when Erin spills her drink, and she and Ryan decide to go home. Kelly's crying starts Pam's breasts leaking, to Kevin's delight.
At the end of the episode Hide, the Asian dockworker, says that he was a heart surgeon in Japan and that he accidentally killed a Yakuza boss during an operation. He fled to America, got a new car, a new woman, children, and says that Darryl is a life saver. His even bigger secret is that he was a fine surgeon and killed the boss intentionally.
Deleted scenes
Trivia
The scene where Michael and Oscar were commenting on Stanley doing pushups was shot using a green screen.
Writer B.J. Novak's father co-authored the autobiography of Lee Iacocca mentioned in this episode.
It was probably a bad idea for Hide to share his story, because once the documentary airs, the Yakuza will try to find him.
The 2020 video game Cyberpunk 2077 contains an Easter Egg that recreates the tag at the end of this episode: After completing one of the game's side quests, if you ask a character who he is, he replies, "In Japan, brain surgeon, top of all. Good instinct. One day, Tyger Claw boss need surgery. But, boss die on table! Tyger Claws were very angry. I hide in boat, swim to America. Here Dennis save me. But there is a secret – I kill Tyger Claw boss on purpose. World best surgeon make no mistake!"[1] Watch it.
Amusing details
Michael does in fact, have a Chrysler, a Chrysler Sebring. It has been seen since, "Company Picnic."
In "Basketball," Oscar offers to play on the team "if you need me." In this episode, we discover that he is terrible at basketball. It was a good decision on Michael's part to turn down the offer.
Michael is so excited at finally being able to go for drinks with the office staff that he offers to let everyone off work early.
Michael happily exclaims that this is the first time he can just hang out with the office staff when they reach the bar, and that it is not for a birthday, farewell party or any special occasion.
When Jim tells Michael they need a fourth for pool, Michael does not realize Jim is extending him an invitation until Jim directly asks him.
Angela references a salacious rumor surrounding Anderson Cooper, whom she respects. Anderson Cooper is openly gay, but kept that part of his life private until 2012, two years after the episode aired.
The writers of the episode may have had "Date Mike" appear as Steve Carell is in the movie Date Night, as the two names sound similar.
Andy does a spit take upon seeing Erin flirt with another man by rubbing his thigh.
In a talking head interview, Julie says, "If I had a boss like that we'd never get anything done," which is an accurate statement of the effects of Michael's actions.
Hide's story of his life as a surgeon is somewhat akin to a possible scenario in the video game Hitman (2016), when you can trick a Japanese surgeon into purposely botching an operation on a traitor with connections to the Yakuza. Interestingly enough, the patient also needs a new heart because his is on the wrong side. Whether the level takes inspiration from Hide's story is unknown but the similarities are somewhat uncanny. 
While talking to Isabel, Dwight seems to have been unaware Angela was walking with them due to her height. When he realizes she is there, he jumps startled and curses. As revealed in the bloopers for this episode, this may have actually been an unscripted moment where Rainn Wilson was genuinely caught off-guard by Angela Kinsey, as the crew and cast can be heard cracking up in the outtake whereas in the actual episode it rapidly cuts away after Dwight curses.[2]
Connections to previous episodes
Goofs
Many viewers misheard Pam's request to see Ryan, believing that Jenna Fischer said "Brian" (Baumgartner), the actor who plays Kevin Malone. Spoiler: It is possible she was referring to one of the crew that films the office, Brian. Although Brian doesn't appear properly until the Season 9 episode "Customer Loyalty."
In the episode "Basketball" we see that Oscar wants a chance to play for Michael's team, and there's a shot of him easily sinking trash in the trash can. When Oscar shoots "hoops" with Matt during "Happy Hour" it seems as if he's never played basketball before. In the episode "Job Fair" he also plays the exact type of "hoops" game competently. It's possible that his crush on Matt was causing him to play poorly
Behind the scenes
Writer B.J. Novak fought hard for the tag at the end of the episode. He was enamored with the idea that one of the overlooked background warehouse workers has a life far more dramatic than anyone else, and the documentary crew completely missed it all this time.[3]
Actor Hidetoshi Imura was intimidated by the lengthy speech that he was given at 10pm the night before filming. He was so anxious he couldn't sleep, and he was very tired the next day but nevertheless managed to pull it off.[4] Hide improvised "American car"; writer B.J. Novak kept it because he found it funny that someone from Japan would be so proud of owning an American car.[3]
Cultural references
Happy Hour is a promotion common at bars or restaurants which offers reduced prices or other enticements during periods when business would otherwise be slow. Its meaning has been extended to cover a gathering of colleagues at a bar or restaurant outside of normal work hours.
The location for Happy Hour ("Sid & Dexter" in the show) is based on Dave & Buster's. (Further solidified by the presence of the game Pump It Up, described below.)
Anderson Cooper is a news anchor for the cable news channel CNN. (See "Amusing details" above.)
Creed, Ryan, Kelly, and Andy play Pump It Up, a musical video game where players try to match dance steps on the screen. (A brief shot of the footpad shows sensors at the diagonals, which is a characteristic of Pump It Up. The more well-known video game in this genre Dance Dance Revolution has sensors at the cardinal directions.)
After playing the game, Kelly complains that she got only three tickets. At some amusement arcades, games dispense tickets based on how well a player performed. These tickets can be collected and redeemed for prizes. (In reality, the game Pump It Up does not dispense tickets.)
Repartee is a form of intelligent humor, or when someone is skilled in making witty remarks, which is why it is commonly also known as wit.
Yakuza is an organized group of people who commit crimes from Japan. Rituals include cutting their fingers, having full body tattoos, and learning how to grip a sword.
ESL is short for English as a Second Language, describing the study of English by those who did not grow up speaking it. Michael confuses it with ESP, short for Extrasensory Perception, which involves reception of information by means other than the five physical senses. It is often associated with psychic powers.
"Date Mike" wears a Kangol beret backwards. Kangol hats have become associated in recent years with hip-hop culture. Date Mike unbuttons his shirt and pulls the collar out of the jacket, a style which was fashionable in the 1970s.
Andy asks Erin if she got her flirting ideas from Black Snake Moan, a movie featuring Christina Ricci as a nymphomaniac.
Dwight, Isabel and Angela play Whac-A-Mole, an arcade game in which people use a mallet to strike moles which pop out of holes.
Grenadine is a red syrup (originally made from pomegranate), usually used as an ingredient in alcoholic drinks, but it does not itself contain alcohol.
Lee Iacocca is an American businessman, especially known for his revival of the Chrysler car company during the 1980s. He is also an author of several books.
Quotes
For quotes, see: Happy Hour Quotes.
Cast
Main cast
Supporting cast
Recurring cast
Guest cast
Laurie Naughton Okin

as Julie

Seth Coltan

as

Randy

Kie Spring

as Stanley's date
References