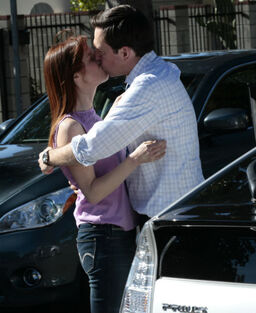 Get the Girl is the ninteenth episode of the eighth season of the American television comedy series "The Office" and is the show's 171'st overall. It was written by Steve Hely and directed by Ed Helms. It originally aired on NBC March 15, 2012. It was viewed by 4.87 million people.
Synopsis
Andy Bernard (Ed Helms) drives all the way to Florida to try and woo back Erin Hannon (Ellie Kemper), where she has been living with the elderly Irene (Georgia Engel) and her middle-aged Grandson, Glenn (Brad Morris), as a live-in maid. He surprises Erin by popping out of a delivery box and singing Signed, Sealed, Delivered I'm Yours, but she is not particularly excited to see him, and states she does not want to go back to Scranton with him. The situation is further complicated when Andy reveals to Erin that he has not yet broken up with current girlfriend, Jessica. Andy tells Erin he loves her, but she rejects him; Andy subsequently leaves, his feelings crushed. Irene, who had been treating Andy with disdain over the way Erin spoke of him, sees that he is a nice person and encourages Erin to go back with him. She runs up to him in his car and they share a kiss before heading back to Scranton.
Meanwhile, Nellie Bertram (Catherine Tate) shows up in Scranton after Robert California (James Spader) allows her to have a job there. She is invited to take an open desk, and she takes Andy's manager desk, as he is currently in Florida. Jim Halpert (John Krasinski) says she cannot take Andy's job, but Robert is interested in her spontaneous behavior. As acting manager, Nellie decides to give everyone performance reviews. Both Jim and Dwight Schrute (Rainn Wilson) refuse to let her proceed, as she is unfamiliar with the other employees. To counter this, Nellie offers Dwight a raise on the spot, and eventually, he and the other employees relent, save for Jim. When it is Jim's turn, Jim still refuses. Everyone in the office, save for Jim and his wife, Pam Halpert (Jenna Fischer), applaud her. Nellie promptly begins rearranging the office.
Cultural References
Connections to previous episodes
Robert's "everything is sex" theory is practically the same as the one he presented at his job interview in Search Committee.
Cast

Main Cast

Secondary Cast
Reccuring Cast
Community content is available under
CC-BY-SA
unless otherwise noted.