Wiki Targeted (Entertainment)
Play Sound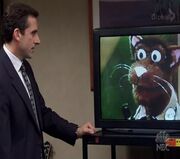 "Fundle Bundle" is a fictional television show. It is mentioned in episode 18 of season 2, "Take Your Daughter to Work Day".
As a child, both Michael Scott and Chet Montgomery were on the show, which was hosted by a Ms. Trudy. The clips in "The Office" show a puppet cat, Edward R. Meow, interviewing children about their hopes and future dreams.
Dialogue Within the Episode
The following is a transcript of the scene in which the office staff and daughters watch Michael's duct tape.
Michael: I am going to give you a little blast from the past of Michael Gary Scott when he was a child star. And a show that you might remember called Fundle Bundle. Okay, without further ado, Ryan?
(Ryan starts the video)
Miss Trudy: (on video) Bundle, are you ready to come on in?
Kids: Yeah!
Miss Trudy: Let's have some fun!
Michael: That is Miss Trudy. Can't tell from her costume, but she had an amazing body.
(Jim slowly looks at the camera)
Michael: Okay, you can fast forward. And I want you.
Dwight: Is that a real working windmill?
Michael: It's coming up...stop! Stop, stop. Stop. Yes. (pointing to a puppet on screen) That is Edward R. Meow.
(People laugh)
Jim: That's pretty funny.
Michael: Yeah.
Edward R. Meow: (on TV) Hey, what's your name?
Chet: My name's Chet.
Ed R. Meow: Well, hi Chet.
Oscar: Is that Chet Montgomery?
Michael: Uh, I don't, I don't know.
Pam: Yeah, that is!
Phyllis: He's the meteorologist from channel 5.
Darryl: Checking in with Chet. Doppler 7.
(People laugh)
Darryl: That guy's legit.
Ed R. Meow: What do you wanna be when you grow up?
Chet: I wanna be on TV.
(Everybody laughs)
Dwight: And he is on TV now!
Michael: Will everybody please shut up. Please. So you don't miss it.
Ed R Meow: Okay, next. So, what's your name?
Michael: That's me.
(Michael points to a little boy on screen in an oversized suit and slicked back hair)
(Everybody laughs again)
Little Michael: Michael.
Ed R. Meow: Hi Michael, I'm Ed. What's your favorite subject at school?
Little Michael: Recess.
Ed R. Meow: Recess. So, tell me, what do you wanna be when you grow up?
Little Michael: I wanna be married and have 100 kids so I can have 100 friends. And no one can say no to being my friend.
(Dead Silence)
(The Cat puppet looks stupefied and speechless and just looks into the camera)
Ed R. Meow: Uh...oh, okay. Well, nice talking with you, Michael. Back to you Ms. Trudy.
(Ryan looks at the camera a bit disturbed)
Ms. Trudy: Hi everyone, it's one of my favourite times of the day...
Michael: Could have sworn there was...
(Michael grabs the remote and starts fast forwarding the video)
Behind the scenes
Fundle Bundle is based on the show Hatchy Milatchy, which aired weekday mornings on Scranton/Wilkes-Barre station WNEP from the 1960s until 1987, and was hosted by Miss Judy. (The fictitious "Fundle Bundle" was hosted by Miss Trudy.) Miss Judy addressed viewers by name on their birthday and told them to look behind them, where the child's parents had placed a special birthday present. Videos from the series (along with the lyrics to the theme song) can be viewed here. In an interview with Scranton's Times-Tribune, Mindy Kaling says that she learned about Hatchy Milatchy from a friend of her mother's that appeared on the program. They intended to use the real program but couldn't secure the rights.[1]
References