"Finale" is the twenty-fourth/twenty-fifth episode of the ninth season of the American television comedy series "The Office", is the show's 200th/201st episode overall, and series finale. It aired on May 16, 2013.
One year after the airing of the documentary, the workers of Dunder Mifflin, past and present, gather for a wedding and a final round of interviews. Mysteries are solved, hatchets are buried and pranks are prunked.
Being that this episode takes place one year after the events of the last episode, several events have transpired.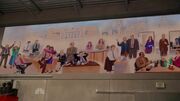 Synopsis
The premise of the episode is that the documentary crew has returned to film bonus footage for the DVD release of the documentary. As the office prepares for Dwight and Angela's wedding, they also prepare for a panel regarding the documentary at a local theater. Underwhelming attendance to the event leads to disappointment, untl they realize the people have not all yet been let in and are waiting outside. The panel reveals the identity of Erin's birth parents, and Pam reveals she is working on something big to pay Jim back for his DVD shown in A.A.R.M.. That night, Jim and Pam throw bachelor and bachelorette parties for Dwight and Angela, respectively. Jim takes Dwight and the guys to a pub where Dwight is oblivious to the waitress being a hooker. Pam and the girls stay are at a small house, where Jake Palmer returns as the stripper the girls hired for Angela. Everyone except Meredith thinks this is inappropriate considering Jake's mother is present, and Angela does not want a stripper anyway. Phyllis inadvertedly causes Angela to be kidnapped by Mose Schrute when she tells Angela that a noise is only the wind. Dwight then must search for Angela, as it is revealed it is another absurd Schrute tradition. The search ends at Kevin's bar, where Dwight and Kevin make amends.
The following day is the wedding. Jim pulls one final prank on Dwight: he insists that he can not be his best man as he is not old enough. When Dwight tries to change his mind, Jim directs his attention to another man standing in the doorway - and when Dwight tearfully tells this person that "I can't believe you came", a choked-up Michael can barely even get through "That's what she said". In the bridal chamber, it is decided Phyllis will carry Angela to the alter due to Angela's pain having been in a car trunk for several hours. The two are married (stading in their graves, as is Schrute tradition), and everyone heads to the reception. At the reception, Jim and Pam dance and kiss, to which Jim states that Pam no longer owes him anything. Michael and Pam talk, and she reveals he has kids (and takes so many pictures of them he needs two phones). Michael does one final talking head from his table, saying that he feels like all his kids grew up and married each other, which is "like every parent's dream". Ryan and Kelly run away together, giving Ryan's son to Kevin to report to child services. Nellie instead takes the child as her own.
Jim and Pam head home, surprised to find a relator showing the house. Pam reveals she has been showing the house, so that if they got an offer Jim would have no reason not to rejoin Athleap. The couple being shown the house decides they want to buy it, and Jim and Pam agree to sell.
That night there is a DVD release party at the warehouse. Pam reveals her mural, a painting of the office and everyone who works in it. After a group picture, everyone heads up to the office to hang out. Creed is revealed to be living in one of the office's supply closets. Seeing that Erin is busy, Pam takes one final call as receptionist, which coincidentally is for Jim Halpert. She replies, "I'm sorry, Jim Halpert no longer works here." Soon after they announce their plans to leave to Dwight, who fires them so that they can both receive large severance packages. Creed sings a song while they tell the cameras about how the documentary has affected them. As everyone leaves the office, Pam takes her picture of the office from the wall.
Deleted scenes
Meredith reveals that she is now a vegan, having decided "We should not be eating (animals)" while attending a dogfight.
Clark recalls that, after the documentary, Jim's pranks were so widely copied that had to speak at schools telling teenagers not to be like him.
Dwight's Japanization of the office extends to having Nate, in white gloves and a blazer, pushing the entire staff into the elevator at once.
Oscar's explanation of the number "keleven" is followed by a talking head from Kevin himself, who explains the invention himself, and mentions a second number he invented, "gop".
Clark and Dakota flirt at the copy machine, playfully getting around Dwight's rules against office "mingling".
The bachelorette party plays "Boink, Marry or Kill" with Kevin, Stanley and Toby; all agree they would kill Toby, but when they realize it was now down to sex or marriage with Kevin or Stanley, the women go silent, broken by Nellie saying she would "boink" Kevin, then commit suicide. Angela than says she's getting cold feet - but when Pam assures her that such pre-wedding jitters are normal, she gets annoyed and insists that her feet are actually getting cold.
Kevin explains how he bought his bar: after the documentary, so many people insisted on buying him drinks, despite his being a fairly light drinker, that he had thousands of dollars in credit and it was cheaper for the owners to simply give him a large share, and adds that the bar's business has doubled since he became associated with it.
Extra scenes from the Q&A -
Oscar is asked if he is still single, which becomes somewhat awkward when the handsome questioner reveals he was asking on behalf of his ugly friend.
Darryl is asked a similar question.
Stanley is asked if he's still eating pretzels, but is fast asleep; Phyllis advises Pete not to bother waking him.
Andy's response to a question elicits a snide Baby WaWa reference, which is not well-received by the rest of the audience; in a talking head, Darryl notes that a non-PBS crowd would not have reacted as such.
Angela's sister gives a toast in their private twin language (assumed to be "Canadian" by Kevin), which moves the bride to tears but baffles her guests.
Phyllis's toast, in which she gives a graphic description of when she walked in on them at the end of "Goodbye, Toby".
Andy gives a heartfelt toast in which he tells Dwight to "be Dwight Schrute", much to the disappointment of Angela's sister.
Erin's parents explain why they gave her up for adoption.
Clark is approached by the documentary's producers about working on another "An American Workplace" project, but turns them down, hinting at the beginning of a relationship with Dakota.
A reminiscence of various events from the show (no one is sure exactly who was there the longest) culminates in the office tree being planted outside - with Dwight criticizing the "amateur" work under his breath.
Toby explains what he learned from the documentary, and how he has incorporated it into his latest novel.
Angela, now that she no longer needs the doctor-recommended facial exercises she once need frmo lack of smiling causing her muscles to atrophy, admits she's "less of a total bitch now".
Clark and Pete give their final memories of the experience.
Production
"Finale" was written by series developer and showrunner Greg Daniels, making it his second writing credit for the year, after the season debut "New Guys", and his 12th writing credit overall. Rainn Wilson later joked that Daniels was "the country vet who birthed this puppy" and had come "back to put it down". The episode was directed by Ken Kwapis. Kwapis had originally directed the series' pilot episode. His last directorial credit for the series, prior to "Finale", however, was the fifth season episode "Company Picnic". "I figured the character would go back and visit everybody, but he wouldn't do it on camera at this point. I think he had grown past the idea of being in the documentary, that was my take on it. That [Michael Scott] had said goodbye to that aspect of his life, that that's not what was important to him. I just thought, yeah he'd go back and visit, but he wouldn't want the camera crew to be documenting it." —Steve Carell, explaining his hesitation to return to The Office. The series finale will guest star Rachael Harris, Dakota Johnson, Joan Cusack, Ed Begley, Jr., Malcolm Barret. The episode will feature the return of several of the series' actors and actresses, including former series writers and stars B. J. Novak and Mindy Kaling, as well as Andy Buckley, Bobby Rae Shafer, Michael Schur, and Matt L. Jones. Early during production for the season, Kinsey and Wilson also noted that the cast and crew were hoping for a return of former lead actor Steve Carell as Michael Scott. In mid-December, Krasinski later revealed that he was optimistic about a return; in an interview with E! Online Krasinski said that the producers were supposedly "still trying to figure out [Carell's] schedule" and that the finale "just wouldn't be the same without him". However, NBC chairman Robert Greenblatt later admitted during an interview that while he is "hopeful", he does not think Carell will return; he noted that Carell was satisfied with his character's exit and did not want to tarnish it. On January 16, Daniels revealed that Carell would not appear in the finale in any capacity, a decision that Carell later reiterated. Three months later, however, the producers for The Office mounted "an 11th hour effort last month" to get Carell to make a cameo in the show's final episode, according to TVLine. According to the article, "while no one is confirming that the final diplomatic push proved successful, no one is denying it either." Carell's personal representative confirmed that Carell was on the set for the final episode, but that he did not film any scenes. However, an anonymous source close to the show cryptically said "don't rule anything out". TVLine later reported on May 6, that Carell would appear in a cameo, although NBC declined to comment and Carell's representatives continued to deny the reports.
The initial idea for the finale was thought of by Daniels during production of the third season, described as "a reunion show, in the fashion of the post-competition cast rehashes familiar from reality shows like Survivor". Daniels, at one point, approached Jeff Probst, the host of Survivor, to appear in the finale as a moderator for the fictional reunion, although he declined. The initial table read for the episode took place on March 4, 2013. Filming commenced on March 6. According to Jenna Fischer, the episode took nine days to film, with the cast devoting 12 hours a day to the episode. The finale was described as "ambitious", featuring multiple location shoots, including one in an AT&T Office Building, which stood in for the Scranton Cultural Center. Filming for the episode and series as a whole came to an end on March 16, 2013. Wilson later tweeted a picture of the "empty" set after all filming had been finished. Originally, the episode was supposed to be the 23rd and 24th episodes of the season, which would have meant that the series aired exactly 200 episodes. However, the series' penultimate episode was elongated into 2 separate episodes, resulting in "Finale" being the 24th and 25th episodes of the season. This meant that the last part of "Finale" will be the series' 201st episode. Once filming finished, Daniels in an interview with TVLine expressed his hope to expand the episode, stating, "I was very excited with the footage we got [...] It's very big. I'm going to beg NBC to super-size it or extend it." Daniels later commented that when the editors cut together the first act, it was 23 minutes long; this is much longer than a normal first act for an hour long episode of television. In response, OfficeTally—the largest fan site for the series—started an online petition to supersize the finale, similar to the petition to expand the second season finale, "Casino Night". By May 2, the petition had received over 20,000 signatures. On May 7, it was announced that NBC had extended the episode by 15 minutes, meaning that the episode would be 55 minutes in total.
Cultural references
The song Sweet Child o' Mine by Guns N' Roses was performed by violin when Angela walked down the isle.
When the bachelor party arrives at Kevin's bar you can see a Subway $5 footlong promotional sign laying sideways on the far wall. 
Connections to previous episodes
When Pam and Jim arrive at their house, Michael's old girlfriend Carole is the realtor selling their house. 
Amusing details/Trivia
A one-hour retrospective of the show premiered just before the finale episode.
Writer and Executive Producer Greg Daniels makes an appearance.
Angela's sister is played by Rachael Harris. Both actresses have played girlfriends to an Ed Helms character. Angela Kinsey to Andy in The Office, Rachael Harris to Stu in The Hangover.
Cast
Main Cast
Supporting Cast
Guest Cast
Gallery
References
Community content is available under
CC-BY-SA
unless otherwise noted.