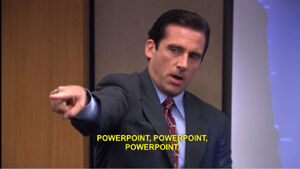 Efficiency is simply, getting things done. "The state or quality of being efficient."
Efficiency can be seen at Dunder Mifflin Scranton and varies throughout the Television show, The Office. Efficiency is hard to measure, and sometimes completely ignored in some episodes. Sales reports and meetings with the CFO provide some clue to how Scranton is running. Efficiency at the office depends on who is Regional Manager and what is going on in the day-by-day in the workplace.
The Function of Dunder Mifflin Scranton
Edit
On an ideal day in Dunder Mifflin Scranton, Sales is working to get new clients and manager current clients, Costumer Service is ready on the phone, Human Resources is filing through complaints, Accounting is hard at work making sure everything is up to date, Reception is answering the phone, Temps are ready for work, the Warehouse is on time, Regional Manager is busy Regional Managing and there aren't any injuries.
The Reality of the Workplace
Edit
Though the setup is complete for an efficient small paper company branch, Dunder Mifflin Scranton has to go through hours wasted in the conference room, or cleaning up damaged company property, or slacking off, or being dragged out of the office, or dealing with an incompetent Regional Manager who only gets things done after a day of laziness, or dealing with a hostile work environment, or parties and other non-work related events in the workplace, or the constant laziness leading to lost clients. Or a violent warehouse crew, or employee uprisings, or a constant shift in job positions, or an incompetent upper management.
The Effects of "Lazy Scranton"
Edit
Overall, there are a million factors that make Dunder Mifflin Scranton ineffective. Being a paper company in an "increasingly paperless world", as stated by many throughout The Office, makes being slow not an option. Dunder Mifflin tried, throughout the series, to innovate. Ryan Howard attempted to reinvent the workplace by being fast, modern, and he tried to make Dunder Mifflin take advantage of the technological age through Dunder Mifflin Infinity. Even he ends up with a failed career. Ryan himself admits that the company as a whole has failed to adapt to the modern workplace in management, activity, technology, and efficiency. It isn't until Sabre buys out Dunder Mifflin that the company is revived. Though all fo this is happening, the Scranton branch manages to pull through. Throughout the show, upper management is shown to be in awe from Scranton's success. For example, Michael Scott manages to thrive while all other branches are failing, while getting now work done. The office also gets more work done when Andy is gone, proving their productivity is keeping the branch afloat, with little to no help from upper management. Through a little luck, Dunder Mifflin Scranton can be seen evolving from potential closing and disaster to a thriving community of work and fun, and it makes for one great show.
Community content is available under
CC-BY-SA
unless otherwise noted.