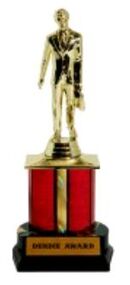 A Dundie is an award bestowed annually by Dunder Mifflin Scranton regional manager Michael Scott. In order to maintain morale, everybody gets a Dundie.
Dundie winners
Trivia
Appearances
A collection of Dundies appears on Michael's desk in the opening credits.
In the Pilot, Michael holds up a Dundie as evidence that he's the best boss in the world.
In Money, Dwight's Dundies are neatly arranged on the mantlepiece of Dwight's bed-and-breakfast.
In Dinner Party, Michael's Dundies are on display in the family room. Later in the evening, Jan angrily throws one of them into Michael's television set.
In a deleted scene from Baby Shower Michael gives Astrid a stuffed Dundie which he mentions Phyllis knitted.
In Performance Review Dwight is holding a Dundie while he talks about why he deserve a raise during his review.
Mentioned
* Deleted scene
Community content is available under
CC-BY-SA
unless otherwise noted.