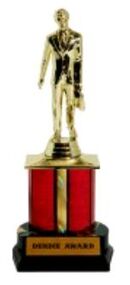 A Dundie is an award bestowed annually by Dunder Mifflin Scranton regional manager Michael Scott. In order to maintain morale, everybody gets a Dundie.
Dundie winners
Trivia
Stanley mentions that he throws out his Dundies.
A Dundie was included in a promotional edition of the Season 3 DVD.
Michael has a Dundie on his desk in the intro.
John Mayer agreed to let the show use his song "Your Body is a Wonderland" in the episode "A Benihana Christmas" on the condition that he receive a Dundie. Mayer with his Tallest Music Dude Dundie.
Appearances
A collection of Dundies appears on Michael's desk in the opening credits.
In the "Pilot", Michael holds up a Dundie as evidence that he's the best boss in the world.
In "Money", Dwight's Dundies are neatly arranged on the mantlepiece of Dwight's bed-and-breakfast.
In "Dinner Party", Michael's Dundies are on display in the family room. Later in the evening, Jan angrily throws one of them into Michael's television set.
In a deleted scene from "Baby Shower" Michael gives Astrid a stuffed Dundie which he mentions Phyllis knitted.
In "Performance Review" Dwight is holding a Dundie while he talks about why he deserves a raise during his review.
Mentioned
* Deleted scene
Related awards
In an early version of "Broke", Michael gives the employees of The Michael Scott Paper Company "Scottie" awards, the Michael Scott Paper Company version of the Dundies. Ryan gets "Great Style" and Pam gets "Boobs".[1]:01:03:12
References