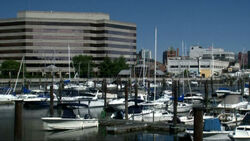 Dunder Mifflin Stamford was a branch of the Dunder Mifflin Paper Company that was based out of Stamford, Connecticut.
From Season 1 to Season 3, Dunder Mifflin Stamford was Dunder Mifflin Scranton's main rival, often outperforming them in sales volume. In Season 3, after Jim Halpert transferred, the Stamford branch became a main setting for the show The Office. As time passed and Dunder Mifflin began to lose money, the company's executive Board decided that the Scranton branch was to be closed with some of its employees transferred to Stamford. The planned merger, which was to result in the new Dunder Mifflin Northeast branch, was, for the most part, solely based on keeping Stamford regional manager Josh Porter, who was seen by corporate as having the most potential, in the picture. Unfortunately for the Stamford branch, Josh leveraged his potential new position with Dunder Mifflin into a senior management position at Staples. The subsequent power vacuum resulted in the closing of Stamford, with a few of the branch's employees transferred to Scranton. Jim Halpert, who held the position of Assistant Regional Manager under Josh, was offered the same position at the Scranton branch under Michael Scott. After deliberating, he later accepted the offer and moved back to Scranton.
Comparisons to Scranton
Edit
Compared to Scranton the Stamford Branch generally seemed much superior, both in terms of work ethic and appearence. The Stamford Branch had a much more sleek, professional look, whereas the Scranton Branch maintained a more comfortable "roomy" atmosphere. In terms of business the Stamford Branch also appeared more professional, largely due to the lack of childish antics by its branch manager Josh Porter. However the Stamford Branch did share some unprofessional behavior with the Scranton Branch, such as spending work time recreationally under the guise of "team building" (Scranton watched movies, Stamford played Call of Duty). Despite this Stamford did seem generally higher profile professionally, as it was planned to become the headquarters of all the branches north of Stamford in a corporate division known as "Dunder MIfflin Northeast". 
Former Employees
Edit
All three Stamford employees who stayed with the company in the wake of the merging would eventually become branch managers. Karen Filippelli became manager of Dunder Mifflin Utica sometime prior to "Branch Wars". Jim Halpert would be promoted to co-manager of the Scranton branch (and briefly the sole manager) from "The Promotion" to "Manager and Salesman". Finally, Andy Bernard would become manager of the Scranton branch as of "The List".
Community content is available under
CC-BY-SA
unless otherwise noted.