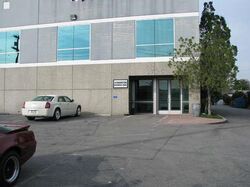 Dunder Mifflin Scranton is a branch of the Dunder Mifflin Paper Company that is based out of Scranton, Pennsylvania in Lackawanna County. It is located at 1725 Slough Avenue in the Scranton Business Park, Suite 200. It is the main setting for the show The Office. It is filmed at Chandler Valley Center Studios in Los Angeles.
As revealed in Casino Night, the Dunder Mifflin Scranton warehouse - perhaps including the suite - is on a seven years lease from Beekman Properties. According to Dwight, the lease was at its fourth year at the time, which means the lease will end sometime during the year 2009 if not renewed. However, in Branch Closing it has been revealed that Bob Vance of Vance Refrigeration bought the warehouse. It is unknown how the latter affects the lease of the warehouse and/or suite, and if the lease has been renewed.
Michael believes that Scranton is "the cool branch", like Animal House.
Employees
Management
Sales
Accounting
Product Oversight
Warehouse
Other
Former employees
Quit
Fired
Relocated
Other
Office layout
The Office is rearranged at times due to additional employees or employee relations.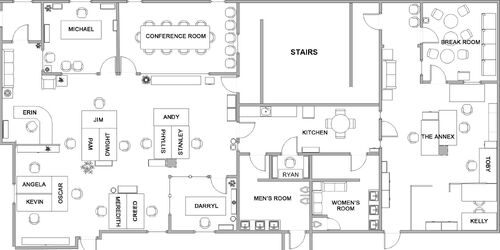 Changes in employees of Dunder Mifflin
The changes are sorted by most recent to least recent.
Desk photos
Community content is available under
CC-BY-SA
unless otherwise noted.