m

Line 159:
Line 159:
 

*''[[Garage Sale]] ''and ''[[Training Day]] - ''does not appear

 

*''[[Garage Sale]] ''and ''[[Training Day]] - ''does not appear

 
 
 
+

==Gallery==

 
+

<gallery>

 
+

Funko-Pop-The-Office-Figures-873-Darryl-Philbin.jpg|Darryl Philbin Funko Pop|link=Funko Pops

 
+

</gallery>

 

==References==

 

==References==

 

<references />

 

<references />
---
Revision as of 05:04, 10 March 2020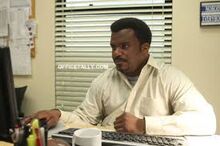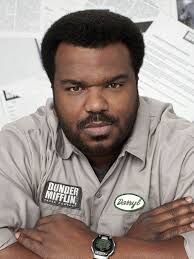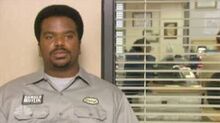 Darryl Philbin, played by Craig Robinson, is a character in the television series The Office.
Character Information
Darryl is the Warehouse Foreman, working from the warehouse until he is given an upstairs office by Jo Bennett.
Darryl was divorced. His ex-wife's name is Justine and together they have a daughter, Jada. The "Where are they now" update on NBC's website claims that Darryl reconciled with his wife and they moved down to Austin. 
Darryl has a sister, Gwyneth, whom Toby and Dwight mistake for Darryl himself in The Meeting
Darryl is allergic to soy, an allergy he developed at 35. He considered this a sign of his bad luck, and vented anger that soy was in everything.
Though Darryl has a "tough-man" exterior, he can get nervous in high-pressure situations, such as the interviews for the Regional Manager and Athlead.
His last name, Philbin, is a nod by Michael Schurr to his father-in-law Regis Philbin.[1]
Season 1
When Dwight emerges from the box he was hiding in the warehouse, Darryl is seen behind him. ("The Alliance") He is one of the warehouse workers, whom Michael challenges to a basketball match, against the office workers. At the end of the game he and the other warehouse workers reveal that they're not amused by Michael's antics and do not feel intimidated by him. In turn, it is Michael who, after being surrounded by Darryl, Roy and Lonnie, admits defeat, although awkwardly. ("Basketball")
Season 2
He went to the Dundies with Pam and Jim.
Michael asks Darryl and Roy for a joke he could use however Darryl and Roy decide to make fun of Michael. Darryl and some other warehouse workers later watch a sexual harassment video and Darryl stops the clip to point out he has had sexual intercourse with the "natural redhead" actress, which is met with cheering from his colleagues (Sexual Harassment).
Darryl goes to the Christmas party and wants to know if he can borrow Michael's Santa hat however Michael refuses to give it to him due to Santa Claus being white. Darryl and Roy mainly talk about sports during the party. Michael later changes his mind and gives Darryl the hat (Christmas Party).
Darryl goes to the motivational meeting that Michael is holding and when Michael is trying to make analogies between the office and a ship, Darryl tries to make a connection between the sales department and the sails however Michael doesn't get it. Darryl later takes snorkel shots on the boat (Booze Cruise).
Darryl watches in horror as Michael destroys the warehouse with his lift. Darryl is later prompted to start a union however the union is disbanded by Jan. When Michael and the office staff leave Darryl tells Michael that they need to clean it up but Michael leaves. A saddened looking Darryl is also seen watching Dwight making snow angels in the wreckage of the warehouse (Boys and Girls).
Season 3
Darryl gives a presentation during "Safety Training". It is also mentioned that Michael kicked a ladder out from underneath him, asking, 'Hey Darryl, how's it hanging?'. During his salary negotiation, Darryl notices that Michael is wearing a woman's suit. He asks, "Are you wearin' lady clothes?"
Season 4
He has started dating Kelly, though she is more interested in making Ryan jealous. Darryl is able to give rare straight talk to Kelly when she threatens to break up with him.
Season 5
Darryl takes the weight of the employees and teases them about their weight. ("Weight Loss")

Darryl gets mad when Michael makes a fort in his warehouse. ("Casual Friday")
Season 6
Season 7
Darryl plays the president in Michael's movie Threat Level Midnight, where he's later revealed to be one of the villains. When Deangelo becomes manager, Darryl says that Corporate has given him business school night classes and Chinese lessons. He also develops a friendship with Andy Bernard, even though he is still annoyed by him from time to time.
Season 8
Darryl assists Jim and Dwight in hoisting a planking Kevin off of Dwight's desk. Darryl appears apathetic on account of him not getting the managers job. This all comes to the surface in the episode Lotto, when the warehouse workers win the lottery and quit, leaving Darryl to reflect on how he's stuck in-between his two ideal scenarios with no escape. In the same episode, Darryl hires a female warehouse worker named Val and develops an attraction to her.
In Free Family Portrait Studio, Darryl and Val get together.
Season 9
After Jim gets a job offer in Philadelphia, he offers Darryl a position in his new business. Darryl agrees, but only on the condition that Pam is on board. In Dwight Christmas, Jim has seemingly forgotten about his offer to Darryl, prompting Darryl to get very drunk. At the end of the episode, Jim reveals that he didn't forget his offer to Darryl, unknowingly saving his own skin as Darryl was about to attack Jim in a drunken rage.
Darryl uses this new opportunity to break up with Val, as he feels the relationship has hit a dead end. Instead of telling her he wants to break up, Darryl plants the idea in Val's mind and has her break up with him. Kevin, Phyllis and Nellie find out that Val has dumped Darryl and try to bring them back together, much to Darryl's chagrin.
Quotes
"Mike gave me a list of his top 10 Springsteen songs. Three of them were Huey Lewis and the News, one was Tracy Chapman Fast Car and, my personal favorite, Short People."("Crime Aid")
"My future Isn't gonna be determined by 7 little white lotto balls, it's gonna be determined by two big black balls. I control my own destiny." ("Lotto")
"Mike, I'm not having fire eaters in a paper warehouse."("Casino Night")
"Dinkin' Flicka"
"Goin' Mach Five"
"Fleece it out"
Pippity poppity give me the zoppity"
"I guess he thought I'd be into The Godfather 'cause I'm black. Wrong! I'm into The Godfather 'cause I'm a cinephile. I like Scarface 'cause I'm black."
Central Episodes
Appearances
Starting with The Alliance, Darryl appears and has lines in every episode with the following exceptions:
Gallery
References