Wiki Targeted (Entertainment)
Play Sound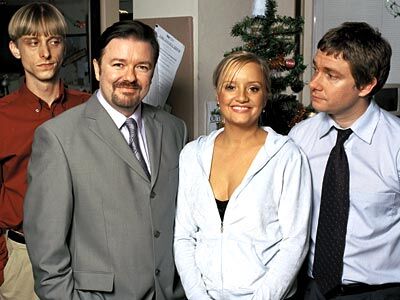 On December 26, 2003 and on December 27, 2003 a two part, 45 minute each "Christmas Special" of The Office (UK) aired after a third series wasn't accepted by Ricky Gervais and Stephen Merchant. It aired on the BBC. It was the final two episodes. The episode won various award including two BAFTA, a Golden Globe, and was nominated for an Emmy Award. Due to this two part special, in 2004, a U.S. version, to be created by Ricky Gervais, Stephen Merchant, and Greg Daniels was to be made, starting the hit U.S. series, "The Office: An American Workplace."
Episode Title
Season Episode Number
Production Code
Original Airdate
Christmas Special, Part 1
1
00301
December 26, 2003
Directed and written by Ricky Gervais and Stephen Merchant.

Three years later, the documentary crew that once filmed the everyday doings of the Slough Branch of Wernham-Hogg comes back. We learn that the documentary made them famous, that fired David Brent is a salesman for cleaning supplies, that Tim Canterbury and Gareth Keenan are working at the same company, unhappily, in Tim's case. Dawn Tinsley, miserable, is living in Florida, illegally, with Lee. Tim has to deal with his rude, pregnant office mate. David, however, drops by Wernham Hogg, to the dismay of Gareth, who treats David like a dog, in return to David's cruel mistreatment of Gareth over the years, and Neil Godwin. When the documentary crew offers to fly Dawn and Lee to Slough, they comply.

Christmas Special, Part 2
2
00302
December 27, 2003.
Directed and written by Ricky Gervais and Stephen Merchant.

David Brent goes on a series of dates to take to the office's Christmas Party. He makes all the dates uncomfortable, and one woman recognizes him from the documentary. Meanwhile, Dawn returns to Slough, and she and Tim taunt Gareth Keenan like old times. When David brings his dog to the office, Neil bans him, but David still goes to the party, and finally finds love with his fourth date-Carol. Dawn leaves without Tim, but with his present, saying, "Never give up" [about her illustrating dreams]. When Chris Finch makes a rude remark, David tells him to, "fuck off." In the final scenes, Dawn returns, leaving Lee, and kisses Tim. The whole staff gets a group photo, and during the closing credits, David asks if he's done, takes off his mic, and gets up to leave, marking the end of the series.
Community content is available under
CC-BY-SA
unless otherwise noted.