Wiki Targeted (Entertainment)
Play Sound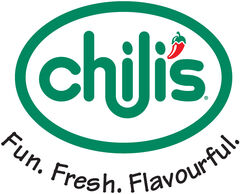 Chili's is a chain of casual dining restaurants.
Although Michael says in the episode The Client that Chili's is just a few blocks from the Dunder Mifflin office, in reality, there is no Chili's in Scranton. The nearest Chili's is in Wilkes-Barre, about a half-hour's drive away. Chili's is Michael's favorite restaurant.
There is, however, a Scranton restaurant named Jilly's.
Mentioned in
Halloween: Michael gives Devon a Chili's gift certificate (which he rips up).
Casino Night: Billy Merchant, the building manager, met his girlfriend at Chili's.
Seen In
The Dundies: The Dundies ceremony is held at Chili's. This was where Pam got nicely plastered by drinking all of her drink allowance plus as many as she could cadge from other people. As she left, the manager said she was banned from Chili's permanently.
The Client: Michael and Jan meet their client at Chili's. The events that took place in the Chili's parking lot are mentioned in several other episodes. Michael and Jan's first kiss was the most notable of these events.