watch 03:27
Wiki Targeted (Entertainment)
Play Sound
Pilot employees
Early on in the show, they had not yet established their supporting cast. In the pilot, 4 office workers are seen that are never seen or heard from again. The male employee is played by Mike McCaul, while the red-haired female is played by Henriette Mantel. The other two females are unknown.
Alliance/Hot Girl/Office Olympics/The Fight/The Secret/The Carpet/Drug Testing/Grief Counseling lady
In the episode The Alliance, a red-haired woman is seen at Meredith's birthday celebration. She is also briefly seen in Hot Girl. During the closing ceremonies for Office Olympics, the same woman, now with gray hair, is seen applauding. In The Fight, she can be seen leaving the office at the end of the day. In The Secret, she can be seen cleaning her desk (just outside the break room facing Toby's desk) when Jim joins Pam in the kitchen to tell her he no longer has a crush on her. In The Carpet, she can be seen working at her desk when Jim is trapped in the kitchen. In Drug Testing, she can be seen working at her desk as Dwight discusses his green urine. She is also very briefly seen in Grief Counseling. Although there is no solid evidence to suggest it, many fans have linked her to possibly being Marjorie.
Alliance warehouse worker

In The Alliance, this unknown warehouse worker is seen carrying boxes and walking with frequent background character Philip.
Basketball warehouse worker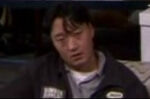 In the episode Basketball, this unknown Asian warehouse worker is seen in the background frequently.
Sexual Harassment warehouse worker

In the episode Sexual Harassment, this unknown warehouse worker is seen watching the sexual harassment video along with Michael, Kevin, Roy, Darryl and frequent background character Lester. He also appears in Back from Vacation doing inventory.
Stamford employees
These two females were frequently seen at the Stamford branch before its closing. The African-American woman appears to be the Stamford receptionist.
The Merger Stamford employee

In the episode The Merger, this unknown character is seen sitting next to Andy on the table in the conference room. Considering all the Stamford employees were told to sit on the table, it is assumed he was once an employee at Stamford. This character, however, is never seen again.
Back from Vacation/Safety Training warehouse worker

In the episode Back from Vacation, this Asian warehouse worker is in the background enjoying some food during the inventory party as Andy plays the steel drums. He appears again in the episode Safety Training in the parking lot scenes. It remains to be seen if he will continue to appear.