Doctor Strange in The Multiverse o Madness - The Loop
Play Sound
"Andy's Play" is the third episode of Season 7 of the American comedy television series The Office and the show's 129th episode overall. Written by Charlie Grandy and directed by John Stuart Scott, the episode aired on NBC in the United States on October 7, 2010.[1] This episode has received overwhelmingly positive reviews. It was viewed by 6.95 million people.
Cold open
Andy enters the office in costume with a boombox, and begins singing while other costumed individuals enter the office. Andy explains that he is performing in a local production of Sweeney Todd at the Loose Screw Playhouse, and has the cast come into the office to perform a song for them, as a form of viral marketing. At the end of the song, the office applauds them and Michael reveals he auditioned for the play. Michael asks when the cast list was released and asks who will he be playing, leaving an awkward silence in the office as Michael continues to ask Andy while smiling.
Synopsis
Andy is persuading his co-workers to come to his play. He makes an effort to convince most of them to go, but his main concern is Erin, whom he hopes to win back with a good performance. He personally gives Erin two tickets for her and Gabe, but Erin reveals Gabe cannot come, much to Andy's delight. Michael is still upset that he was not cast in the play and refuses to go, but relents when Andy claims no one who auditioned for the part of Sweeney Todd got the part, the part went to an established actor instead. Ultimately though, Erin doesn't show up either, as she agreed to babysit Cece for Jim and Pam so they could come instead.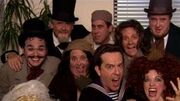 On the night of the show, everything starts off smoothly. Jim and Pam are caught sitting in another couples' seats and are asked to return to their original seats, which are revealed to be next to Michael. Darryl informs Michael the lead role is his plumber (who did not even audition), which irritates Michael a great deal since his only solace for not getting the part was Andy's claim that an established actor was cast instead. During intermission, the director of the play encourages Michael to keep coming back to audition for his shows, which further irritates Michael. He decides to swipe a bottle of wine from the concession table. During the second act, Michael, Meredith, Darryl, and Kevin are seen drinking the wine Michael stole, though Michael intended to have all the wine to himself. Andy constantly checks his phone, mid play, for messages from Erin but doesn't get any. While he is on stage, his phone goes off in his pocket, causing him and the actor playing Sweeney Todd to break character after being unable to improvise, much to Michael's delight.
To make matters worse, Michael drops the now empty bottle of wine, which causes a commotion as it starts rolling underneath the seats towards the stage. The balloons that Michael brought also escape his grip and pop as they reach the ceiling. This then causes a baby to cry, and Pam comments the baby sounds like Cece. As she looks back, she sees Erin standing in the back with Cece, exciting Andy, but angering Pam and Jim who leave deciding to never leave the house together again. At the end of the show everyone cheers the actor playing Sweeney Todd, but Michael angrily boos him. The actor later confronts Michael at the cast party after being congratulated by him. Darryl teaches Michael a lesson by booing him shortly after the actor leaves the conversation, which Michael states "I don't like that. At all."
Meanwhile, Dwight and Angela continue to see each other for their procreation sessions as their contract dictates. Angela hints that she's trying to win Dwight back during a talking head interview. It is subtly implied that Dwight is slowly falling for Angela again, despite his denial to the camera. During the show she purposely places gum on her dress, giving her an excuse to change into more casual but tight-fitting clothing that one would wear while working on a farm in an attempt to seduce Dwight. Dwight seems to ignore the change of clothing but is seen checking her out during the intermission. As Angela leaves, Dwight tries to make love with her, but Angela has second thoughts and wants to go home. She decides to count the night as one of their 'sessions' anyway.
Andy and Erin spend some time together backstage, where they "murder" each other with the prop razor blades. While Andy shows Erin her potential seats for the evening, she states how happy she is that they're hanging out outside the office. Sadly, the moment ends when Gabe calls Erin and she has to leave. As a sad Andy sulks backstage, the rest of the office converges on him and cheers him up by complimenting his performance. At the request of his co-workers, Andy sings them another song (Macy Gray's "I Try"), as Angela drives home with a smile, Jim and Pam sip Irish Cream with orange juice, and Dwight casually sings along.
The last scene is Michael's audition for the play, where he acts out an entire episode of Law & Order.
Deleted scenes
Backstage, Kevin visits his sister, who is an actor in the show. She is surprised that Kevin came to every performance, and he tells her that they have to put their mother in an old age home. Clip.
Connections to other episodes
Spoiler: When Andy becomes Regional Manager a play bill from Sweeney Todd is posted on a bulletin board on one of the walls.
The copier in Dwight's office appears to be the older one from the Dunder Mifflin offices.
Amusing details
When the cast of Andy's play enter the office, Dwight is bewildered, apparently not realizing that they are actors. When they hold high prop razor blades, Dwight brandishes a hunting knife to defend himself. See Dwight's Hidden Weapons.
The woman who falls into Kevin's arms at the end of the opening is revealed in a deleted scene to be Kevin's sister.
During Andy's talking head in the cold opening, the rest of the cast is out of breath from their viral performance, yet Andy shows no signs of fatigue. Given that he sings every opportunity he gets, it's likely that his vocal cords have become more durable.
Dwight complains that the last time he went to the theater, "a man dressed as a cat sat in my lap." He likely went to a performance of Cats with Angela.
When Michael says that it would be "too hard" to come to Andy's play, he mouths "That," implying that Michael meant to say, "That's what she said."
Creed records a review of the play during intermission. He must be recording it for his own personal memories, because news organizations rarely review a show's final performance. (The purpose of the review is to help readers decide whether to see the show.)
When Kelly asks Ryan for the time, instead of showing her the time on the iPad lock screen, he unlocks the iPad to show a clock app. Even more ridiculous: Ryan is wearing a watch!
Ryan's iPad shows the time to be 10:07 PM. Andy told Michael that the play starts at 8:00 sharp and lasts an hour and 45 minutes, so the play should be over already. (Unless the quoted running time didn't include intermission.)
Andy explains to Erin that the best seats in the theater are near the rear, as opposed to the front. Earlier in the episode, Jim and Pam were teased by Kelly for being asked to relocate from the front of the theatre, to the area that Andy mentions.
Later in the episode, Creed warns Michael, "I saw this guy kill a bunch of people," apparently unaware that the murders in the play were fake. This despite the fact that he recorded a review during intermission and therefore knows that it is a performance. (It's possible that Creed's bouts of insanity are intermittent.)
Creed is visibly impressed when Andy sings for the office at the end of the episode, despite his earlier criticism during intermission.
Trivia
Stanley took Cynthia to the play with him. It is not mentioned whether he and Teri are still married.
Jim and Pam talk at the same time while admonishing Erin:

Jim: Okay this was pretty simple alright. All you had to do was play with her for like thirty minutes, then put her to bed. Then we were kind of hoping you wouldn't touch her again. Obviously. That's pretty much it.
Pam: Why are you here? What possible explanation could you have for possibly being here, I don't...and babies shouldn't have ice cream by the way.
Behind the scenes
"Andy's Play" was directed by John Stuart Scott, his first directing credit for the show.
The exterior of the "Loose Screws Playhouse" was what was then known as the Macha Theatre in West Hollywood.[1] However, the show never actually filmed there. The show used a stock photo of the building when it was the Shakespeare-inspired Globe Playhouse, with its wood-beamed exterior.[2] The Globe Playhouse became the Macha Theatre in 2007,[3] and then became the 11:11 Experience in 2018.[4]
The interior of the "Loose Screws Playhouse' was the the Assistance League Playhouse in Hollywood.[5]
Angela Kinsey still has the "sex punch card" seen in this episode.[6]:30:44
Cultural references
Sweeney Todd: The Demon Barber of Fleet Street is a 1979 musical thriller with music and lyrics by Stephen Sondheim and libretto by Hugh Wheeler. (Erin asks Andy if he wrote the songs.)
Viral marketing is a marketing strategy that uses social networks to promote a product. The concept became popular in the late 1990's. By the time the episode aired, viral marketing usually consisted of posting a video to a social media site, but nobody at Dunder Mifflin was filming the event. (The documentary would not air until long after the performances were over.)
Andy says that show tunes are so powerful, "even a lot of men can't resist a man singing show tunes." Musical theater and show tunes are stereotypically popular among gay men.
Dwight complains that the last time he went to the theater, "a man dressed as a cat sat in my lap." He likely went to a performance of Cats.
After agreeing to go to see Andy's performance, Michael says, "and scene." This phrase originated from acting rehearsals to indicate the end of a scene, but has been adopted colloquially to mean "I was joking, this was just an act."
Erin says that the 13-year-olds in Scranton have a monopoly on babysitting. Babysitting in the United States is traditionally performed by teenagers, usually girls. Erin complains that it's "like a babysitters club". The Baby-Sitters Club is a series of young adult novels by Ann M. Martin.
Phyllis remarks that Michael's balloons are "like Up", an animated movie in which the protagonist lifts his house with a large number of balloons.
Darryl shushes Michael, saying "if we don't listen to the overture we won't notice the musical themes when they come back later." An overture is performed live by the orchestra pit and contains musical themes from the rest of the show.
Angela says that the performance was "more horrifying than Nunsense", a musical comedy in which a group of nuns raise money by putting on a variety show.
Jim is afraid to move the car seat with a sleeping Cece, comparing it to The Hurt Locker, a film about a bomb disposal team during the Iraq War. Jim is comparing moving Cece without waking her to moving a bomb without detonating it.
Michael's audition is a reenacting of an entire Law & Order episode. Law & Order is an American police procedural and legal drama television series. Its calling card is its narrated introduction, complete with "chung chung" sound.
Cast
Main cast
Supporting cast
Recurring cast
Guest cast
Robert Mammana as Sweeney Todd
Phil Abrams as Shelby Thomas Weems
Maxwell Glick as Tobias
Heather Marie Marsden as Mrs. Lovett/Kevin's sister
Kelly Ebsary as Torrie Sullivan
Barbara A. Fisher as an Usher
David Kirk Grant as Henry Saine
Randy Guiaya as Pirelli
Erica Hanhahan as Johanna
Algerita Wynn Lewis as Cynthia
Scott Thewes as Audience Member
Jen Reiter
Michael Heatherton
References